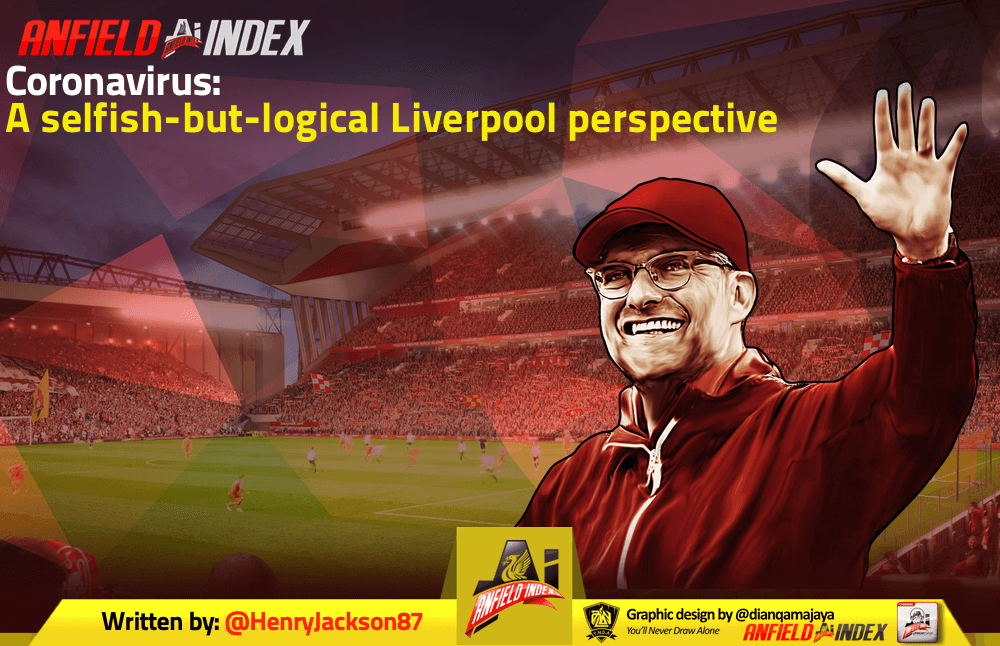 Coronavirus: A selfish-but-logical Liverpool perspective
Liverpool were never going to win the Premier League in mundane fashion – it simply isn't their style.
Even when the Reds are 25 points clear at the top of the table, when it's a matter of time until title glory is sealed, something gets in the way.
The threat of World War III has loomed ominously, as have reports of an asteroid heading towards earth, but the coronavirus has emerged as the standout issue standing in between Liverpool and one of the greatest achievements in the club's history.

Now, first thing's first, everybody knows that the welfare of human beings around the world is far more important than any sporting event. This is a worldwide crisis that has to be tackled.
Let's face it, though, football remains an incredibly passionate pastime, and while it isn't 'real life', it is something that consumes out every day existence, especially this season. It makes us irrational.
When you've waited this long to win the league, with so much pain and mocking suffered in the past 30 years, that desire to get over the finish line is wholly understandable, whatever the circumstances. It has been a daily countdown to winning this thing.
Selfish? Absolutely.
I am only speaking for myself – I fully believe many of you reading will feel the same way, though – when I say that football has been dominating my thoughts far more than it probably should amidst the outbreak of the virus, because of that deep desire to win the title.
The thought of Liverpool falling victim to a voided season after one of the greatest league campaigns in English football history would be horrific to stomach, especially with the margin at the top so great.
It would prove something that has long been in our thoughts – that the Reds are cursed when it comes to getting their hands back on the league trophy.
The timing of the coronavirus is almost laughably unfortunate, and we now find ourselves in a situation where matches have been suspended until at least April 4th.
Experts claim the issue could peak in June, which immediately lets that selflish side of our brains take over, obsessing over the impact it could have on Liverpool.
The fact of the matter is that the league has to finish at some point – voiding it would be farcical and the knock-on effects would be astronomical all the way through the Football League.
Forgetting Liverpool for a moment, what happens to Leeds United, for example? Do they have to accept that they don't return to the top flight, missing out on vast fortunes in the process? Who plays in next season's Champions League out of the English sides battling for a top-four finish?
There has to be a conclusion to all of this.
Maybe we won't be able to restart proceedings until the summer, with cancelling Euro 2020 and moving it back a year a decision that seems very logical, allowing domestic leagues some breathing space.
Perhaps the season may have to be condensed into a shorter period, or next season will have to be delayed – whatever the decision, 2019/20 must be looked back on with definitive winners and losers.
There are, of course, many who would love nothing more than to see Liverpool robbed in heartbreaking fashion, but tribalism and bias aside, not handing the Reds the title now would leave a sour taste.
Jurgen Klopp's men are worthy champions, and if it were Man United, Man City or any other team, I genuinely wouldn't be happy to see them miss out.
There's entering into a bit of 'bantz', and then there's just being downright unsporting.
For the time being, everything is guess work, but I would be staggered if Liverpool find themselves in a position where they start next season without a Premier League title still.
Patience is going to be required, and the Reds may not win in the manner many of us have dreamed of, but they will surely get their moment at some point.
Tackling the coronavirus takes precedence by a million miles, but from a footballing perspective, nothing would feel more unjust than it preventing Liverpool being crowned champions.