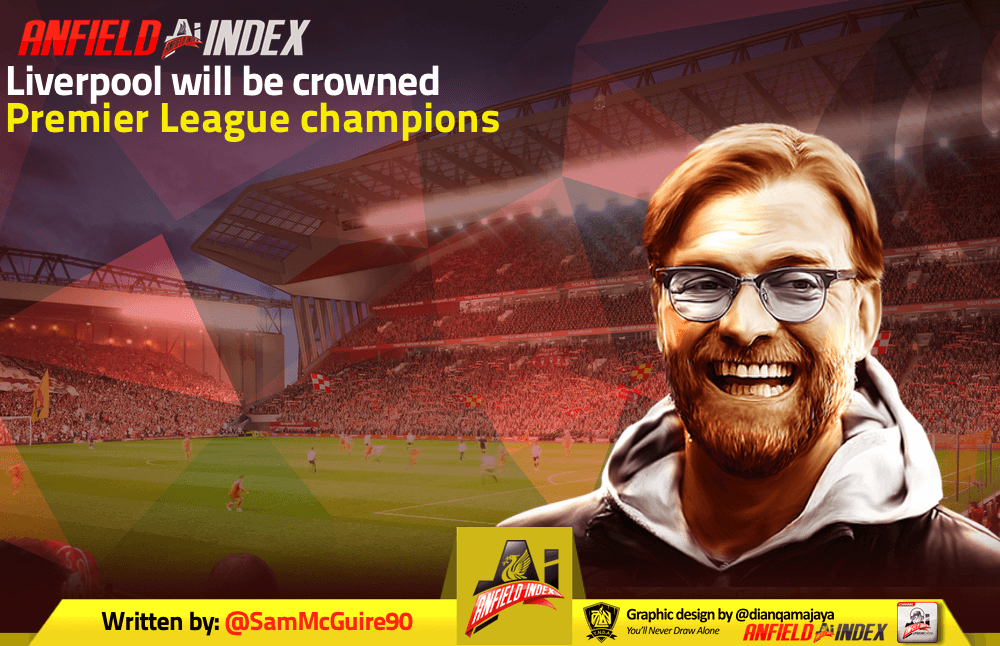 Liverpool will be crowned Premier League champions

Dread it. Run from it. Destiny arrives all the same.
For the past week, in footballing circles, talk has centred around whether or not the 2019/20 campaign would be finished. Common sense would suggest a season not yet underway couldn't take precedence over one that is very near completion. But there's not much common sense in football. 
Rival fans, desperate to ensure Liverpool aren't crowned champions, have latched onto the idea that this season should be expunged from the history books. Experts have spotted an opportunity to put their name firmly in the spotlight and ran with theories as to why the current campaign could be written off. 
Even the staunchest of Liverpool supporters had started to second guess themselves. If this was going to happen to any club it would be theirs. But all doubts have been put to bed with the Football Association's decision to extend the season indefinitely. They want to give teams every opportunity to finish this campaign. It's the moment every football fan with no allegiance to the Reds has had nightmares about. 
It means that barring a collapse never witnessed before in the world of football, Liverpool will be crowned champions of the Premier League. It's no longer a matter of if, but when it will be official. 
Though Jurgen Klopp's side need two wins from their final nine matches for it to be official, this only becomes a factor if Manchester City win all of their remaining games. Pep Guardiola's men would need to win ten matches on the bounce while hoping Liverpool fail to claim six points from the 27 on offer. The reigning champions are capable of putting together winning streaks, just look at what they did last season, but this team isn't the same one that picked up 98 points last year. Not mentally, anyway. 
City's longest winning run during the 2019/20 campaign is three, something they've done on two occasions. Furthermore, their longest unbeaten run stands at five games. For the Citizens to quash Liverpool's title dreams, they'd need to do something they haven't done all season. They'd need maximum points over a sustained period. 
Not impossible but it is worth remembering City still have difficult fixtures on the horizon. Mikel Arteta returns to the Etihad with his in-form Arsenal side. Chelsea host City needing points to secure a top-four place and Liverpool still need to make the trip to Manchester. Guardiola's men need to win all of those games, and the rest, to even stand a chance of making it three Premier League titles on the bounce. 
Knowing the season will be completed has alleviated some unnecessary stress. Everyone is now on the same page and all that is required is patience. When everything has settled down in the world, football will resume. It'll go down as one of the strangest seasons in history but that shouldn't detract from the fact Liverpool thrust themselves into the conversation of the best Premier League side ever. Fans knew that already after a remarkable run over the past two seasons, the title is just the exclamation point to ensure everyone took notice of their achievements. It was their destiny. 
Liverpool will be Premier League champions. For now, though, be patient and be safe.