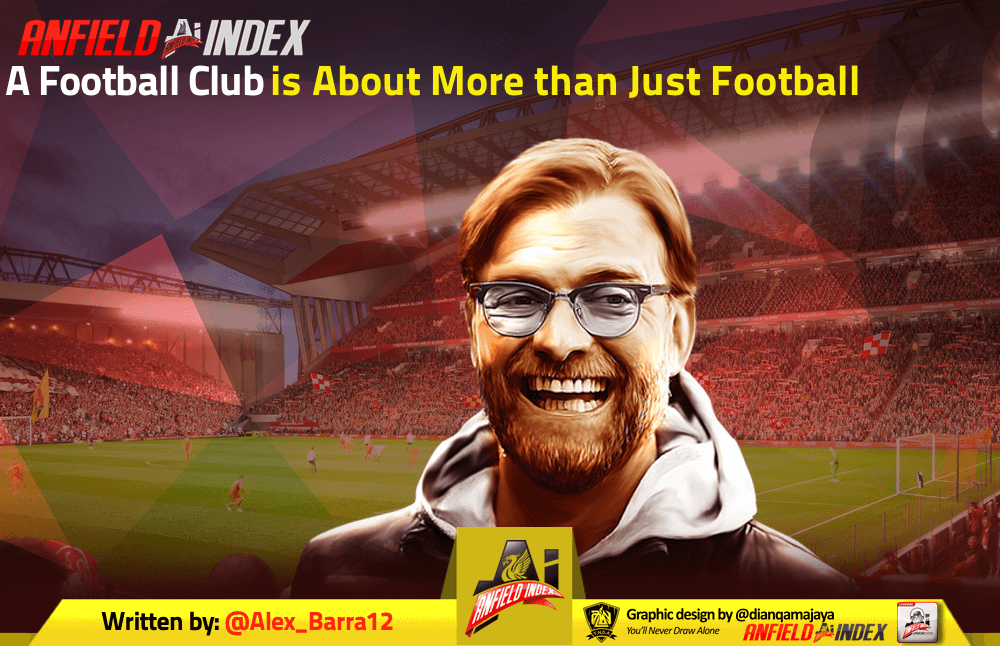 A Football Club is About More than Just Football

There have been so many yearnings for what we no longer have. A platitude of moral dilemmas trying to figure out how much we're allowed to miss football whilst also framing every such pining with "we know football's not important in the grand scheme of things."
But, it is, isn't it? If anything's been proven over the last week, it's that football is both immeasurably important and of no consequence whatsoever. It's allowed to be both of those things at the same time.
Caring about the personal health of one's cherished loved ones is a tiresome thing. Caring about the health of the world's population as an unprecedented pandemic sweeps through the Earth is an impossible and inevitably self-destructive thing. These are important matters, but I challenge you to open Twitter and spend more than five minutes on it without growing despondent over everything.
We are a species that lives through escapism. The fun part about society is all the unimportant things we come up with to make the experience of being human enjoyable.
Which, of course, brings us to the notion of the football club. Notionally, it's a vehicle through which a group of people can organise, watch eleven men kick a ball around, and derive some sort of joy from the result.
In reality, football clubs are far more than that.
The New York Times' Rory Smith calls football the "Greatest unifying cultural force of the modern era", echoing a similar statement from David Goldblatt in his latest book "The Age of Football: Soccer and the 21st century" when he labels football the greatest cultural phenomenon in history, and the Guardian's Max Rushden describes football as "simultaneously not essential for society but is a society in itself."
There is no reason to feel guilty about having that ripped from you. Especially if you're a Liverpool fan.
This is the club that has suffered for thirty long years, not in particular ignominy, but with a longing for something that seemed so close yet always just far away enough to elude our grasp. To say the title has been a long time coming would seem a stupid understatement, and to have that already prolonged title be thrown into doubt after the season Klopp's side have had; twenty-five points ahead and all that, is another in a series of torturous blows.
Should the title be ripped away from the club, the world wouldn't end. Nothing would change, materialistically. A virus that kills people has no care for who it infects, nor what collateral damage it causes.
But, life would get that little bit shittier.
That's the crux of it; a football club isn't an integral part of what makes us alive, but it is an integral part of why being alive is worthwhile. Sociological studies involves a methodological study of what it means to be human, which means it studies the things around the necessities: there's no point looking into our base survival instincts when you could learn a lot more from how a fan reacts when their team is called into question for cheating. Tribalism isn't new, but the forms it takes are.
So, football clubs don't represent anything new. They represent community: a different kind of community shared not by location but by experiences.
I'm from Australia, I wake up in the early hours of the morning, or sometimes forsake sleep altogether, because I want to share the experience of Liverpool winning with other members of my Red community. Locally, there are those who find the match to be their break from life, because for ninety minutes they can watch their club without caring about anything else in the world.
Think about how often your conversations have turned to the Covid-19 virus and things surrounding it this week. Do they bring anything out of you besides dread? Do they bring hope, enjoyment, frivolity, excitement, anxiety, elation?
For all the nonsense that it Twitter, there is something pleasurable about sharing the experience of Paul Joyce confirming a transfer rumour.
Football clubs are integral escapes from everything that matters. Without them, or comedy, or art, or movies, life really wouldn't be worth the hassle, would it?
So it's okay to say you miss Liverpool. It's okay to admit you wish the football was back. It's alright to pine for Klopp's soul-invigorating smile and the sound of the Anfield booming out You'll Never Walk Alone. After all, we're only human.