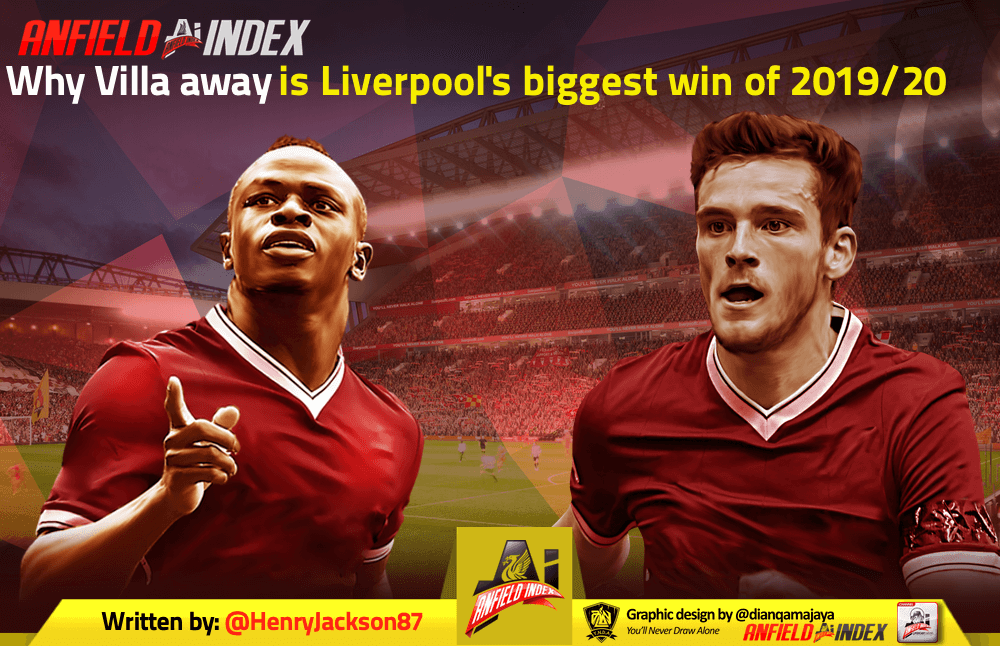 Why Villa away is Liverpool's biggest win of 2019/20
When Liverpool do eventually win this Premier League title, there will always be moments looked back upon as the most pivotal during the season.

For me, the game that stands out more than any other is the trip to Aston Villa in November.
This was long before the Reds started building an unfathomable lead over Man City at the top of the table – a time when many still viewed Pep Guardiola's all-conquering side at favourites.
On November 2nd, Liverpool were six points clear of City, but they weren't firing on all cylinders, despite dropping just two points in their opening 10 matches.
Performances had been patchy at times and Jurgen Klopp's men had been required to dig deep on a number of occasions, including in their previous four league games.
An ugly 1-0 win at Sheffield United was hard-earned, as was a last-gasp win at home to Leicester City, before Adam Lallana's late equaliser rescued a point away to Man United.
In the match before the trip to Villa, Liverpool had again dug deep to see off Tottenham 2-1 at Anfield, and there was an increasing feeling of 'they can't keep doing this.'
If the Reds' ability to get over the finish line was slowly grinding City down, I believe that the 90 minutes that unfolded at Villa Park saw the champions really start to lose heart.
In what has become a rarity, both Liverpool and City found themselves playing at the same time at 3pm on a Saturday, and as people across the country prepared fireworks for that evening, they were also delivered in a footballing sense.
As has actually been the case a number of times this season, the Reds really struggled to get going in an away outing, in a game many expected them to saunter through.
Roberto Firmino was the victim of a ridiculous offside call – his armpit was adjudged to be in front of the man – and good chances were few and far between.
Trezeguet's solitary goal was the difference between the two sides at half-time, with the Villa forward becoming one of the few players to benefit from Liverpool's high line from free-kicks, beating the offside trap and pouncing.
As was to be expected, the visitors dominated the second half, but as each passing minute drifted by, the more it felt as though a first league defeat of the campaign would be suffered.
City, meanwhile, also trailed 1-0 at home to Southampton at the break, but the pesky Sergio Aguero equalised with 20 minutes remaining.
When Kyle Walker became a surprise goalscoring hero late in the day at the Etihad, sealing a 2-1 win, Liverpool were still behind and Guardiola's team were on the cusp of only having a three-point deficit.
With a mouthwatering clash between the pair taking place at Anfield eight days later, it felt like a huge moment in the title race.
Just as all hope seemed to have faded for Liverpool, Sadio Mane sent an inch-perfect cross into a dangerous area, before a figure in white arrived from nowhere.
Andy Robertson, of all people, powered home a header to make it 1-1, and his celebration that followed was one that has echoes of Steven Gerrard in Istanbul. There was happiness at finding the net, but a knowledge that there was still a job to be done.
Despite stoppage time being moments away, those Reds players genuinely believed a winner was on the cards, having built up such an incredible winning mentality in the games previously.
When Liverpool won a corner in the fourth minute of injury time, it was a hope-and-pray moment. Just please, lads, make my weekend.
And they did.
Trent Alexander-Arnold's whipped delivery was met bravely by the head of Mane, who steered his effort into the far corner, leading to scenes of pure ecstasy in the away end.
Villa Park has conjured up some great late moments for Liverpool fans, from Gerrard's free-kick in 2007/08 to a Fernando Torres strike two seasons later, but this was arguably the biggest, and best, of the lot.
For all the drama of some of the other matches mentioned above, this one felt particularly significant, certainly helped by the fact that City had also produced a late comeback, but gained no ground.
The momentum and belief that it gave the Merseysiders was massive heading into the rest of the season, and they have never looked back since.
On that Sunday the following weekend, Liverpool cruised to a 3-1 win over City, opening up a nine-point lead and outlining their superiority over their rivals.
Without that dramatic Villa win, however, you wonder how differently that match would have panned out, as well as the entire title race.