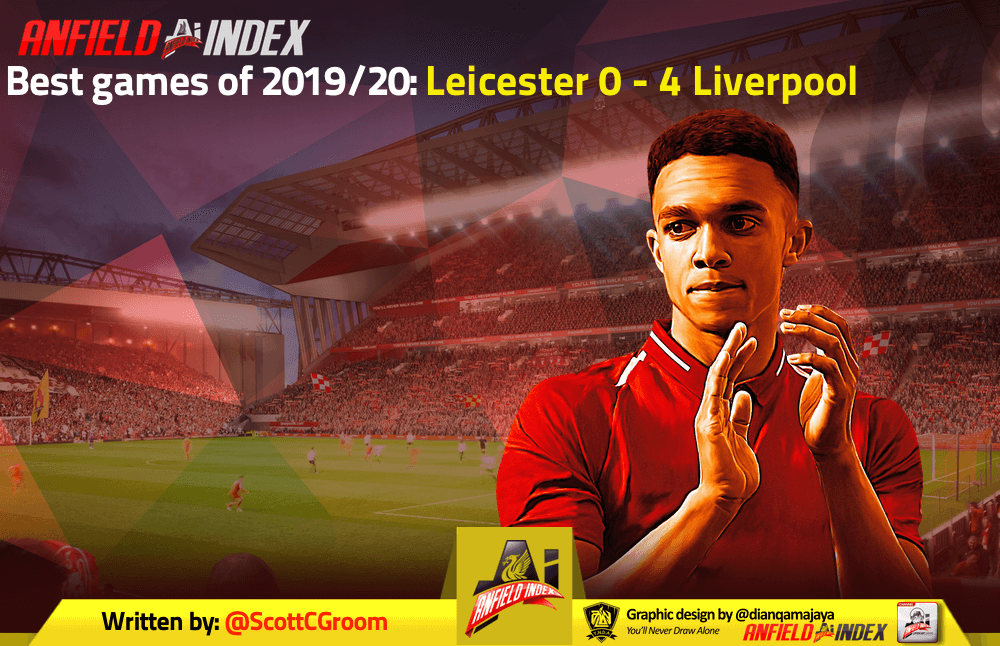 Best games of 2019/20: Leicester 0 - 4 Liverpool
The current authority-imposed hiatus from football due to the ever-saddening Coronavirus outbreak gives us all time to reflect on a plethora of subjects.
Inevitably, for those obsessed with football and the thought of Liverpool finally claiming that Premier League title, thoughts turn to some of the Reds' stand-out performances of what has been a marvellous season.
There have been so many moments of magic and significance that it's impossible to say one moment trumps all others, but for me (and I'm sure many other Kopites out there), the resounding 0-4 away win against Leicester City is up there as one of the many highlights from the current campaign.

Game with huge gravity
Going into the Boxing Day bust-up at the King Power, Leicester were Liverpool's nearest rivals in the title race, sitting 10 points behind Klopp's men. A win for Brendan Rodgers against his former employers would have been as sweet as any and would've perhaps cast a shadow of doubt into the minds of the runaway leaders.
Liverpool were fresh off the plane after their exploits in the Club World Cup in Qatar, and there were fears that this would be the game which their unbeaten start to the season would come to an end.
Would fatigue play a part? Would Liverpool's mentality, which had been unshakable up until this point, finally be broken by a Leicester team buzzing with confidence?
There was undoubtedly a huge amount of pressure on Liverpool's shoulders heading into this game, with seemingly everyone baying for blood and for Leicester to put a chink in the Merseyside armour.
It wasn't to be, and Liverpool answered all questions asked of them emphatically.
Scoreline does the performance justice
From minute one, Liverpool ceased control of the game and didn't even give Leicester a sniff.
Within five minutes, Sadio Mane should've put Liverpool ahead after a wonderfully worked cross from Mohamed Salah – but inexplicably put his effort wide.
This was a sign of things to come for Leicester, but even though they tried, they simply had no answer to the combination of Liverpool's resilience, hard-work, devastating pace, superior quality and ruthlessness in front of goal.
The Reds eventually made their dominance count on the scoreboard, when Roberto Firmino nodded home Alexander-Arnold's pinpoint cross after 31 minutes, and nobody could deny that Liverpool were well worth their lead.
Mane again squandered a good chance before half time, and Klopp will no doubt have been left a little frustrated that his side's dominance wasn't rewarded with more than just a precarious 0-1 lead.
Inevitably, Leicester rallied after the break and came out and held onto the ball a little better – but still caused Liverpool few problems.
Then after Milner converted from the penalty spot after 71 minutes, it was only a matter of how many goals Liverpool could help themselves to before full time.
The midfield buzzed, the front three darted in and around the Foxes' defenders at dizzying speeds, and Liverpool's full backs turned the wings into their motorways as they so often do as Liverpool overwhelmed Leicester, providing them with a stark reality check.
The 13 point gap at full time may have seemed almost possible to put a dent in, but any Leicester fan – or fans of any other title hopeful, too – could see that at that point, Liverpool were in a league of their own.
All about the team but individual talents shine through
Although this was arguably one of the most complete team performances that I've seen for a long time, with every member of the team working in perfect harmony, this was also a night for a young Scouser to take center stage and show the world once more just how good he is.
Trent Alexander-Arnold had one of his best performances in a Liverpool shirt by quite a long way in the Midlands on Boxing Day, both defensively and in an attacking sense.
His famed distribution and crossing ability was on full display, with his beautiful curling cross providing the assist for Firmino's first, and a darting cutback providing the number nine with his second assist.
He kept Leicester out at the other end too, making the lauded Ben Chilwell look nothing short of below-par in every aspect. He gave his England counter part a torrid time in a night that he will not want to remember too quickly.
And to cap it all off, he scored a sublime goal on the counter that was celebrated raucously by the travelling Kop – and rightly so.
They saluted the Scouser in their team as he celebrated Kylian Mbappe style in front of them, with everyone acknowledging what a special performance they'd seen from him and his team.
Sending a clear message to the chasing pack
When it was announced that Liverpool would be taking part in the Club World Cup in the Middle East in the middle of December, when the fixtures were at their busiest, many looked with trepidation at Liverpool's chances of maintaining any kind of title challenge.
Injuries were bound to mount up, fatigue was bound to play a part, and with tough fixtures against teams like Leicester thrown into the mix, they were bound to drop points.
What actually happened was the opposite.
Liverpool's decisive December was capped of with the trouncing of Leicester in their own back yard, making it eight wins out of nine games – the League Cup semi-final defeat to Aston Villa the only blemish on their record, when a team of untried teenagers represented Liverpool.
The Reds answered every question posed to them and overcame every obstacle with aplomb, the result against Rodgers' Leicester arguably the best of the bunch.
Not only will this have strengthened the resolve and belief in the squad that this was a special moment to be a Liverpool player, but it will have sent shivers down the spines of those at Manchester City, Manchester United and Leicester.
City and Leicester were realistically the only ones who could catch the Reds, and this was a killer blow to both of their title hopes.
And United will have been sickened to see their bitter rivals come through a real tough patch totally unscathed – and actually in a better position than perhaps even the most optimistic of Liverpool fans could've hoped for.
It reinforced the belief of mentality monsters as something that is part of Liverpool's DNA now and made fans really believe that this was to be the season that 30 long years of waiting for a league title would finally come to an end.
As the commentator said on the night, the Foxes were well and truly hunted. Next in Liverpool's crosshairs? The league title.