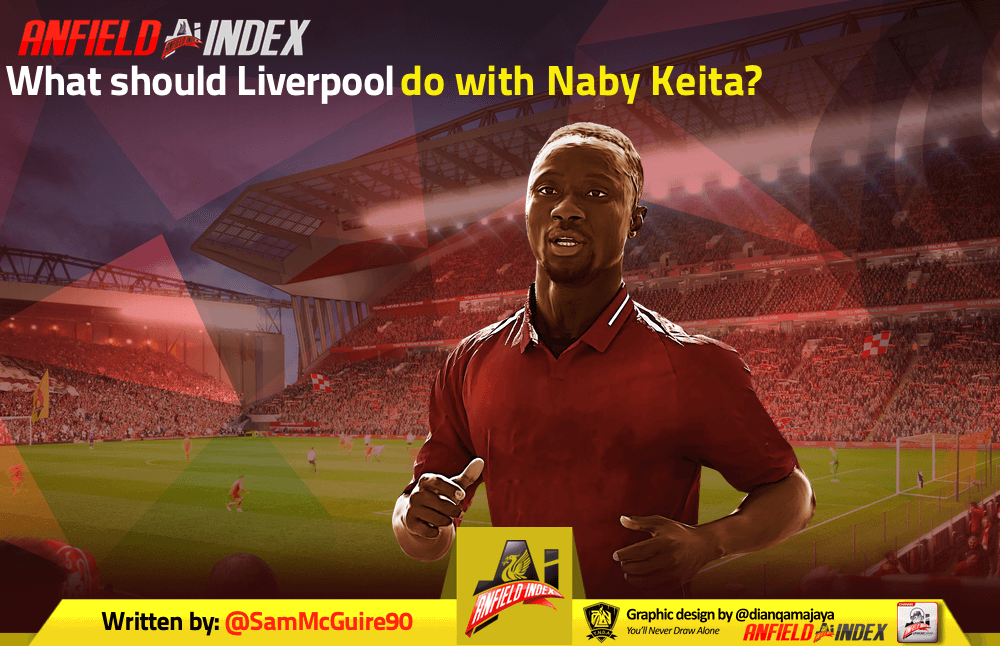 What should Liverpool do with Naby Keita?
When Liverpool beat FC Barcelona, FC Bayern and a host of Europe's elite to secure the signature of Naby Keita it was heralded as a coup. The Guinean captain was a whirlwind in the middle third for RB Leipzig in the Bundesliga and appeared to be the definition of a box-to-box midfielder.
He scored goals. He made assists. He racked up tackles and interceptions at an alarming rate (4.81 during his final season in Germany), and his dribbling figures were the envy of some of the best forwards in world soccer.
The former Red Bull Salzburg man was a destroyer and a creator. A difference-maker and a match-winner. He was the poster boy for the next evolution of this Jurgen Klopp side. 
But heading into the must-win clash against Atletico Madrid in the Champions League, Keita wasn't even on the bench. Initially, people thought he was injured, again, but the journalists covering Liverpool revealed he was fine, he just wasn't selected as part of the matchday squad.
It was something of a sobering moment for those who still believed the Liverpool No.8 could fulfil his promise and live up to the hype. The Reds needed something special to extend their stay in the Champions League. They didn't know how the game would pan out but they knew they needed goals. Yet they opted to stick Adam Lallana on the bench instead of Keita. That isn't to have a dig at the former Saints captain either. Just, Liverpool already had Fabinho and James Milner on the bench. They had safer options so why not opt for a risky one in Keita?
If Klopp doesn't trust him, does he have a long-term future with the club? It's been obvious from day one that the Liverpool manager has been trying to change his midfielder's style. But how long do you give a project before you move on? In the real world, as long as it takes. In football, though, the showing patience is giving a player a year to settle. Anything more and it becomes a bit of a worry. 
Though he impressed on his debut against West Ham United, the all-action performances many had become accustomed during his time in Germany were lacking. Instead, a more reserved Keïta was on show. Playing on the left of midfield in a 4-3-3 shape, the midfield maestro struggled to impose himself. More often then not he'd drift wide left to take up the space vacated by Sadio Mané after the Liverpool No.10 had made a move inside.
It wasn't that he was disappointing, more that he wasn't dominating games as he had in the Bundesliga. Instead, he was part of a functional attack. However, a switch to the 4-2-3-1 shape gave him the opportunity to shine in a two-man midfield, just as he had for RB Leipzig. He didn't waste the chance, putting in a man-of-the-match performance against Burnley as Liverpool came from behind to pick up all three points on a cold evening at Turf Moor.
But the Reds rarely use that formation and the responsibilities placed on the midfielders differ to those he was used to during his time in Germany. That isn't to say he can't adapt, he's shown on multiple occasions that he can play a more robotic way. But this perhaps explains why fans won't ever see the RB Leipzig version of Keita. Instead, they see a more refined version. One that looks to be playing within himself but one that is doing a job for the team.
Unless the team changes their style, Keita won't ever be the Keita fans witnessed in Germany. But to be a success at Anfield, he doesn't have to be. He just needs to do what Klopp wants him to do. Hopefully, it's third time lucky for the midfielder and the 2020/21 season finally allows him to bed himself into the starting XI.