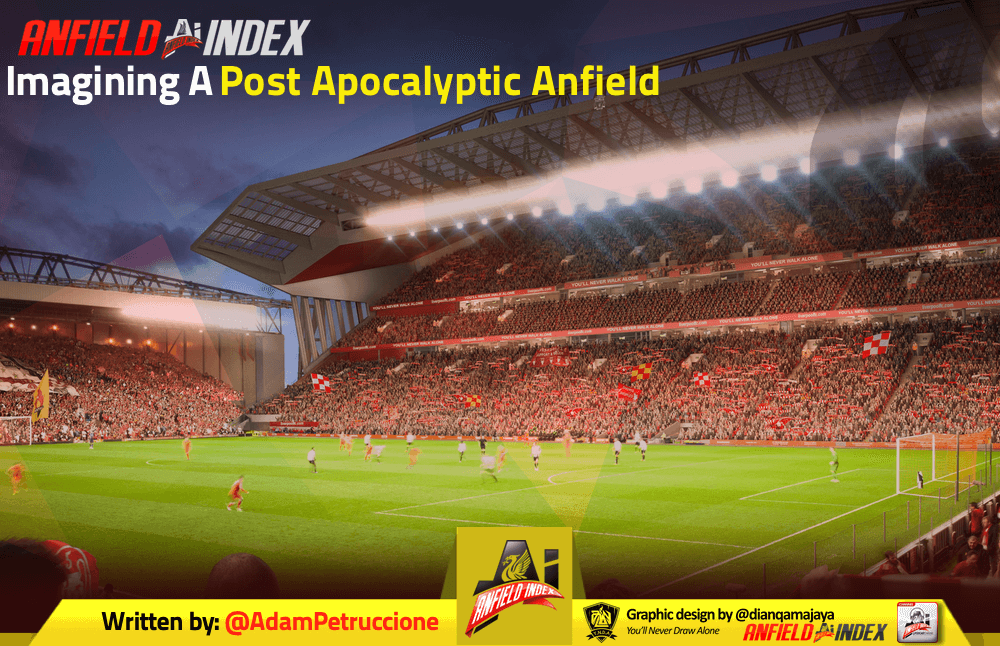 Imagining A Post Apocalyptic Anfield
A small drone whizzes down a deserted street. Two mangy dogs face off over possession of a discarded can. The tin echos as it bounces across pavement and concrete. The camera pans up, past the shuddered businesses and grey landscape as a shimmering, modern stadium comes into focus.
Post apocalyptic Anfield.
Because, no matter what happens to society, football will live on. Right? That is the assumption we're going on at least because if we can't assume Liverpool are coming back to our lives once we emerge from this crisis then please rip off my N95 mask and let darkness wash over me.

What will Liverpool Football Club look like and how will we experience the game whenever this global nightmare ends? Our assumptions and beliefs about what kind of football will return to us after its unexpected hiatus are so fragile. Between evolving Brexit law proposals that will impact football and the ever changing reality of COVID-19, the range of possible outcomes for British clubs is fathoms wide.
As the calendar turns to April, transfer decisions are right upon clubs around Europe. Twitter is full of the usual suspects linking LFC to players as if this were any other year. The top prospects that Liverpool are fighting Barcelona, Real, Juventus and United for are all playing in Germany at the moment. How will things look in England, in Spain, in Italy come May? When the time comes to actually fly in for a physical and sign on the dotted line, will cross-border flights even be allowed? Will athletes sign for teams based in cities that are in total chaos, especially when Germany, by the numbers, is handling this crisis better than the rest of Europe?
If Italy is still facing major turmoil by the end of the spring to the point that players feel their family is at risk, will they push for exits? What if Italy is past the crisis by that point and England is the new epicenter when the window opens? Then there's the economic component. How many teams and leagues will be facing total collapse in a few weeks?
So many transfer stories for Liverpool are assuming Michael Edwards is going to be able to work his usual magic and offload all of the club's scraps for enough to cover at least one world class signing. Our faith in Edwards would normally be infinite, but if clubs like Wolves, West Ham, Leverkusen and Lazio are starved of gate receipts, and don't have a guarantee that matches will be able to be played in front of a full house in the near future, will teams like that be able to splash out tens of millions on Liverpool's spare parts? Shaqiri has effectively been missing all year. The idea that The Reds will bring in 30 million for him, or 20 million for Lovren is fanciful in this new world. On the optimistic side; if there's no market for Shaqiri, then a fair assumption would be that the prices for Sancho and Havertz would be greatly reduced.
At this point all of us would be happy simply to watch The Reds again even if a new football landscape didn't tilt our way. The next question is, how will we be able to experience the matches? After some alternatives were considered in the US and the UK, every country has essentially settled on the same remedy for this disaster. But, when countries start to get on the other side of this, what will going to a stadium look like? What about getting on a train or a plane to get to Liverpool? When will it be possible for supporters on the other side of the world to see The Reds in person again? Will every person through the turnstiles have to have their temperature taken? Or, will your interactions be traced via your phone like they are in South Korea? Will people above 65 be banned from stadiums? Will ticket-holders be able to sell seats at all if age or health status becomes part of some sort of validation required for entry? What about away days? The possibility of thousands of people packing into another city's stadium, their hotels and restaurants and then returning to their homes seems so far from where we are right now.
Make no mistake, the Liverpool Football Club that returns to us for the conclusion of the current season and for next season will be distinctly different. The specific changes are unclear.
At this point it would just be a relief to have our Reds back. Let's just hope watching them is a familiar comfort rather than a weekly reminder of what we've lost.