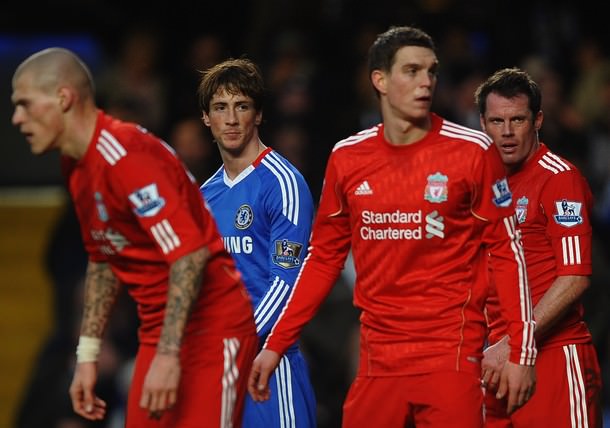 To Me, To You | A look at Liverpool centre-back pairings
Hansen and Lawrenson, Hansen and Thompson, Henchoz and Hyypia, Carragher and Hyypia.
These are some of the Liverpool centre-back pairings that have been forged over the years, now with the establishment of Skrtel and Agger, have we found a centre-back pairing that can last?
Martin Skrtel and Daniel Agger have had little chance to play alongside each other in the centre of defence due to injuries to themselves, injuries to others, which has meant them being played out of position and more importantly, the brick wall that is Jamie Carragher standing in their way.

Their individual performances and an injury to Carragher have allowed the two to climb over the wall of Carragher and combine to produce performances which have given encouraging signs for a long-term partnership.
Looking at this season, you can see from the table above that despite his red card against Tottenham, Skrtel has been the favoured defender, having started ten league matches.
The Slovakian's Aerial 50-50 win% and Tackle Success % are particularly impressive in comparison with Carragher and Agger, supported by his goal against Bolton. Agger has conceded the least amount of goals of the three, although he has played fewer minutes, but during that time he has made more interceptions and has a better Pass Completion %.
However, to get a better idea of how the centre-back pairings are performing, the table below shows a comparison of the pairings since the signing of Skrtel on January 11th 2008.
What first strikes you is that Skrtel and Agger are yet to be involved in a loss as a centre-back pairing and as such have a superior win % as a pairing, although they have played fewer games together than the other two pairings.
The partnership of Carragher and Skrtel is the predominant pairing of the three, mainly due to Agger's injury woes, although players being played out of position has also contributed to this. Agger in particular has been moved to left-back on numerous occasions as cover for Emiliano Insua, Fabio Aurelio and Paul Konchesky. While Carragher and Skrtel have also had to adapt to fill in the right-back role, they have both looked uncomfortable in that position, whereas Agger is a more attack-minded player and the left-back role allowed him to get forward more often.
This versatility has hampered Agger's chances of playing in his favoured centre-back position, with players such as Sami Hyypia and Sotirios Kyrgiakos coming into the side and lacking the adaptability Agger possesses. The summer arrival of Jose Enrique has decreased the chances of Agger playing as a left-back and instead he has been used primarily as a centre-back.
Injuries have also impacted on Agger, with the Danish defender missing large chunks of each season since signing from Brondby. Skrtel is catching up to his defensive partner in terms of appearances, despite signing two years after Agger and missing much of the 2008-09 season after a tearing a cruciate knee ligament.
This season however has seen Carragher become the one affected most by injuries and now that he has recovered from a calf injury, how difficult will it be for him to break up the Skrtel and Agger partnership? The 33 year-old could only make the bench in the league matches against Chelsea and Manchester City, but came back to captain the side in the 2-0 victory over Chelsea in the Carling Cup.
Uruguayan Sebastian Coates was his centre-back partner in that game and although he has minimal experience in the Premier League thus far, he is the most likely to challenge Skrtel and Agger for a long-term place in the side.
With Skrtel and Agger both aged 26, they are primed for a long run in the side, providing they build on their early signs of progress as a defensive partnership.