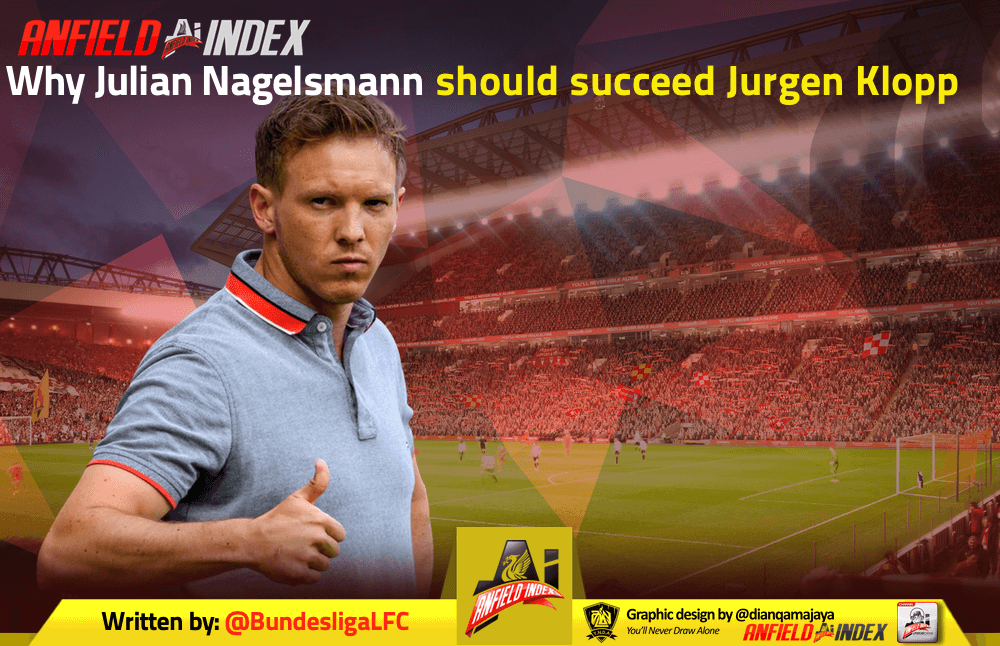 Why Julian Nagelsmann should succeed Jurgen Klopp
The last thing any Liverpool fan wants to think about right now is life after Jurgen Klopp. The day will eventually come and it is likely it'll be in 2024. His current deal comes to an end then and reports suggest he's not interested in extending it. Not yet anyway. 
Talk has turned to who might possibly replace him. Steven Gerrard has a lot of vocal support due to his history at the club. He's done an admirable job with Rangers, though their 2019/20 domestic campaign has tailed off over recent weeks. It's a big test for him and his managerial ability and this spell could shape his future. If he manages to turn it around and his spell at Ibrox ends with a trophy, the former Liverpool captain could make a case to succeed Klopp. 
But he isn't the only candidate. There will be others between then and now but the strongest contender right now is RB Leipzig manager Julian Nagelsmann. 

FSG seem to like the idea of hiring someone who is used to spearheading a project. Rodgers did it with Swansea and Klopp with Borussia Dortmund. Nagelsmann, meanwhile, turned Hoffenheim from strugglers to European contenders. He had a set philosophy and he improved players, all while blooding and developing youngsters. 
He hasn't been as successful as Klopp in Germany but what he did with Hoffenheim was nothing short of remarkable. Now at the Red Bull Arena, he's in charge of a club considered to be a stepping stone onto bigger and better things by players. Why can't the same be said for managers? 
They've assembled a young squad and Nagelsmann has put his stamp on the team, implementing his successful Hoffenheim system. If they, against the odds, push Bayern Munich for the title while developing the vast array of talent on show, why wouldn't he be on Liverpool's radar? 
But what makes Nagelsmann such an intriguing option is how he's handled attackers throughout his managerial career.  
He got Andrej Kramarić, Mark Uth and Sandro Wagner firing. Serge Gnabry also enjoyed one season on loan with Hoffenheim and it was the first time he'd been used centrally. He netted ten times in 22 appearances and he's since had a starring role for FC Bayern. Wagner's form under Nagelsmann convinced the Bavarian giants to make him Robert Lewandowski's back-up option.
Kramaric failed at Leicester City yet he scored 45 goals across three seasons with Hoffenheim when Nagelsmann was at the helm.
He's continued to improve forwards since the switch to RBL. Long-term Liverpool transfer target Timo Werner is having his most productive season to date and a lot of that is down to Nagelsmann's use of him. The German tactician has developed the former VfB Stuttgart winger, rounding out his game. The 24-year-old no longer just drifts to the left side of the pitch before darting back inside. This season, he's played as a false-nine and he's even popping up on the right.
Under Nagelsmann, Werner went from being a decent striker to an elite one. If there wasn't a release clause in his deal, the RB Leipzig No.11 would've seen his valuation double this season. He's been that good.
And this will appeal to Michael Edwards and the recruitment team at Anfield. Liverpool funded this title challenge with the sale of Phillipe Coutinho. The Reds wouldn't have been able to charge £140 million for the Brazilian playmaker pre-Klopp. Of course, Neymar's sale changed the landscape of football. But the point is, the former No.10 didn't start to show consistency until the German's appointment. He went from frustrating to devastating, and because of this Liverpool could demand an eye-watering fee for the one-time Inter youngster.
Klopp's improved countless players but his greatest success stories have come in the final third. He played a part in Lewandowski's development. Marco Reus evolved under the charismatic German, too. Sadio Mane fulfilled his potential under Klopp and Salah turned into one of the most prolific forwards in the world after the switch to Merseyside. Liverpool could sell both players for quintuple what they paid and this could fund another title push. That is how the Reds win. By developing strikers. Finding someone who does it as well as Klopp will be key but Nagelsmann has one of the best track records.