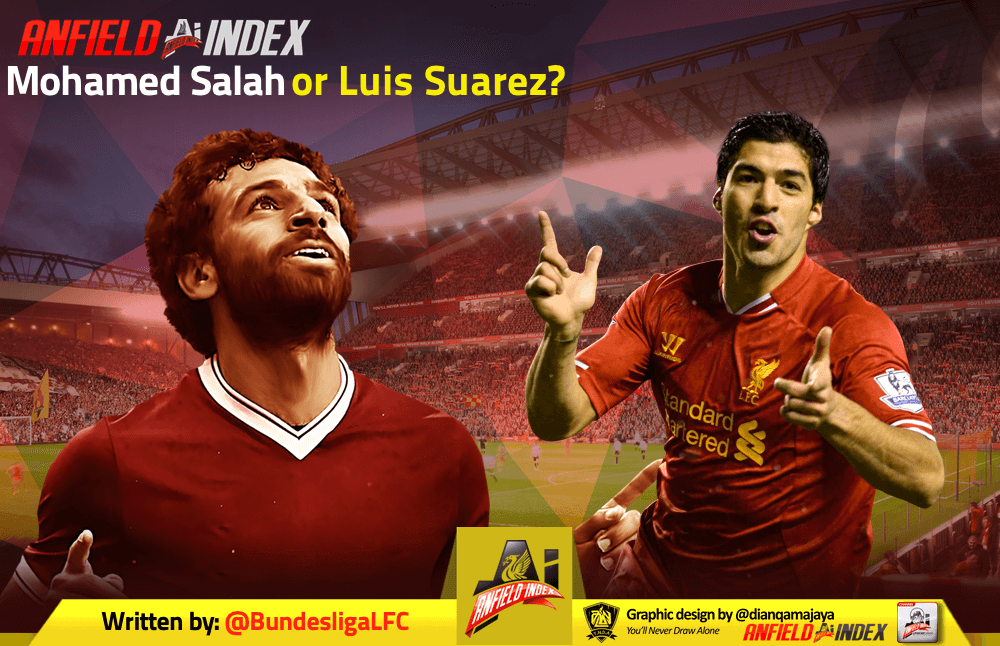 Mohamed Salah or Luis Suarez?
Only Alan Shearer has scored more goals than Mohamed Salah in 100 Premier League appearances for a single club. The Liverpool forward has 70 goals for the Reds in 100 games. A remarkable return given he's a wide forward. He's managed to eclipse the likes of Ruud Van Nistelrooy, Thierry Henry, Sergio Aguero and Fernandes Torres. And yet people still underrate the Liverpool No.11 and overlook what he's doing for Jurgen Klopp's side.
Since the inception of the Premier League, the Merseysiders haven't had a better forward, at least not statistically. The Reds have been blessed with talented strikers in the past. Robbie Fowler terrorised defenders for a period. Michael Owen filled that goalscoring void when God was injured. Torres eventually succeeded the former No.10 as the goal machine adored by the Kop. Luis Suarez claimed the title after the Spaniard decided a move to Chelsea was best for his career.
The Uruguayan menace changed how fans judged strikers.
Before he ran riot in the Premier League, attackers were judged on goals and goals alone. The likes of Gianfranco Zola and Dennis Bergkamp had a free pass to create as opposed to scoring because of how brilliant they were to watch. Thierry Henry was perhaps the only player to get close to bridging those two styles.
But then Suarez had that 2013/14 season and it blew everything else to smithereens.
The former Ajax man managed 48 goal involvements in 33 appearances for Brendan Rodgers side as they pushed Manchester City all the way in the title race. In the eyes of many, this is the best Premier League season by a player, ever.
A recent piece on Liverpool.com actually detailed just how mental that season was for Suarez. For starters, he was averaging 5.5 shots per 90 with a shot accuracy of 45%. For context, most elite forwards average around four shots and their shot accuracy, at best is 40%. Not only was Suarez having more efforts, but he was also unnervingly accurate. Because of this, he finished the season with 0.9 goals per 90.
Furthermore, he was also attempting 7.2 dribbles and completing near three of them. In fact, he was completing more dribbles than Salah even attempts.
And an argument often used to back up the claims that the former No.7 is the best Reds player of the Premier League era is that he was posting those numbers in an average Liverpool side. No disrespect to that squad but the 2013/14 team had no right to do what they did. It wasn't Suarez FC as some claim but he was the spark behind a lot of it.
They then say Salah is part of the best Liverpool team for 30 years and his success is a result of that. To an extent, that is true. But you could argue that it highlights just how good the No.11 that he's been able to slot seamlessly into this team. He's not single-handledly trying to do everything and as a result, the goals are shared. If you stop Salah, you don't stop Liverpool. If you, somehow, managed to stop Suarez, you went a long way to nullifying the Reds back then.
If the former Roma man was allowed to be the centre of attention then his shot volume might well increase to hit the numbers Suarez did. His goal return could well spike, too. But it'd likely be at the expense of goals from other players. You see, what makes Salah so special for Liverpool is that he's winning back to back Golden Boots while also sharing the spotlight with Mane and Firmino. Neither forward is playing second fiddle to the No.11 and because of this they're, more often than not, a united front.
Suarez often gets the plaudits but what Salah is doing eclipses everything he did.