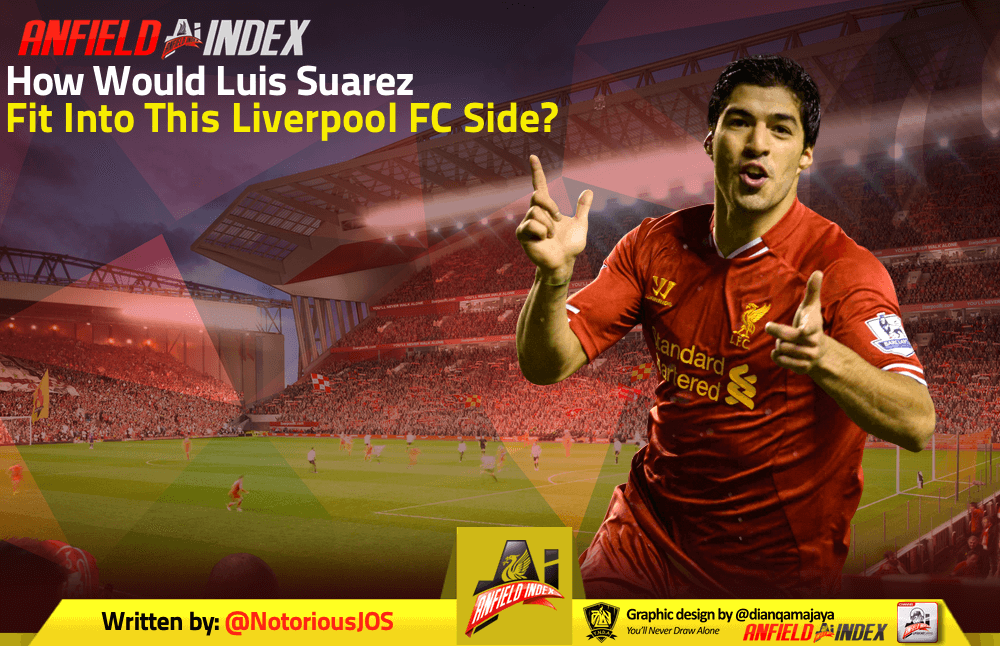 How Would Luis Suarez Fit Into This Liverpool FC Side?
While it's practically impossible to improve on the kind of perfection that this Liverpool team has embodied over the last two years…it's always fun to fantasise, isn't it?
So with that being said, here's a Liverpool legend that might just fit into the greatest LFC side of our generation
Liverpool's electric front three of Sadio Mane, Mohamed Salah and Roberto Firmino have cut a swathe through both English and European football over the past three seasons. In this time frame, the Reds have won the European cup — as well as contesting another final — and will win what looks to be an inevitable Premier League title, a season after they broke the league's record points tally for a second-place team; amassing a gargantuan haul of 97 points.

These achievements have been largely built upon a foundation of goals supplied by their feared attacking trident.
Like any well-calibrated machine, functionality depends on each of the cogs working to the fullest of their capability and it would be facile to question who out of Salah, Firmino and Mane is the most valuable to Jurgen Klopp and his game-plan.
Salah — who broke the Premier League goalscoring record for a 38 game season, with 32 goals in the 17/18 campaign — may not be so prolific without the subtle movements of Firmino. The Brazilian's opens space for the Egyptian to exploit by manipulating opposition defenders into leaving defensive gaps and plays a selfless, nut nonetheless pivotal role.
Mane's development in recent times has seen him more resemble an orthodox forward, rather than the flying winger who moved to Anfield in the summer of 2016 — the Senegalese star shared the golden boot with Salah and Arsenal's Pierre Emerick Aubameyang in 2018/2019. However, he might have struggled to score so regularly if it wasn't for opposition fearing the threat of Salah and committing so much defensive resources into stopping the former Roma man, thereby buying the Reds' number 10 precious time and space.
Without the pace and threat in behind of his pacy supporting cast — forcing opposition teams to sit their defence deeper in the fear of becoming exposed — there is every chance Firmino could not drop deep as effectively and become the player who knits the European champions attacking moves together. Ostensibly a 433 formation, Liverpool effectively play a 442 diamond shape with former Hoffenheim man playing as the number 10 — the conduit through which the attack flows — and Salah and Mane acting as the striking duo.
The well balanced and compatible attacking trinity are co-dependant and it would be hard to envision taking one of them out — even if you supplanted them with a player of equal or even superior talent — of the equation and the sharpness and efficiency of the attack remaining the same.
But if you were pushed to take one of Firmino, Salah or Mane out of the Reds' current front three and replace them with another Liverpool player from the Premier League era, one South American would make way for another and Luis Suarez would come into the fray at the expense of Firmino.
Suarez joined the Anfield side in early 2011 and was a key component in the Reds' unsuccessful — yet unpredictable and commendable — title charge in the 2013/2014 season. The Uruguayan international had arguably the finest individual season in the history of the Premier League; netting 31 goals and laying on 17 assists in only 33 appearances, collecting the player of the year gong in the process.
The forward's form was such that Barcelona paid the princely sum of £65,000,000 to take him the Camp Nou in the summer of 2014, despite Suarez courting controversy by biting Italy defender Georgio Chiellini in the World Cup a month previous. And it was El Pistolero's form in Catalonia that would make him such a good hypothetical fit to take Firmino's role in the current Liverpool team.
Playing between Lionel Messi and Neymar, Suarez scored 94 times — second to Messi — and registered 48 assists — the most of the trio — as Barcelona won, among other trophies, the treble in 2015. The Uruguayan's stint with his fellow South Americans in La Liga — which was broken up when Neymar decamped to PSG in 2017 — as well as his fruitful on-field relationship with Daniel Sturridge at Anfield, proved he can be the ideal strike partner — in a similar fashion to Firmino.
As an added benefit, and in an area that the now 33-year-old trumps the Brazilian, Suarez can be genuinely prolific in front of goal and can lead the line as a traditional number 9 or — as he would be tasked to be while playing with Salah and Mane — a medium through which his attacking partners can benefit and express themselves.
Liverpool are a team committed to gegenpressing and a high-intensity style of play and for this all players need to be comfortable in pressuring opponents and intelligently pressing as a pack. This is an area of the game where Firmino revels with his insatiable appetite for running and tactical intelligence making him ideal for the role.
But Suarez is also capable of undertaking such duties for his team, boasting the required levels of aggression — an attribute which sometimes manifests itself negatively, as seen in his biting incidences, — and tactical understanding to lead a team's press and would be an ideal fit for Klopp and his soon to be English champions.