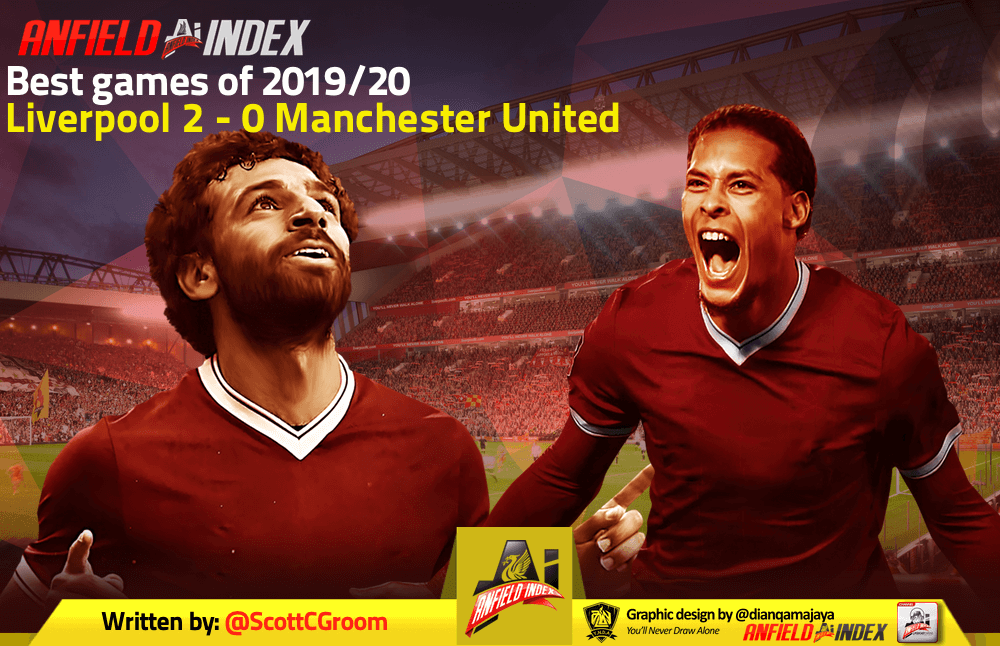 Best games of 2019/20: Liverpool 2 - 0 Manchester United

As sport across the world continues to quite rightly take a back-seat, it provides a perfect platform to revel in some of Liverpool's finest moments of the season to date.
While it may only provide a small silver lining to what are undoubtedly dark days, there's not a lot better than thinking back to some memorable fixtures in this glittering season so far.
Last time, I focused on Liverpool's 0 – 4 Boxing Day bullying of Leicester City, but this time, I've gone for probably a worse performance, but a victory that held just as much (if not more) gravitas.
That is the memorable 2 – 0 win over bitter rivals Manchester United.
Another game with huge importance and Liverpool pass the test
Games between Liverpool and United are always huge. There's no escaping that.
But this one was of particular importance. Liverpool started the afternoon 13 points clear of City and 16 clear of Leicester after both teams had dropped points earlier in the weekend.
That only added to the weight of the occasion and the pressure was firmly on Liverpool's shoulders to further prove their worth as run-away league leaders.
And Ole's men were competing with themselves to try to be the only team to take points away from Klopp's side in both fixtures in the entire season, and wanted to put a chink in their armour for old times' sake, so they were as always really up for the battle.
But when it came down to it, Liverpool's mentality monsters once again rose above all of the noise to approach the game with a clear head, eyes on the prize and a game plan which when almost perfectly executed would reap the sweetest reward.
And that's exactly what happened.
Another display of pure dominance
Make no mistake before we delve into this further, however, that this was by far not Liverpool's finest performance of the season.
The first half was about as good as it gets. Liverpool completely dominated possession, territory and posed a huge threat going forward and from set-pieces – clearly a weakness of United's that Klopp had highlighted.
Liverpool's high energy from the midfield three of Henderson, Wijnaldum and Oxlade-Chamberlain, combined with the two flying full-backs, pinned United back into their own half and the pace of their play was too much for the visitor's to cope with.
Their intense early pressure paid off when the imperious van Dijk rose to meet Alexander-Arnold's beautiful out-swinging corner to make it 1-0.
And the Reds were very unlucky not to go into half-time leading by more, with Firmino unfortunate to have his goal ruled out by VAR after a very soft decision in favour of de Gea, who also made a good save to deny Sadio Mane.
But after the restart, Liverpool looked a little slower, blunter in possession even, and let United wrestle back a bit more of the ball – although they were unable to really trouble Liverpool until Martial blazed over late on.
This was the part of the game Klopp would've been unhappy about. The 85% of the game said he was really happy with was not this point, but he would still have been impressed with how resolute his team defended and how well they stayed put.
Their mentality, as always, shone through. The players didn't look like they were prepared to surrender anything, and they didn't relent in this.
Even when on the back-foot, Liverpool still looked in control and that was as impressive as their first-half annihilation of United.
Legendary moment as Salah gets his goal
In football, we often talk about iconic moments and those moments that go on to define a period. There are also those moments that tick all of the above, and are instantly recognisable as moments that will be remembered forever.
In a period of rare unease, as United rallied in stoppage time with a few quick successive corners, Liverpool struck a killer blow to them and the rest of the teams hoping to deny them of their title.
From a United corner, Wan Bissaka scuffed a shot towards goal which Alisson collected, before brilliantly spotting Salah making a run towards The Kop end.
Quick as a flash, Alisson set Salah free, and the rest is history.
Not only was it poetic that Salah was to stick the knife in in the 93rd minute, getting his first goal against United, it was the jubilant celebrations that followed. It was like the team on the pitch and every Red inside Anfield realised that this could finally be the season.
Salah's shirt was off. Scarves were flying everywhere. Alisson raced down the pitch and slid for what felt like 100m on his knees towards Salah. It was beautiful. It was poetic. It was iconic.
The general feeling was that, if United weren't able to stop Liverpool again, then that would be it for the title race.
And that feeling was felt around the Premier League as soon as the full-time whistle blew. Liverpool were now on the home straight, with time seeming to be the only thing left in their way of getting their hands on the trophy they so badly desired.
Beating United is always good – this was great
For this momentous step to be taken against Liverpool's oldest adversaries just capped what was a brilliant night and one that was symbolic of this Liverpool side.
No mental block was to be felt after the disappointing 1 – 1 draw at Old Trafford earlier in the season. The occasion was not to get the better of them. They showed how they can blow teams away but also be a team that is so difficult to play through and get anything out of.
This was, arguably, the epitome of Jurgen Klopp's Liverpool.
To put in such a performance and effectively mock United in the process, leaving them licking their wounds and realising the gulf in class between the two clubs also just added that extra sprinkling of magic to the occasion.
The fans knew this, too.
The road to glory could now only have been blocked by the team themselves, and that didn't look likely.
For all of these reasons, this will be one of the games that is remembered fondly above many others in what has been the most incredible of seasons.