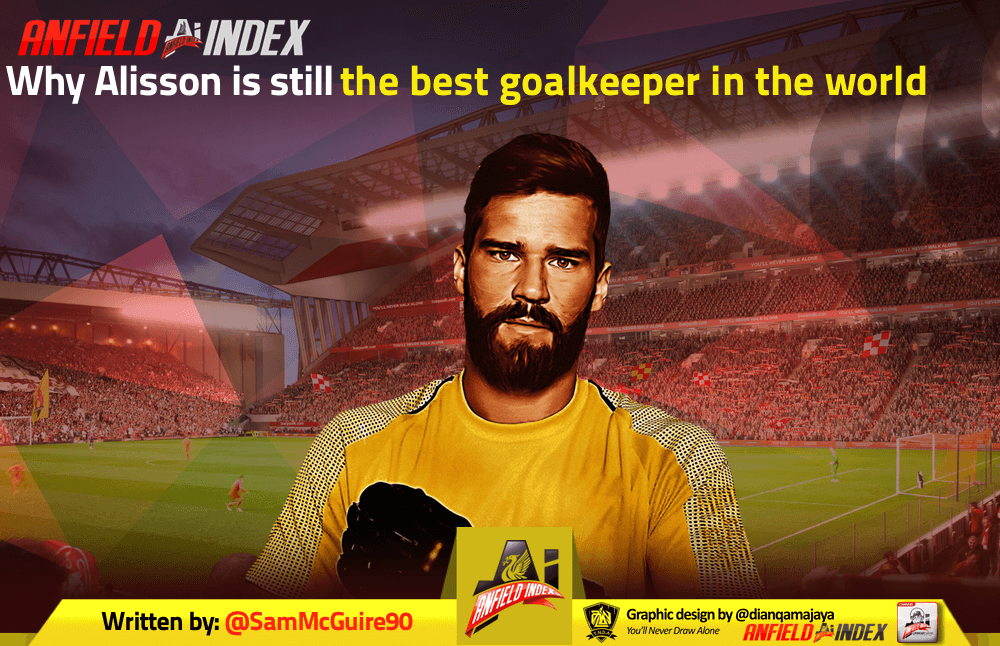 Why Alisson is still the best goalkeeper in the world

Twitter can be a strange place. Manuel Veth, freelance football writers for a number of outlets, is of the belief that Manuel Neuer has been better than Alisson Becker this season. When asked to explain his thought process behind this shout, he refused and told me to write an article on why he's wrong. So here it is.
Liverpool's No.1 has been unlucky with injuries this season. The 27-year-old has started just 20 times in the Premier League and five in the Champions League while Manuel Neuer is back fit after a torrid couple of years. He's played every match for Bayern in the Bundesliga this season. By comparison, he'd appeared in just 81% of the league matches over the past two campaigns prior to this one.
It's safe to say the 34-year-old is back and, according to fans of the Bundesliga leaders, he's back to his best. But is he the best in the world? No. It isn't even close.
Breaking it down statistically, 40% of Neuer's appearances this season have ended in clean sheets. On average, he's conceding 1.04 goals per 90 from a post-shot expected goals total of 1.01. The latter metric gives a value for where the shot was taken and where it lands on target. It's primarily used to help find out which players improve their efforts with their placement but it can be used to identify which goalkeepers are saving difficult shots.
Neuer's numbers show he's just par.
By comparison, during Alisson's debut season on Merseyside, the Brazilian shot-stopper kept a clean sheet in 55% of the Premier League matches he played. He conceded 0.58 goals per 90 from a post-shot expected goals average of 0.72. That might not seem like a lot but over an entire season that is a difference of 5.3 goals. Alisson saved Liverpool over five goals. Neuer, on the other hand, is on course to concede one goal more than his post-shot average over the course of a campaign.
Now, it's quite clear Neuer isn't getting close to Alisson's dominant 2018/19 season. But Manu's argument was Neuer has been better than Liverpool's bearded Adonis during this current campaign. So let's take a look at that.
The Bayern No.1's numbers for this year are above so there's no point repeating them. In Alisson's 20 appearances this term, Liverpool have conceded 14 goals at a rate of 0.70 per 90. Their post-shot expected goals total over this period is 17.64 and their post-shot average is 0.88. Despite injuries, Alisson is still making a noticeable difference to the goals against column for the Reds.
There was a period earlier on in the season that Alisson had saved 50 of the last 54 shots he's faced. It coincided with Liverpool winning the Club World Cup and opening up a 22 point lead at the top of the Premier League.
To summarise, Neuer's numbers aren't anywhere near those Alisson posted when he was named the best goalkeeper in the world last season. His numbers aren't even as good as Alisson's this year. Sorry to be the bearer of bad news, Manu.