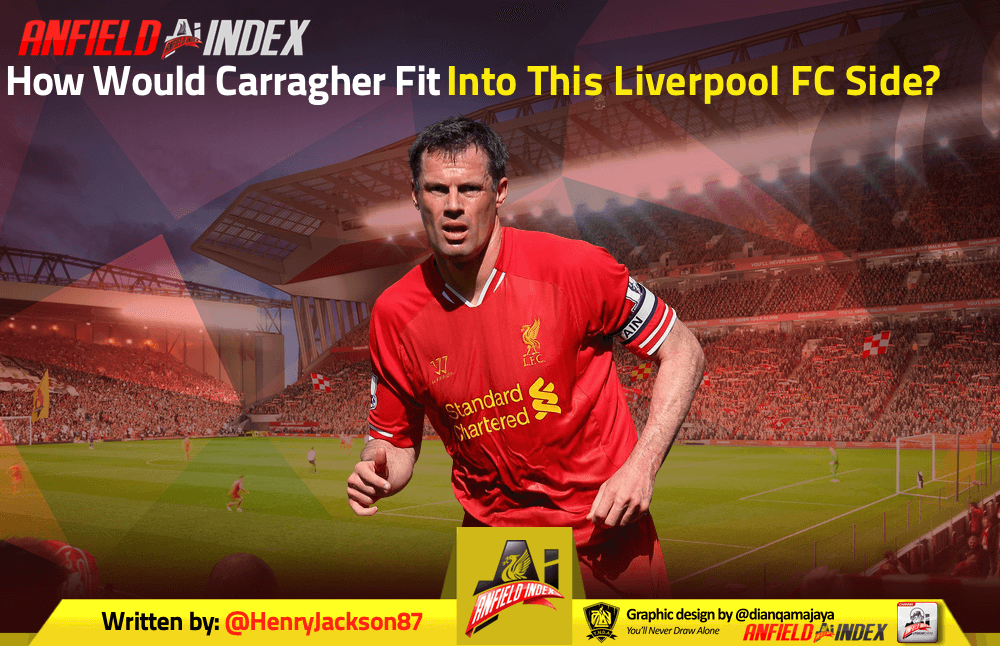 How Would Carragher Fit Into This Liverpool FC Side?
While it's practically impossible to improve on the kind of perfection that this Liverpool team has embodied over the last two years…it's always fun to fantasise, isn't it?
So with that being said, here's a Liverpool legend that might just fit into the greatest LFC side of our generation…
When you look at this wonderful, star-studded Reds team, it's sometimes hard to think how it could be bettered.

Let's not forget that this is a side that has dropped five points all season in the Premier League, in a total of 29 matches to date.
In goal, Alisson is an all-conquering presence who is already among the greatest goalkeepers to ever represent the Reds – over time, he should sit at the top of the pile.
Trent Alexander-Arnold and Andy Robertson have almost redefined the role of a full-back at Anfield, particularly the former, while Virgil van Dijk is so perfect it's bordering on ridiculous.
The midfield, oozing in industry, is the less fashionable area of the pitch, but in Fabinho, Jordan Henderson and Gini Wijnaldum, Jurgen Klopp has a trio capable of matching the very best on its day, not to mention the added flair of Naby Keita and Alex Oxlade-Chamberlain, and the evergreen nature of James Milner.
Then there's Mohamed Salah, Sadio Mane and Roberto Firmino – a trio who have swiftly become one of the great Liverpool attacking units, sitting alongside Steven Gerrard and Fernando Torres, Sir Kenny Dalglish and Ian Rush, and Ian St. John and Roger Hunt.
In decades to come, we will look back on Salah, Mane and Firmino with as much fondness as any attacks to have graced the Anfield turf.
One Liverpool great of the past who I believe would make the Reds even more commanding is Jamie Carragher – a true legend whose incredible influence must never be forgotten.
This is no slight on Joe Gomez, who arguably has more natural ability and more potential, but a peak Carragher pips him at this point in time.
It is easy to forget what a great player he was for several years in his prime, namely between 2005 and 2009, when he was a mainstay under Rafa Benitez, winning the Champions League, coming close to winning more and also nearly getting over the finish line in the league.
Whether it be alongside Sami Hyypia, Daniel Agger or Martin Skrtel, he was a born leader who embodied everything great about Liverpool Football Club – ironic really, considering he was a boyhood Evertonian.
History will look back on a golden age of English centre-backs and potentially forget Carragher, at a time when Rio Ferdinand and John Terry were the undisputed go-to duo for the Three Lions.
Sol Campbell and Ledley King were also superb players in their own right, which meant Carragher didn't always find it easy to get noticed. He would walk into the current England side, however, and be worth a huge amount at the same time.
He was a colossus for Liverpool, and in those aforementioned peak years of his career, he was right up there with the most trustworthy centre-backs in Europe.
Carragher would be the perfect foil for Van Dijk in Klopp's current outfit, providing grit and determination, not to mention more natural leadership. While Gerrard was the captain for all those years, it could be argued that Carragher was the true voice on the pitch and in the dressing room, demanding extremely high standards from those around him.
He would be the Mark Lawrenson to Van Dijk's Alan Hansen and the Stephane Henchoz to his Hyypia, doing the dirty work but proving almost just as important.
Carragher was no workhorse, though, even if his style was naturally gritty and he was famed for putting his body on the line in huge games, most notably in Istanbul, in which his performance was truly phenomenal as the night wore on.
While he may not have possessed the effortless style of Van Dijk on the ball, he was vastly underrated in that area of his game, averaging a 92 per cent pass completion rate in his final season in the Premier League.
While that may not be proof that he is necessarily great on the ball – he could simply have played it safe – he had an ability to thread a pass into midfield, and was also accurate when it came to delivering the ball long.
It was Carragher who strode into midfield in Istanbul, for example, finding Milan Baros in the lead-up to Gerrard winning the match-levelling penalty.
It shouldn't be forgotten that Carragher played as a striker in his youth, and was also deployed in a central midfield role early in his Reds career. You simply don't manage that if you're limited in a technical sense.
If there's one thing that Gomez can occasionally be guilty of – he will improve over time, I have no doubt – it is an ability to have a lackadaisical day at the office. That was on show against Bournemouth recently, when he was all at sea at times, being given a tough examination by Callum Wilson.
Carragher found a metronomic level of consistency and was never anything less than fully switched on, which would give this Reds side another extra edge.
Even Van Dijk, for all his greatness, can very occasionally be too laid-back, and Liverpool's second-highest appearance maker in history would be there to ensure that never happened.
Klopp's class of 2019/20 is almost perfect – the results back that up – but a peak Carragher would make an already phenomenal defensive unit into an even greater force.