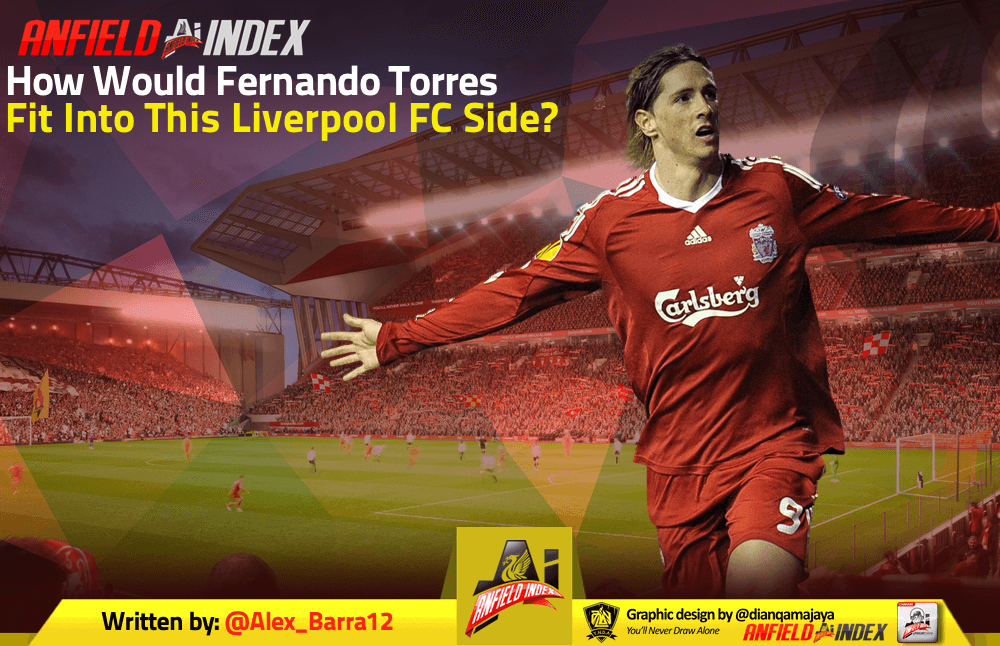 How Would Fernando Torres Fit Into This Liverpool FC Side?
While it's practically impossible to improve on the kind of perfection that this Liverpool team has embodied over the last two years, it's always fun to fantasise, isn't it?
So, with that being said, here's a Liverpool legend that might just fit into the greatest LFC side of this generation.
No, replacing Roberto Firmino wouldn't be the best thing to do for this team. He's the engine room, and though he went on a fairly barren spell in front of goal, he always seems to pop up when he's needed. Roberto Firmino is intrinsic to Jürgen Klopp's side, and replacing him isn't in the best interest of anyone. But sometimes, you just have to sit back and think.

If Liverpool's number nine was so good under Rafa Benitez, when he only had two major sources of inspiration directly behind him, then what sort of damage could he do in this side?
How irresistible would it be to have prime Fernando Torres in this side?
Of course, any wise reader will have seen through the premise of these pieces already. This series isn't seeking to answer the question of how much better this current team could become. It's a wistful lament that the icons of Liverpool's modern era couldn't have been in a side as thoroughly brilliant as this one.
Put simply, this is a love letter to Fernando Torres, wondering what it'd be like if he was seen through the prism of this incredible team. So, was he really that good? Would he really fit into Klopp's team?
Of course he would.
The man could side foot a finish into the back of the net like it was his divine right.
"You don't back off Fernando Torres" the commentator declared as Torres banged in a beauty against Sunderland – imagine (if you will) what he'd be like in that penalty box, with the delivery of Alexander-Arnold and Robertson, or partnering with the wingers on a scything counter-attack. Imagine the defenders he could eviscerate with that graceful touch and slam.
One could easily gain a perspective from the sheer number of defenders he already eviscerated: including Nemanja Vidic (who seems to be the anti-Liverpool brigade's golden child as history's rival to Virgil van Dijk), his partner Rio Ferdinand, all of Real Madrid's defence circa March 2009, and every Premier League defender that thought it wise to step off him.
Torres had his trademark goal; take the ball down, make the defender think he was considering his option, only for the ball to already be in the back of the net. The time between his shimmy and his strike wasn't only minimal, it was a majestic sight.
A packed box, with a defence desperately trying to foil Liverpool's barrage of pressure, and there's Fernando Torres in the middle of it, waiting for just one opportunity, one moment where a subtle move goes unnoticed. All he ever needed was one chance; a bad touch from a defender, a lovely ball slipped in from his best mate behind him, or (against Blackburn) simply the ball holding up at the right height for him to swivel and hammer it home.
Watching Torres was like watching a lion; gorgeous in its movements, but vicious in its treatment of prey all the same.
And that was without a single world-class winger feeding him from wide.
In Klopp's side, the chief creators are the fullbacks, with Trent and Robbo having competitions between themselves to set assist records. Having a predator like 'Nando hovering about, waiting for the perfect ball, while Mo Salah and Sadio Mané occupied defenders themselves, would be a recipe for goals.
Had Torres been privileged with the linkup play of Liverpool's current front three, and had he been partnered with someone doing the work that Roberto Firmino does (sure, why couldn't they play together? This is fantasy remember) it's fair to say he would've been widely regarded as the best striker in the world for longer than his peak allowed.
And that's the thing, for a little while there, as Rafa's men looked to end the long wait for a Premier League title around the end of the 2000's, Fernando Torres was the best number nine in the world. Liverpool's number nine.
A decade later, Liverpool are going to do what the pair of Spaniards couldn't. And that's a shame.
So, here's to you Fernando. You'd be right at home in this wonderful, wonderful team.