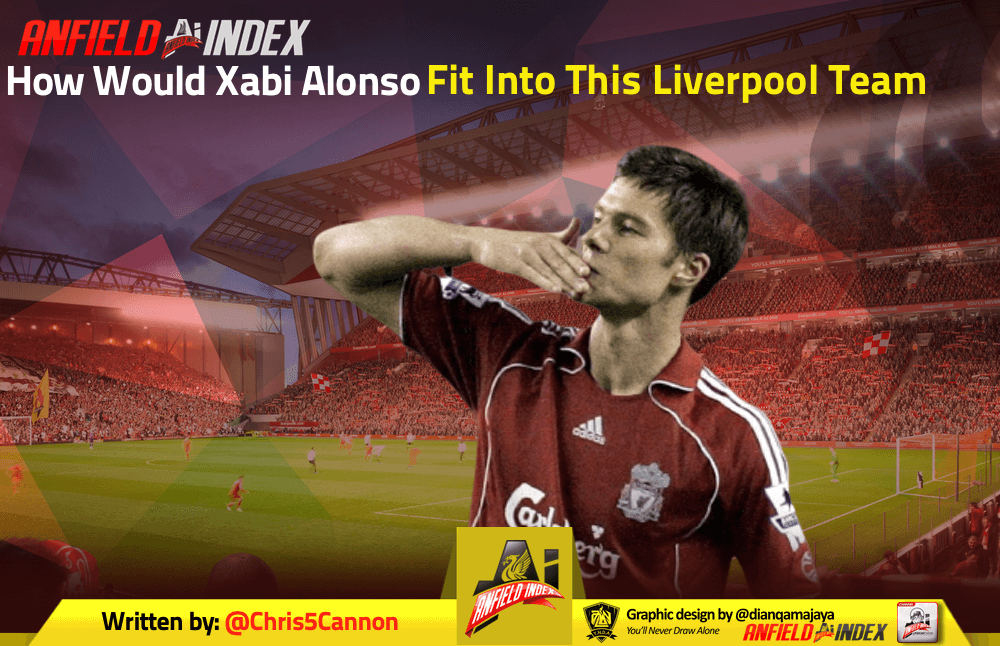 How Would Xabi Alonso Fit Into This Liverpool Team
While it's practically impossible to improve on the kind of perfection that this Liverpool team has embodied over the last two years… It's always fun to fantasise, isn't it?
So with that being said, here's a Liverpool legend might just fit into the greatest LFC side of our generation.
Currently the Reds possess a wide choice of midfield options with multiple players all capable of performing in specific roles – in terms of depth this is the strongest that the club has looked in the middle since Klopp took over. The front three and defence have received the majority of the plaudits so far this season as the team chases a record-breaking points tally, but the midfield has been a vital cog in the side's impressive form.

Jordan Henderson has been in the form of his life and really shown just how important he is to the team, both as a player and a leader. Gini Wijnaldum has once again shown that he is the man for big occasion. The Dutch maestro has provided the perfect foil for linking the ball to the front three, whilst also offering an incredible ability to shield the ball under pressure and get the side out of tight situations.
Alex Oxlade-Chamberlain has returned to the side from a serious knee injury showing no side-effects whatsoever. The all-action midfielder has produced some really impressive performances this season, his 7 goals in all competitions is the highest tally he has managed since his Southampton days in League One. The man who usually anchors the midfield, Fabinho, has once again proven how valuable a member he is to the team, his rangy strides and tough tackling have been incredibly valuable for the Reds with the Brazilian regularly cutting off opposition attacks. Fabinho has provided Liverpool with a midfield backbone that it has arguably been missing since the sale of Javier Mascherano, he is also more than capable of providing the front three with raking diagonals that get the side on the front foot.
Possibly one of the most unlucky members of this Liverpool midfield over the past year has been Naby Keita. A mazy dribbler capable of the extraordinary on his day has only really been able to show his class in small spells due to injuries. We haven't consistently seen the best of the Guinean as of yet but if he can manage to nail down a few months free of injuries he will show his value.
Mr Consistency James Milner has been as reliable as ever this season, the Yorkshire born midfielder just doesn't seem to be ageing at all. Still the fittest member of the squad, Milner has shown his leadership abilities in bundles this season, scoring some hugely important goals. Likewise Adam Lallana has proven his importance in what looks to be his final season at the club, his leveller against Man United at Old Trafford helped keep the unbeaten run going at the start of the season and was crucial in keeping momentum going at the time.
This current midfield has probably been Liverpool's most functional since Gerrard, Mascherano and Alonso dominated all around them in the late 2000's. Although Klopp has tweaked with personnel based on game-plan and opposition, performance has been commendable.
A legend that would definitely find a place in this current Liverpool midfield is Xabi Alonso. One of the most graceful footballers to have ever played in the Premier League. The Spaniard joined in 2004 and was to be part of Rafa Benitez's Spanish revolution.
Alonso immediately caught the hearts of reds fans with his stupendous passing range. Arriving on Merseyside from Sociedad the then curtain haired midfielder showed that he could strike a ball in his early days too, scoring some long-range stunners. In fact he ended his Liverpool career having scored two goals from his own-half.
More importantly though he ended his Liverpool career a Champions League and FA Cup winner, consistently being a fulcrum in the side. He moved from Liverpool to Real Madrid at the start of the 2009/2010 season for £30 million after 5 successful seasons.
Alonso's world-class form continued, he stayed at Real for five years winning the La Liga and another Champions League in this period. He finished his career in Germany with Bayern Munich adding another 3 league titles to his resume. Internationally he became a centurion and ended up amassing 114 caps for the greatest Spanish team of all time, winning a World Cup and two European Championships.
In terms of honours, few would come near reaching the success Alonso managed in his career, the midfielder won pretty much everything there is to win in football. During his time at Liverpool, Jurgen Klopp's preferred midfield has been a 4-3-3 – of which he has regularly switched the personnel.
A prime Alonso with one of Fabinho, Henderson or Wijnaldum alongside him and any of Keita, Oxlade-Chamberlain or Lallana in a more advanced role would be a frightening prospect.
Alonso showed at Bayern Munich that he is capable of playing in a team that presses high up the pitch, the Spaniard's ability to play as a deep-lying playmaker would allow Klopp's side to start fast counters with pin-point precision passing. Alonso has always been more than capable defensively and could read the game excellently, a trait that Klopp loves in a midfielder.
With the likes of Mane and Salah ahead of him as well as Robertson and Alexander-Arnold overlapping, it's scary to think the amount of ammunition that Alonso could have provided for this attack.
A model professional with a brilliant understanding of the game, Alonso may not have been as athletic as the rest of Liverpool's current midfield. But there's no doubt that his knowledge of the game coupled with his ability to find attackers effortlessly would make him a shoe-in for the current league leaders.