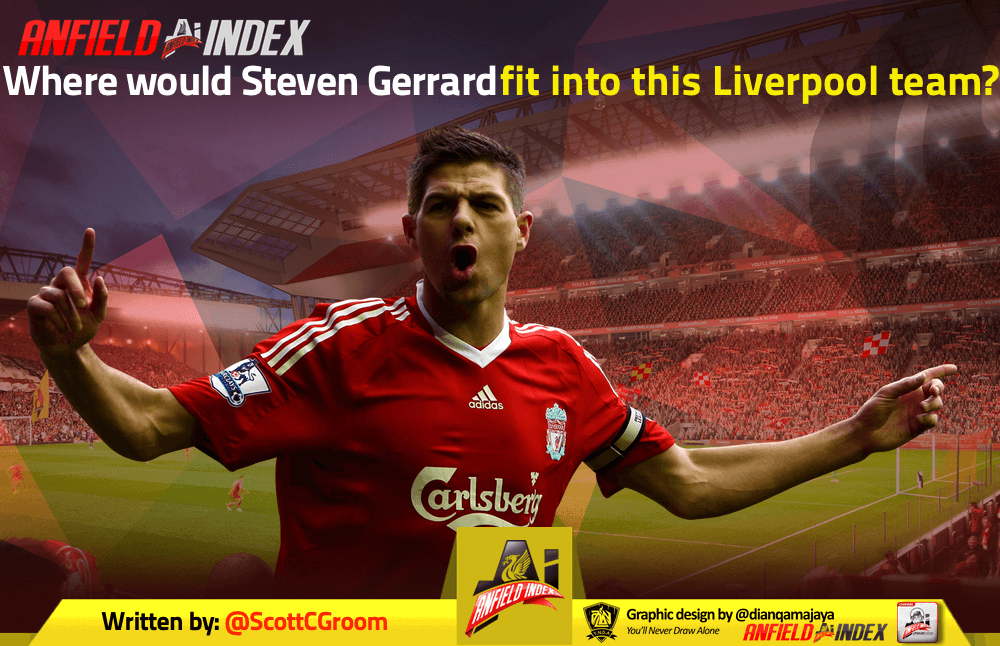 Where would Steven Gerrard fit into this Liverpool team?
While it's practically impossible to improve on the kind of perfection that this Liverpool team has embodied over the last two year… it's always fun to fantasise, isn't it?
So with that being said, here's a Liverpool legend that might just fit into the greatest LFC side of our generation.
Steven Gerrard.

And before we get started, I don't think it's unfair to say that Captain Fantastic as he was so often referred to wouldn't fit into any of the great Liverpool teams of the past or even the future.
His class was beyond measure, his commitment unquestionable and his legacy ever lasting. Will there ever be another quite like him? Probably not, and that's why he'll always be viewed as one of The Kop's greatest ever servants.
So, it goes without saying that he'd make it into Klopp's plans if he was still playing now – or if we somehow had a time machine and could bring back all forms of Gerrard throughout the years.
With that in mind, I've taken a look at the three stages of his career and how Gerrard's playing style evolved and how each would fit into this current table-topping side.
Young Gerrard: 1998 – 2003
When Steven Gerrard first broke into the Liverpool team as a teenager, his future path was not yet set out in front of him. I'm sure we've all seen the old graphics of starting line-ups that include Gerrard at right-back and Jamie Carragher in what became Gerrard's famed central midfield birth.
But when these roles were reversed, we really started to see how destructive Gerrard was as a dynamic box-to-box midfielder with the pace and power to be as effective in defensive quarters as he was when attacking the opposition goal.
A bit of a loose cannon and a hot-head, yes, but you could see the passion and desire that burned deep inside Gerrard and his abilities really began to shine through. His passing, dynamism and finishing were all increasingly coming to the fore.
And a lot of the time, when Klopp's Liverpool have looked cumbersome in their efforts to break down teams, this is where this younger incarnation of Gerrard would have been particularly effective.
It was hoped that Naby Keita, who inherited Gerrard's iconic number eight shirt upon his arrival from RB Leipzig, would provide this cut and thrust, but it hasn't quite worked out with him yet – injuries have scuppered his first two seasons at Anfield but he has the promise to go on and have a similar impact.
Alex Oxlade-Chamberlain looks the most likely to play this similar role to Gerrard, but none of Klopp's current midfielders possess that initiative to grab a game by the scruff of the neck and drag Liverpool through quite like Gerrard did.
They also don't quite have that little nasty streak that the earlier days of Gerrard's career carried in bucket loads. It did spill over from time to time, but sometimes you'd like to see just a little more of this assertion from Liverpool from time to time.
Fabinho does a good job of bringing this, but not really too many others in my opinion, and we all love that full-blooded nature in the middle of the park don't we?
Combine this young Gerrard with Henderson and Oxlade-Chamberlain in the middle, and you've got one heck of a crunching and tough midfield three.
Unplayable Gerrard: 2003 – 2011
As his career progressed, Gerrard combined this bullish youth with his mounting experience and growing ability and influence as the heartbeat of the Liverpool side. He became, and quite rapidly, one of the finest footballers in the world.
He gathered attention from the likes of Inter Milan, Real Madrid and – as we all remember – Chelsea, who came closest to prying him away from his beloved Anfield. But all would fail, and Liverpool wouldn't have been the same had he have opted for pasture's new.
These years of Gerrard's career were undoubtedly, in my eyes at least, his best. The years when he struck up formidable partnerships with the likes of Torres, Alonso, Suarez and co. The years when he single handedly led Liverpool to Champions League glory in Istanbul and when he was so often unplayable.
To say that Gerrard at any point in his career would have quite happily walked into most teams in world football is true, but this incarnation of Gerrard would have made any team better.
And how would he have improved this current Liverpool side?
Henderson or Fabinho would've been his anchor – similar to the roles played by the likes of Hamman, Alonso, Mascherano and Sissoko during this period of Gerrard's time. Dovetailed by any of Liverpool's other central midfielders, he would have occupied the role that simultaneously links the midfield to the front three.
Just the thought of the runs and passes Gerrard could find of Mane, Salah and Firmino's is enough to make you salivate.
Liverpool's distribution is by no means bad under Klopp – just look at Robertson and Alexander-Arnold for two prime examples as to how the front three get their service.
Henderson has also come into his own recently, providing some astonishing assists. But this would only have improved with Gerrard on the pitch.
That's before you mention his ability to pick the ball up and drive from deep, linking in with the attackers to pull defences apart – which is something I previously mentioned has been a little lacking of late.
Veteran Gerrard: 2012 – 2015
Even in his later years of his career at Liverpool, Gerrard was still instrumental to everything that was good about the club.
Although his energy may not have quite been the same, the technical aspect and his ability read and dictate games from a deeper position became Gerrard's greatest asset.
This is when his passing prowess really shone, as he would float passes out wide, drive passes into the feet of the likes of Sturridge and Suarez to finish with aplomb. All of this while not forgetting to do his bit defensively and act as a perfect barrier to the back four and tutor to many of the younger squad members in and around him.
He had become the perfect experienced head who was capable of absolutely everything, just perhaps a few less of those lung-busting runs forward.
Again, how do you not include this type of player in pretty much any team? But this the era of Gerrard's career is perhaps the only time where question marks might be raised as to if his tiring legs would've been enough to cope with Klopp's unforgiving gegenpressing style of football.
While Gerrard was certainly no slouch, you could see that some of the power had gone from his tank a little. But he was very cleverly managed by Brendan Rodgers who saw that his skills and vision would be better suited to that deeper role.
And when put toe-to-toe with Fabinho here, you think you'd go for Gerrard pretty much every day of the week. But there's a slight touch of doubt in there with the decision for me.
Would Klopp have used him similarly to how he now utilises James Milner, as the experienced man of the squad, the trusted elder for those around him to learn from both on and off the field?
Klopp could certainly trust him to do a stellar job whenever called upon, and you'd be a fool to bet against Gerrard doing just that too.
It just depends how long he'd have lasted in terms of longevity and stamina. We all see how unrelenting Klopp's players are, and how effervescent and youthful his squad is. But I still think, like in the form of James Milner, Gerrard would have still been integral, still been playing regularly and contributing heavily.
So to answer what is perhaps a daft question, Gerrard goes wherever he wants, whenever he wants into this Liverpool team.
He's one of the best players the world is ever likely to see, a one of a kind total footballer and die hard Scouser.
And let's be honest, if we could, we'd all have him back in the starting 11 in a heartbeat, wouldn't we?