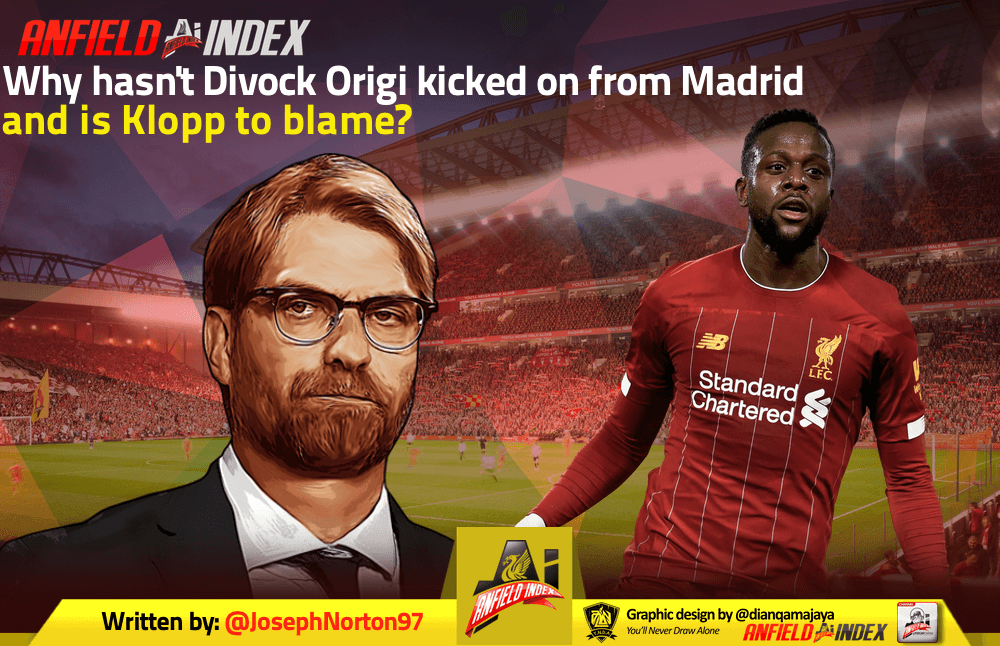 Why hasn't Divock Origi kicked on from Madrid - and is Klopp to blame?

Not only did Divock Origi's goal in the Champions League final reaffirm Liverpool's status as European royalty it also provided the impetus for this season's title bid. However, one person the goal seems to have had the least impact on is the man who actually provided that moment of magic in Madrid. There's no doubting Origi will be remembered extremely fondly by Reds' fans having scored a countless number of important goals, but, you can't help but feel he hasn't quite fulfilled his true potential while at Anfield. Pace, power and explosiveness, the Belgian possesses a number of the physical attributes required to be effective in Jurgen Klopp's frontline, so just why has he not kicked on after last season?
Like many fans I've always believed Origi is most dangerous when he plays up front with a partner. Just look back to when him and Daniel Sturridge ran riot against Southampton in the league cup in 2015 during a six-one win. Liverpool's number 27 bagged a hat-trick that night in what has turned out to be one of his best performances in a red shirt. In 2017 the same strike partnership caused havoc at the London Stadium as Liverpool dispatched West Ham four-nil in a game which helped to seal Champions League qualification. This season, Origi's best performance came at home to Everton when he notched a brace in a five-two win. Although he didn't necessarily have a strike partner on the night, Sadio Mane played much closer to him in a rotational number 10 position (playing on the left of a 4-5-1 when out of possession and in the number 10 role when in possession). Of course the Belgian has had decent performances when he as either played as the lone striker or left sided forward but there have been more poor showings than good ones.
The 24-year-old is at his best when he can focus solely on using his pace and directness. When he plays with a strike partner he is able to stretch opposition defences while his team-mate links the play and drops into midfield. If he's playing as a lone striker or a wide forward he is expected to join in with the build-up something he isn't particularly effective at. We've seen Origi maraud down the left and aim pointless crosses into the box far too often this season. While he is the one making these poor decisions on the pitch, should he really be operating in these areas anyway?
The statistics back up these opinions of Origi. In the game against Everton he had an expected goals (xG) of 1.18 whereas in matches against Manchester United and West Ham when he played on the left of a front three his xG was just 0.01 and 0.10 respectively. Of course because he was playing in a wider position you would expect his xG to be lower but those are considerable drop-offs in numbers from Everton. In all three games the Belgian had an expected assists (xA) of 0. We all know Origi is a back up to Mane for a reason but for some context Mane had an xG of 0.10 away to Chelsea and 0.35 away to Crystal Palace – two games which are fairly comparable to the ones the Belgian played in. His xA in those games was 0 and 0.11 respectively. It's pretty clear from looking at the numbers that Origi is extremely ineffective unless he's played up front in two so you can understand why fans get frustrated that Klopp continues to play him in these roles.
Having said this, the argument for including Origi in a like-for-like change is that it allows all of the other players to continue as normal. But, for Liverpool's system to be as effective as possible every player has to successfully carry out their individual role and it's clear Origi isn't able to do this. The Belgian has predominantly played on the left of a 4-3-3 when he has started this season, therefore, Andy Robertson is the player most likely to be affected because of how well he usually links up with Mane. Against West Ham, a game in which Origi played on the left, the Scot had an xG of 0.32 and an xA of 0. Away to Manchester United Robertson had an xG of 0 and xA of 0.62. Those numbers are actually very close to his usual levels when Mane plays. For example, against Palace and Chelsea he had xGs of 0 in both and xAs of 0.42 and 0.50. These statistics perhaps demonstrate why Klopp is keen to make as few alterations to his side as possible and this suggests Origi's inclusion only impacts the position he comes into. However, I'm of the belief our players are good enough to adapt their game in order to play a formation that gets the best out of every player on the pitch. Against Everton when Klopp opted to play Mane closer to Origi – benefiting the Belgian – Robertson still managed an xA of 0.15 despite having his role in the side altered. After all the reds tweak their game plan dependent on the opposition in almost every game even if that doesn't necessarily equate to a change of formation.
If we take a look at the impact on the whole side, we start to see that playing Origi in a system that suits him benefits the team as well. The game against Everton saw Liverpool create a non-penalty xG of 2.41 compared with a non-penalty xG of 1.84 and 1.03 versus West Ham and Man United – games in which Origi played on the left. Of course this is an extremely small sample size but it certainly highlights the team can be very effective even if Klopp veers away from his favoured 4-3-3.
It's pretty clear that unless Origi is played up front alongside a partner he generally offers very little to the side. It is therefore a waste to play the Belgian in Klopp's favoured 4-3-3. Having said this, a man who possesses the physical attributes that Origi does should be able to perform much better than he has done when given the opportunity in that system. There's little doubt how effective the Belgian can be when the system is more suited to his playing style and the benefit that then has on the side though.  Therefore, a portion of Origi's lack of development can be put down to Klopp's misuse of him.
With the German seemingly reluctant to change systems throughout the season, replacing Origi with an attacker who is more suited to playing in a 4-3-3 has to be a priority in the next transfer window. It may not completely be his fault but the Belgian seems to have achieved all he can at Anfield. He'll be remembered fondly for his decisive contributions in big games but you can't help but feel with a little bit of help he could've contributed far more.