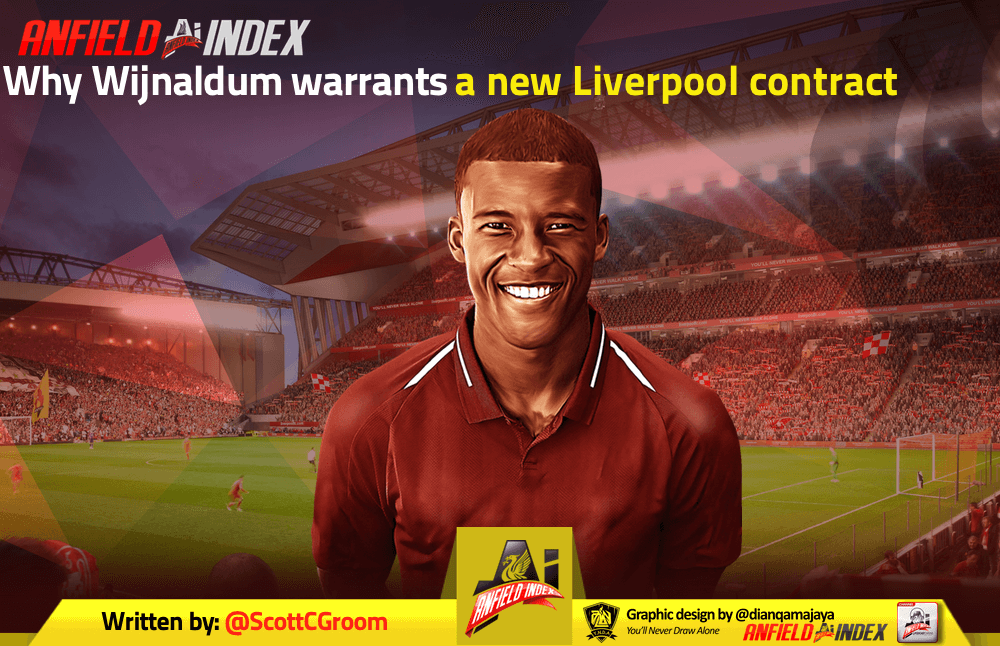 Why Wijnaldum warrants a new Liverpool contract

All talk surrounding Liverpool at the moment surrounds when the season will resume and when Klopps men will finally get their hands in that nineteenth league title.
This is big issue number one, of course, but under the surface, there are a number of interesting sub-plots simmering away on the back burner that make for quite interesting thinking.
One of those issues surround one of Klopp's first signing and one of his most trusted lieutenants, Gini Wijnaldum.
Since his arrival four years ago from Newcastle United, Gini has been an ever-present in the Liverpool midfield. And for £25 million, you can hardly say it wasn't money well spent.
Although a few eyebrows (mine included) were raised when Klopp brought him in in 2016, he's proven himself to be a solid player in this squad and looks set to cement himself further into the Anfield history books as a Premier League and Champions League winner.
But, as things stand, he's in the final year of his contract, with no sign at present that his stay on Merseyside will be renewed. Contract talks have reportedly been opened, but little is known as to have far advanced these talks are.
We know that the club likes to keep these things under wraps anyway, but just how important is it for Liverpool to secure Wijnaldum's future past next season.
So why is it so important that Liverpool tie down the Dutchman for another few years even if it is only that considering he is now 29.
1. Who do you bring in in his place?
The job that Wijnaldum does often goes under the radar. He might not make as many tangible contributions to games as others around him, like Henderson or Oxlade-Chamberlain, but he's a crucial cog in the system.
He brings a tenacity and energy to the midfield that might be replicated by someone else, but I'm not sure there are many if any players that do his job as well as he does that are perfectly suited to Klopp's style.
He is effective anywhere across the middle, in more attacking or defence-minded roles, and is brilliant in terms of winning back and keeping hold of possession.
So if you're to let him go, who comes in in his place to provide that consistent level of energy and performance?
Many would tout the name of Marko Grujic here, but he's so far unproven in the Premier League.
While the Reds enjoy a wealth of talent in central midfield, they could well do without losing someone as experienced as Wijnaldum when the team looks to be kicking on and continuing this imperious last couple of years.
I think for me, the most important aspect of this point is if it ain't broke, don't fix it.
2. He is criminally underrated
The reason that it isn't broke with Gini is because, in my eyes, he's one of the hidden heroes in this Liverpool team.
Klopp is not a manager who is known for showing blind loyalty to players. If things aren't working, he'll make the call.
He's never had the need for that with Wijnaldum.
Every week, he does his job well. Every week he covers pretty much every blade of grass on the pitch.
His technical ability often also goes under the radar, too. His control and ability to wiggle out of tight situations and keep Liverpool in the ascendency is remarkable.
Remember Salah's goal at the Etihad in the Champions League quarter final in 2018? It all started with Gini wiggling his way through about three City players before unleashing Liverpool on the counter.
He does this time and again and it's so impressive. But so too is his defensive work and his ability to chip in with a vital goal when needed.
He got the first in 2018's Champions League semi in Roma. Those two memorable goals in the following year's comeback against Barca. He got the opener against Middlesbrough in 2017 in a must-win game to see us return to Europe's elite competition.
He makes such a contribution every week that it's hard to see how he doesn't warrant a new deal.
3. This wouldn't be blind loyalty, it's earned
I mentioned earlier that Klopp doesn't blindly follow his heart in terms of being loyal to players.
If Wijnaldum didn't warrant a new deal, he wouldn't be getting one. But talks have started, and I am sure that due to the club's current standing in world football and the fact that Klopp clearly values him so highly, he'll get his deal.
But he's also earned it.
He came in in 2016 after being relegated with Newcastle with his fair share of questions to answer. And I think it's fair to say he's done that.
He's been a very good servant to the club, is always professional and most importantly, plays a vital role on the pitch too.
I think a good way of looking at it is this – it's clear that Klopp values Gini just as much as he does James Milner.
James Milner has just been awarded a contract extension at the age of 33. Wijnaldum is four years younger than him and so has time on his side more so than Milner.
If Milner gets a deal, so does Gini.
We're all banking on it I think too, if for no other reason than he's a bloody likeable bloke too!