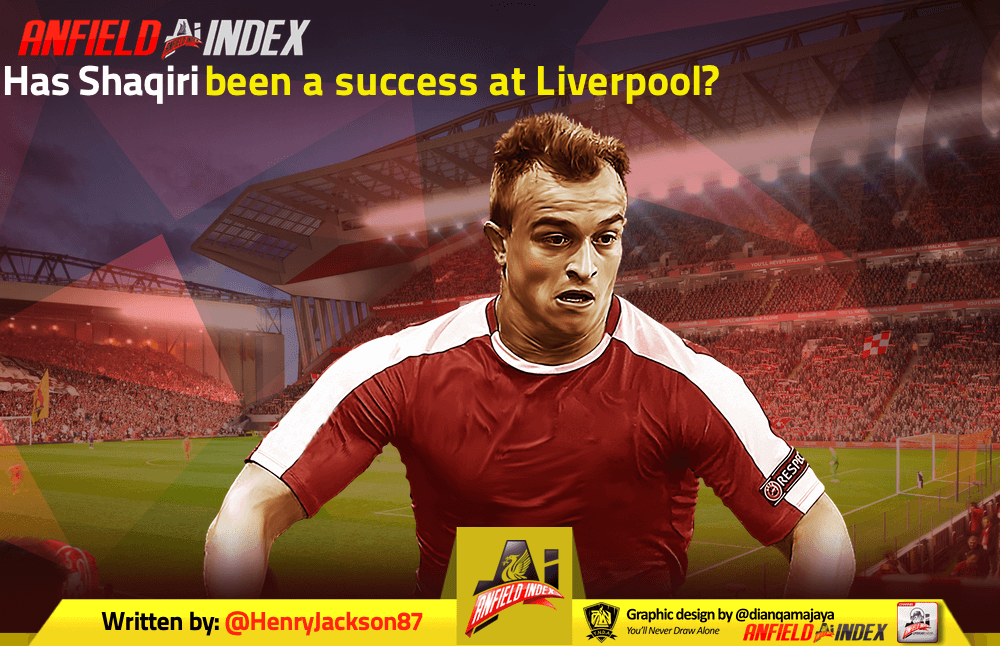 Has Shaqiri been a success at Liverpool?
Jurgen Klopp has made a few signings that have come out of left field during his time as Liverpool manager.
Gini Wijnaldum is certainly one that stands out in that respect, seemingly appearing to be a needless addition, not to mention one who wasn't expected to be used as an understated midfielder.
The signing of Sadio Mane was also fairly surprising, believe it or not, at a time when Mario Gotze was the more fashionable alternative.

In the summer of 2018, when Alisson, Fabinho and Naby Keita were all high-profile additions, one more new face made the move to Merseyside.
Xherdan Shaqiri arrived from Stoke after Liverpool triggered his £13 million release clause, having starred for the Potters, despite their relegation to the Championship.
Like Wijnaldum at Newcastle, he was snapped up by the Reds as a star man in a struggling team, with many never predicting him to become a Red.
Having struggled to make the grade at Bayern Munich and Inter Milan, there were reservations that the Swiss could not cut it at an elite club, but with Klopp in charge at Anfield, could he be the man to get the very best out of him?
As we approach two years since Shaqiri traded Stoke for Liverpool, the 28-year-old is fully expected to leave the club once this season finally reaches its conclusion.
Playing time has become increasingly limited as the Reds have gone from strength to strength – patchy form and a poor injury record have both played a part – and he has been left behind as his teammates have excelled.
It is, therefore, a perfectly logical decision to move Shaqiri on, especially if they receive a bid of in and around £20 million, which would actually mean Liverpool make a profit on him.
But should Shaqiri's Liverpool career be deemed a success?
While even the winger's most staunch supporter would find it difficult to claim he has been an influential performer, he has still chipped in with key moments that have left their mark.
In many ways, that's all you ask for from a player you made a punt on for a relatively cheap fee.
In terms of Shaqiri's biggest contribution for Liverpool, the one match that stands out is the clash with Man United at Anfield in December 2018.
Klopp's men were the overriding favourites to beat their most bitter rivals, but with the scores level at 1-1, Jose Mourinho looked like being a pest once again.
Shaqiri popped up with two priceless goals with the minutes ticking by, however, instantly etching his name into an aspect of Liverpool folklore. If you bag crucial goals against United, your legacy is sorted – just ask the likes of John Arne Riise, Danny Murphy and Dirk Kuyt.
Later on in that 2018/19 season, Shaqiri was also drafted into Liverpool's starting lineup for the now legendary meeting with Barcelona in the Champions League semi-final second leg.
With Mohamed Salah and Roberto Firmino unavailable and the Reds trailing 3-0 on aggregate, it looked an impossible task, but Shaqiri played his part on an incomprehensibly memorable night.
In truth, he took a while to get into the game, but it was his inch-perfect cross that led to Wijnaldum heading home his second goal of the evening, making it 3-3 on aggregate.
Throughout the second half, Shaqiri was a much improved performer, as Liverpool managed the unthinkable on their way to European glory, earning the forward his second Champions League winners' medal.
He also whipped in a devilish delivery late on away to Newcastle in May, allowing Divock Origi to head home a priceless winner, effectively keeping the Reds in the Premier League title race.
While this season has been much more muted overall, there has still been time for Shaqiri to produce a virtuoso performance at home to Everton, scoring in the 5-2 win and also producing some beautiful flicks and tricks.
It's also easy to forget that there was a brief period when Shaqiri was a key performer during the first half of 18/19, when Klopp's preference for a 4-2-3-1 formation was on show.
Thriving on the right-hand side, with Salah leading the line and Firmino dropping into a No.10 role, the ex-Bayern man scored important, well-taken goals at home to Fulham, Cardiff and Burnley, as Liverpool continued to match an outstanding Man City team.
Of course, these aren't exactly the kind of earth-shattering contributions of Sadio Mane, Salah and Firmino, for example, but it emphasises the fact that Shaqiri has been far from a disaster.
Could he have done better? Yes. Has a player who cost just £13 million still produced the goods on a number of occasions? Absolutely.
When this wonderful era at Liverpool is long gone, Shaqiri won't be an individual looked back on as one of the key man – he may even become a forgotten man over time – but he should be seen as someone who produced sporadic sprinklings of magic, with an infectious personality to boot.