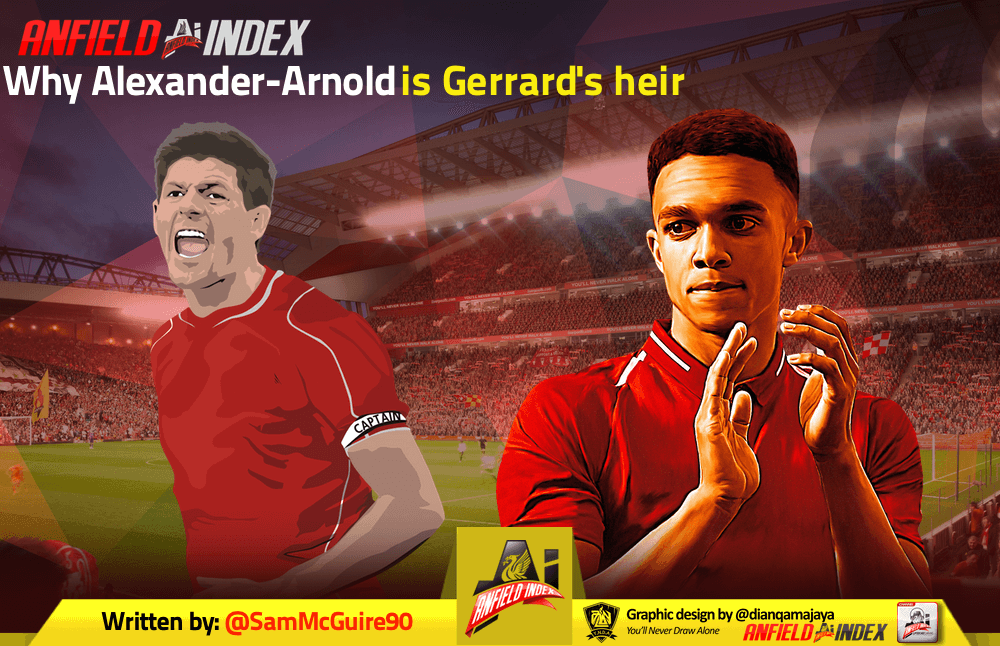 Why Alexander-Arnold is Gerrard's heir
Countless players have been dubbed 'the next Steven Gerrard' over the years. Aaron Ramsey got the tag early on in his career, Dele Alli was supposed to be the reincarnation of the former Liverpool skipper but it wasn't to be while there's a strong belief that Birmingham City youngster Jude Bellingham is the long-term successor to the Whiston-born whirlwind's crown.
The truth is, however, that Gerrard's heir is already playing for the Reds. Trent Alexander-Arnold might not be the most obvious choice and stylistically he couldn't be any more different to the Liverpool legend. 
For starters, Gerrard was technically brilliant but his game was largely centred on what he could do physically. He was often described as a force of nature whereas Alexander-Arnold is more brains than brawn. Gerrard carried his team. The Liverpool No.66 is simply a key cog in the team. 

The similarities between the two are how they're used and where they are not being positioned. 
Every man and their dog clamoured for Gerrard to be used as a central midfielder. But Gerard Houllier largely used him in a wide area. Rafael Benitez deployed Gerrard on the right side of the attack before moving him into a number ten role. He played centrally for periods, too, but the Spanish tactician always felt his No.8 could be more effective when given a freer role. It's why he invested heavily in midfielders during his time at Anfield, signing Xabi Alonso, Momo Sissoko, Javier Mascherano and Lucas Leiva. 
Alexander-Arnold is in an eerily similar situation right now. Despite redefining the right-back and starring as the creator-in-chief for Jurgen Klopp's side, some still argue he's wasted there and should be moved in a central area. He was a midfielder during his time in the academy and Pep Lijnders once called him his 'Ruben Neves'. 
When watching him pick passes and ping the ball about, you could see him as the dictator in the middle third. He would be a handy midfielder, there's no doubt about it, but he's a generational talent at right-back, so why change it? 
It's like when Gerrard scored 23 times playing largely on the right for Liverpool. People acknowledged it was a good return but claimed he'd be even better centrally instead of actually appreciating the genius of Benitez to unshackle his game-changer.  
People are watching Alexander-Arnold pull the strings from the right and they're assuming he'd be able to do then and then some from the central position. They're overlooking the fact he's as effective as he is because he's in the role he's in. 
The 21-year-old even mentioned it in an interview last year: "I've always enjoyed right-back as there is a lot more freedom going forward. It's a lot more chaotic in the middle.
"I probably get more of the ball now than I did when I was in midfield. It's just about trying to influence the game as much as possible from out there.
"Going into a game I don't play to make the full-back position 'sexy'. I just think a lot of people underestimate how important the full-back position is. It's vital in the sense you've got to be up and down the pitch, creating things but also defending." 
There is a lot more freedom going forward. Alexander-Arnold recognises this. It's the exact reason Benitez used Gerrard how he did. You want your game-changers in areas they can do the most damage. You want them to be able to do as little defensively as possible, too, so they can focus on going forward. 
Alexander-Arnold is Gerrard's heir in the sense he won't truly be appreciated until after he hangs up his boots. Until then, people will be agitating for him to be used as a centre-midfielder and overlooking how he's redefined the right-back role, just like they did with the former Liverpool No.8.