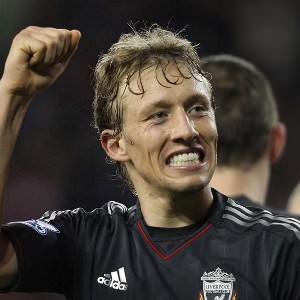 Lucas Deserves More From All Of Us
A Sky Sports Man of the Match award at last.  Forget the 2010 Liverpool FC Young Player of the Year Award and the Golden Samba awarded from the Kop last season; that man of the match award from Gary Neville and co after the Manchester City match must mean that Lucas Leiva is finally a player befitting the Liverpool shirt.
That's what it seems from the media coverage, anyway.
After suffering an injury against Chelsea last Tuesday, just 50 hours after completing 90 minutes against Manchester City, Lucas has been ruled out for the rest of the season.  This is a massive blow for Liverpool, losing a player so important to their style of play.

With his incessant closing down, Lucas allows the Liverpool defence to push high up the pitch, confident that opposition midfielders won't have the time to thread a pass into the space behind them.  Lucas is also clever with the ball.  He invites full backs to attack and forward players to stretch the opposition defence, knowing that he has the ability to pick the right pass.  One needs only to review Liverpool attacks to see just how many begin with a simple, yet clever pass from their holding midfielder.
This is nothing new, either.  Lucas has been a key part of Liverpool's midfield and the teams overall style of play for a number of years now.  Still though, any mention of his superb performances has to be accompanied with a reference to his early troubles on Merseyside.
Other than being exaggerated anyway, these references are becoming tiresome and unfair.  Embarrassingly, it is true that Lucas was booed by the home support at Anfield early in his Liverpool career.  This was from a minority of fans though, who will rightly have been told to shut up from those around them.
The stigma sticks, though.  Lucas is still seen as the player his own fans didn't want, but who worked hard to win them over.  His injury prompted news stories and blogs on his turnaround.  He has rightly been given credit for maintaining belief despite criticism from his own fans, but doesn't deserve to be reminded of it for his whole career.
Firstly, many fans did believe in Lucas.  They understood that this was a young player adapting to a new country and who had the backing of a very good manager.  Secondly, as nice a story as his fight against criticism makes for, Lucas Leiva is so much more.  He is a phenomenal footballer.  His work rate and endeavour are great attributes, but his passing, tackling and football knowledge are more important.
Liverpool will miss Lucas massively over the coming months and a direct replacement doesn't exist at the club.  Jay Spearing is perhaps as tenacious, but not as clever on the ball.  Jordan Henderson is arguably as composed, but not as combative.
The January transfer window may tempt the club to bring in a replacement, but what then happens when Lucas returns?  Only three months ago fans were complaining that the club had too many midfielders, even after the departure of Raul Meireles.  A replacement would hardly come cheap, either.
Perhaps stemming from the recall of Jonjo Shelvey, many have pointed out how this injury will make Liverpool regret selling the aforementioned Meireles and loaning out Alberto Aquilani.  Surely though, even the biggest fans of those players would admit that they are irrelevant to this situation.  Good players they may be, both are known for shirking challenges and would be poor replacements for Lucas.
The player whose arrival pushed Meireles and Aquilani out of Liverpool, Charlie Adam, has proved many of his doubters wrong with his performances so far this season, but it remains to be seen how he can cope without Lucas alongside him.  Especially when playing as part of a four-man midfield, Adam will have to help with the defensive work, as well as being the direct link to attack.
In recent weeks, the Scot has been a leader for the club.  On the pitch, his performances have been brilliant and off the pitch, as a regular post match interviewee, he has been thoughtful and professional.  In the absence of his midfield partner, his leadership will be vital.
Luckily for Liverpool, the coming run of games provides a chance to test out different possible solutions.  Whilst the home match against Norwich City proved that a 'Lucas style' player is still necessary against the smaller teams at home, the upcoming games are all similarly winnable and different midfield combinations can be tried out in preparation for a series of big games in January.
The most likely option is for Jay Spearing to get some much deserved playing time, having impressed in his limited outings so far this season.  Whilst it could also be seen as a chance for Jordan Henderson to play more centrally, perhaps he is actually now more important in a wide role to provide extra midfield solidity.  Maybe a five-man midfield will be used more often, which would then limit the game time for Bellamy and Carroll.  The injury of Lucas really will affect the whole team.
Whatever happens, hopefully Lucas will finally be appreciated for his footballing ability and his exaggerated troubles will be forgotten.  After all, he doesn't have to be reminded of them forever.
Twitter – @PaulBoyham