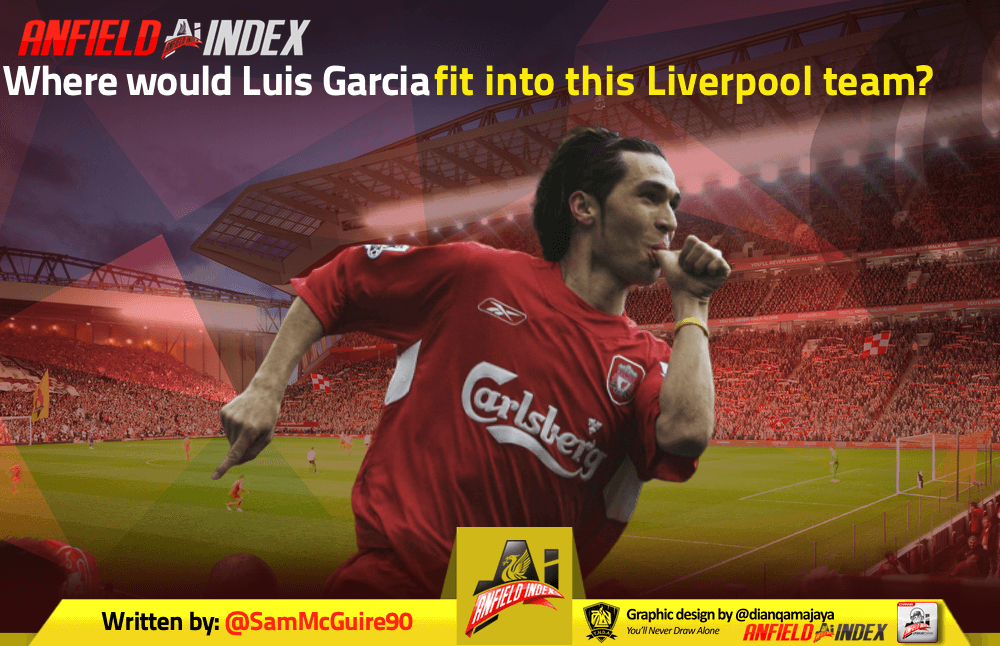 Where would Luis Garcia fit into this Liverpool team?
It's easy to imagine how Liverpool greats from the Premier League era would fit into this current side. There's are obvious places for Steven Gerrard, Luis Suarez, Xabi Alonso and Jamie Carragher. You could even shoehorn Philippe Coutinho back into this side, too. Maybe even Fernando Torres at a push. 
But very few people would ever think to mention Luis Garcia. 
However, I'm of the belief that he's very much a Jurgen Klopp sort of player and that the German tactician would find a way to involve the maverick Spaniard. Before I continue on with this, I'd like to make it clear that I'm talking about the 2004/05 version of Garcia. He arrived on Merseyside as a 26-year-old having been used sporadically by Barcelona following a successful spell with Atletico Madrid. 

On paper, his headline figures didn't paint him as anything special. In his three full seasons playing in LaLiga, Garcia averaged seven goals and three assists per campaign. But when breaking it down properly, he was involving himself in a goal every 177 minutes in the Spanish top-flight. A decent return considering he spent his time with Real Valladolid, an underwhelming Atleti side and Barcelona pre-Ronaldinho. 
So, he definitely falls into the goal threat category. And Klopp's always been keen on attackers who contribute. Whereas some managers seemed content with having attackers who solely created, the Liverpool boss is of the mindset that the more goalscorers in a team, the better.  
During Garcia's first season at Anfield, he scored eight Premier League goals and chipped in with five in the Champions League. His return domestically might not seem like much but he accounted for 16% of the goal the Reds scored. Furthermore, he had a knack for delivering in big games. In the league, Liverpool won all but one of the games he scored in. In Europe, Garcia netted in wins over Bayer Leverkusen, Juventus and Chelsea. 
Again, Klopp loves a big game player. He's also fond of versatile ones and Garcia is exactly that. He could play anywhere in the attack and it was hard to really pin down what his best position was. Having said that, I would be intrigued to see him used in the Adam Lallana role. No, not as the deepest midfielder but in that box-to-box task he was given during the 2016/17 campaign. His press-resistance in midfield was welcome, as was his work rate, but it was his ability to influence proceedings in the final third that proved to be a bit of a game-changer. 
Lallana was a bit of a wildcard that year and that is perhaps the best way to describe Garcia as a player. He was far from polished. 
The former Barca man was capable of the sublime and the scrappy, just look at the goals he scored. He could use either foot and there was an unpredictability to his game that meant he was devastating on occasion but also frustrating. He was consistently inconsistent but under a manager like Klopp, he could've added a reliability to his game which would've made him even more dangerous and even more perfect for this Liverpool side. Garcia isn't the first player to spring to mind but I can't think of many more who would've suited this current team as well as he would.