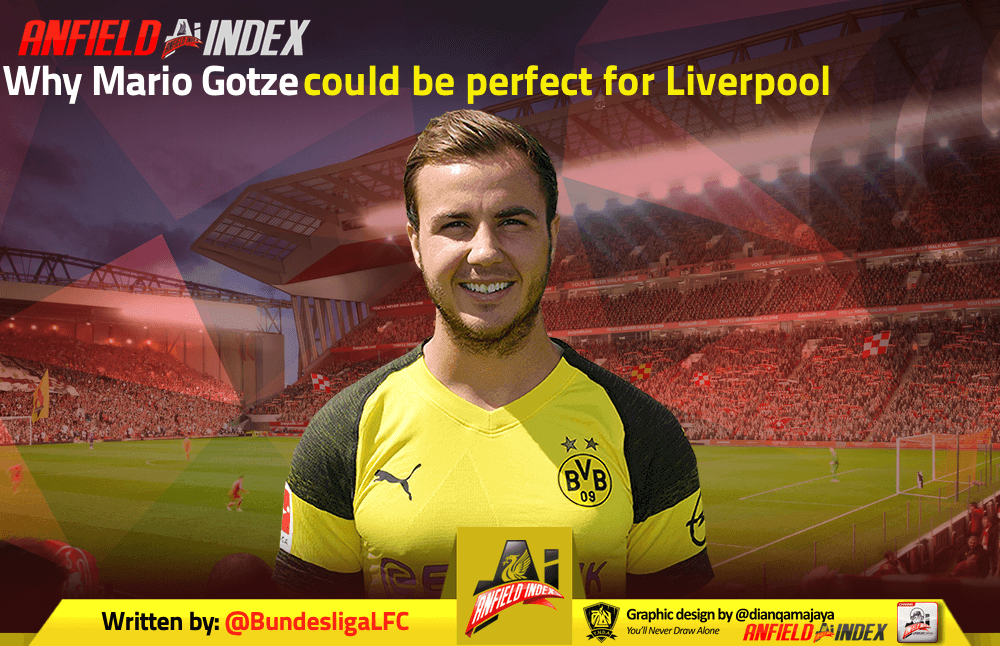 Why Mario Gotze could be perfect for Liverpool
"He taught me everything about professional football. He let me play. I often speak to [Jurgen] Klopp. We never stopped talking. He knows me very well and that I am always looking for new challenges."
Mario Gotze, speaking to DAZN earlier this year, left the door ajar on a potential reunion with Klopp. He was on Liverpool's radar in 2016, too, but opted for a return to Borussia Dortmund at the time. 
Speaking in the 2018 documentary, Being Mario Gotze, the World Cup winner revealed all about his departure from Bayern Munich: "I decided to leave Bayern and Jurgen Klopp was interested in getting me to Liverpool. And I was also interested in working with him again. It's still existing. 
"He is a world-class coach and that's why it's always an option. I decided to join Borussia Dortmund, but it was not a decision against Liverpool or Jurgen Klopp."
Gotze is leaving the Westfalenstadion on a free transfer whenever this current campaign comes to an end. He's been linked with Milan, Roma, Arsenal, Spurs and Chelsea over recent weeks but a potential switch to Merseyside seems to linger. Understandably so given everything he's said in the past.  
Still only 27, Gotze has had a strange career to date. Almost a decade ago, he won the Golden Boy award. He scored the winner in the 2014 World Cup final and he's a five-time Bundesliga champion. His CV is an enviable one yet it doesn't feel like he's done much for the best part of four years. 
"I was a Judas, then a hero, then a disappointment, then almost out of football. All this in just four years."
Following his move to Dortmund, Gotze was diagnosed with Myopathy. He missed the latter half of the 2016/17 campaign and the perception is that he's never been the same since. But since then, he's only missed the odd game here and there. The injury-prone tag isn't fair and it definitely skews how people view him and any potential deal. 
However, ignoring all of the baggage associated with Gotze and looking at it from a business perspective, reuniting him with Klopp might not actually be a bad move for all the parties involved. 
For starters, Adam Lallana could be leaving Anfield this summer. Though he's not a key player for the Reds, he has played a part this season and his versatility is something Klopp really leans into. On occasions this term, he's played as the deepest midfielder, he's played in midfield in the box-to-box role and he's played in the attack. 
Gotze would provide similar options for the German tactician. He can play anywhere across the forward line and he could probably do a job as one of the attacking midfielders. He's even played as a false-nine for BVB and he was fairly effective there, creating space for the likes of Marco Reus and Jadon Sancho. 
Since the start of 2018/19, Gotze's appeared in 2,181 minutes in the Bundesliga. On a per 90 basis, he's averaged 0.41 goals and 0.29 assists. He's been highly influential despite his relatively low number of touches (63) and only taking 1.49 shots per 90. What's more impressive, however, is that his underlying numbers suggest his output is sustainable. His expected goals average is 0.34 and his expected assists average is 0.25. 
Liverpool don't take risks in the transfer market. On the surface, Gotze might appear to be a gamble but if he was being profiled purely on his numbers over recent seasons, he could well be considered to be a shrewd addition. He's versatile, reliable in terms of availability and he's a goal threat. If he's happy to be a squad player, Gotze on a free could tick a number of boxes.