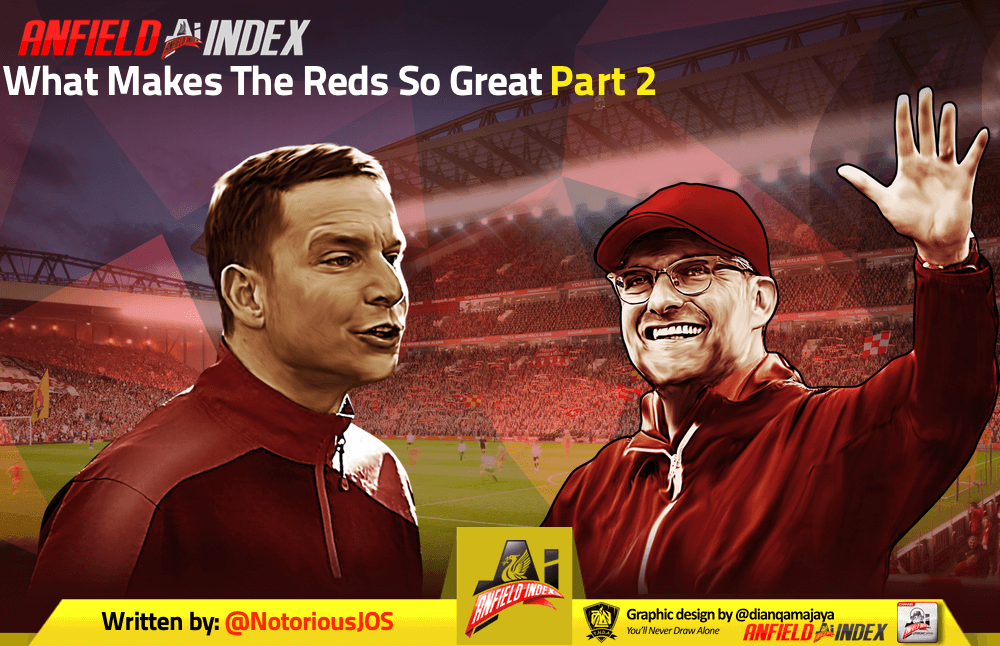 What Makes The Reds So Great Part 2

Before the worldwide coronavirus pandemic ground the Premier League season to what we are assured is a temporary halt, Liverpool looked set to win the league title at a canter.
Winning 27 out of their 29 games, the Reds — who have beaten every other team in the league on their remarkable run — find themselves a full 25 points ahead of second-place Manchester City and, mathematically, only need two more wins to claim the clubs' 19th league success and first in the Premier League era.
The European Champions last league fixture — a nervy 2-1 win over struggling Bournemouth at Anfield — was on March 7th and the campaign's hiatus has given us ample time to consider what exactly makes Jurgen Klopp's team so good.
Here, in the second part of this series,  we will look at the qualities that have put Liverpool on the cusp of winning their first league title since 1990.
Tactical Versatility
Liverpool's adherence to high intensity, gegenpressing football is almost dogmatic, but their ability to mix their well-rehearsed style of play with an approach tailored to their opposition is what makes them such a potent force.
Take November's 3-1 victory over Manchester City at Anfield, for example. The Reds were content to vary their game plan and at times sit back and allow the defending champions possession, baiting them into pressing traps before launching counter-attacks.
The hosts only enjoyed 45% of the possession and had less overall shots — 18 to 12 — than Pep Guardiola's team, but with Liverpool having more shots on target — 5 to 3 — the counter-attacking game plan bore fruit.
Mohamed Salah's headed goal was a shining example of the team's approach. It only took two passes — a brilliantly angled through ball from the weaker foot of Trent Alexander Arnold that found Andrew Robertson, whose pinpoint cross landed plumb on the forehead of Salah — for the Reds to go from their own goal to scoring their second of the evening.
If Liverpool can triumph via counter-attacking, disciplined football then they are also capable of playing possession football effectively, as evidenced by January's 2-0 home victory over Sheffield United.
Goals from Salah and Sadio Mane secured the win, but what was striking was the manner of the performance in which the three points were sealed.
Enjoying 75% of the possession, The Reds passed the Blades — who were enjoying a brilliant start back to life in the Premier League — to death; the 969 successful passes made on the night was one of the highest number of accurate passes made in Premier League history.
Set Pieces 
Much publicity surrounded Liverpool appointing Thomas Grønnemark as a dedicated throw-in coach, but the hiring of the Dane was indicative of the club's desire to strive for that extra 1% and capitalise on any marginal gains.
Usually associated with being the preserve of bottom-half teams, the Reds have scored the third most set-piece goals in the Premier League this season — 11 — behind only bottom half Newcastle and Bournemouth.
The European Champions' 2-1 win at Stamford Bridge was a case in point of their set-piece effectiveness. Both of the Reds' goals — from Firmino and Alexander Arnold — came from differing dead-ball situations; the Brazilians header from a short corner and the right-backs scorching drive from a well-worked free-kick routine.
Leadership 
One thing Liverpool possess in spades is leadership among their playing personnel. J0rdan Henderson may hold the armband, but Virgil van Dijk, James Milner and Georginio Wijnaldum — among others — are all leaders, be it in terms of being vocal or leading by example.
Henderson's leadership qualities extend beyond the pitch, too, as he was the leading figure behind the Premier League captains #Playerstogether charity which has, to date, raised over £4M to support the NHS during the coronavirus pandemic.
There is a humbleness and a desire to work hard that forms the bedrock of this Liverpool squad's dressing room culture, which has been crafted in the image of their manager, Jurgen Klopp. Despite being European, World and soon to be Premier League champions, there is no complacency in the team and — even with players of such a calibre that they could perhaps take their intensity down a notch and still win most games — never a hint of showboating.
Speaking after their 2-0 defeat at Anfield in January, Sheffield United manager Chris Wilder was effusive in his praise of the Reds' mentality.
"People talk about academy coaches and nonsense about technical and tactical stuff – when we played them at our place, we made it difficult for them. Tonight, they won every first ball, every second ball, ran forward and ran back and they did it miles better than us.
"So when all this nonsense that comes out about coaching, have a little peek at Liverpool tonight. They played in second and third gear but still had the humility to do that as world champions, as European champions, and obviously well on their way to being Premier League champions. They were ruthless," Wilder enthused.
Thinking On Their Feet 
As much as there is a well-choreographed and pre-planned nature to most of the Reds goals, they can go off-piste and are empowered and trusted by the coaching staff to make their own decisions on the field.
Most famously Alexander Arnold assisted Divock Origi's tie clinching goal in the historic 4-0 Champions League semi-final thumping of Barcelona by opportunistically taking a short corner that caught the Catalans cold.
Another example was Wijnaldum's goal away to Cardiff last April, which came from a set-piece routine that the players devised themselves at half time in the Reds eventual 2-0 win. Speaking to Sky Sports after the win, Klopp confirmed that the half-volleyed finish from the Dutchman was the product of player lead tactical innovation.
"We knew that Cardiff is outstandingly strong from offensive set-pieces but we knew that from time to time they have some problems with defensive set-pieces", the German said.
"The boys obviously found out, if you make all these runs on the pitch, no camera angle is as good as your own view.
They decided to play that flat ball and Gini could make that run with all the blocks. Still, you have to hit the ball like this – a brilliant goal, I loved it!
"The boys decided this at half time in the dressing room, they saw the space on set pieces."