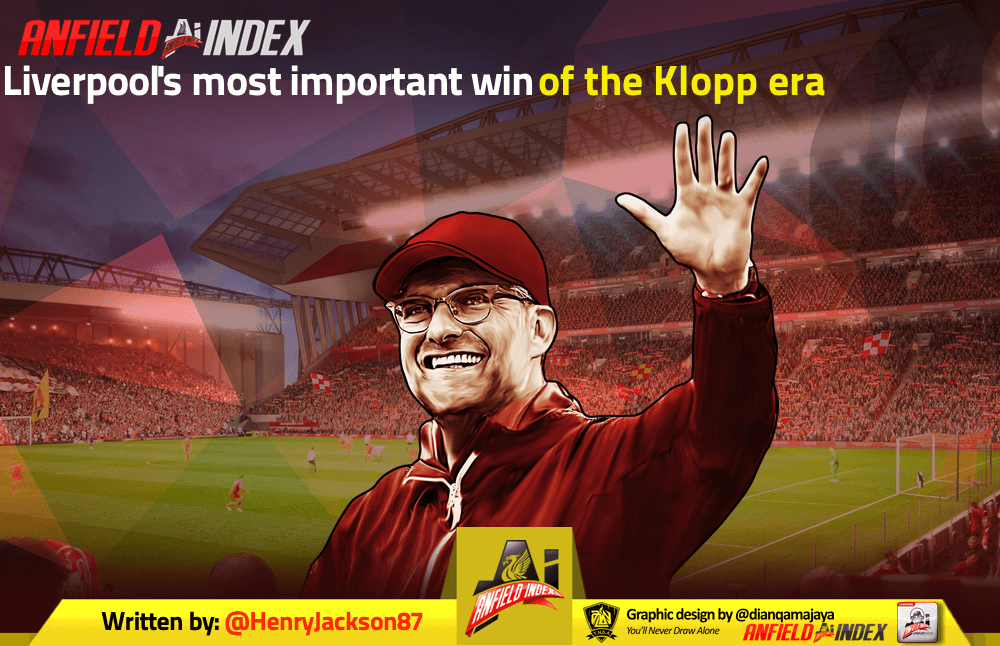 Liverpool's most important win of the Klopp era
Liverpool have excelled with Jurgen Klopp at the helm, going from mediocre top-four hopefuls to champions of the world in the space of four years.
The German has not only ensured his side play some of the most eye-catching football in the club's history, but has also brought with him a winning mentality that has rubbed off on his players.
When looking back at some of the most memorable victories of the Klopp era, there are a number of games that stand out as the most obvious contenders.

The Champions League final victory over Tottenham last year is the obvious front-runner in many ways, considering it cemented Liverpool's reputation as the best club side on the planet, and most importantly ended Klopp's wait for a trophy at Anfield.
There have been other epic wins in Europe along the way, whether it be the impossible triumph over Barcelona, the all-time classic against Borussia Dortmund or two thrilling victories over Man City.
In the Premier League, dramatic late wins away to Aston Villa and Crystal Palace should be looked back on as pivotal if Liverpool are eventually crowned champions this season, while rivals such as Man United, City and Everton have all been victims of the Reds' brilliance on some unforgettable domestic occasions.
Away from these obvious examples, there is one win that is actually more important than any other, paving the way for so much glory in the months and years since.
The date was May 21st, 2017 and the Reds hosted Middlesbrough on the final day of the 2016/17 season.
Victory would seal a place in the Champions League for only the second time since the 2009/10 campaign – a damning statistic, and one that highlights Liverpool's struggles before Klopp arrived in October 2015.
The prospect of falling short in the quest to dine at Europe's top table didn't bear thinking about in 16/17, with failure to achieve that goal acting as an almighty kick in the groin after making so much progress.
On the face of it, the task was simple, considering 'Boro were already relegated, but such tense occasions can do funny things to players.
What occurred was a painfully nerve-wracking afternoon on Merseyside – one that ended up with the right outcome, but could have been so different.
The nervousness of that day gets lost in the past now, but I vividly remember feeling sick during a forgettable first half, as Liverpool toiled against a team with nothing to play for.
A quarter of the way through the game, the Reds dodged an enormous bullet. Dejan Lovren appeared to blatantly pull down Patrick Bamford inside the penalty area, only for the visitors' protests to be waved away.
In a parallel universe, it could so easily have been a goal, a red card for Lovren and Liverpool faced with the prospect of having to score twice with 10 men.
Thankfully, luck was on Liverpool's side for once at Anfield when it comes to penalties – it is a total myth that they benefit in that area at home – and they didn't look back following that scare.
Gini Wijnaldum's superb first touch and finish right on the stroke of half-time was a priceless moment, as the whole of Anfield exhaled in unison, breathing the biggest of sighs of relief.
From then on, the nerves eased and Philippe Coutinho and Adam Lallana put the game to bed, as a 3-0 win was sealed, as well as a welcome return to the Champions League.
That victory was a true sliding doors moment in the history of Liverpool Football Club, inspiring the Reds to their greatest period of the Premier League era.
Without that win, there is every chance that Mohamed Salah, Virgil van Dijk and Alisson would not have signed, not to mention Fabinho and Naby Keita, given how much Champions League football is valued by elite players.
There would have been no back-to-back finals in the competition, winning the latter, and also no Club World Cup glory for that matter, in all likelihood.
I have no doubt that Liverpool would have still grown significantly under Klopp if they hadn't beaten 'Boro three years ago, but it is also extremely hard to envisage such remarkable strides being made if they hadn't got over the finish line in 2016/17.
That final-day triumph will likely never be looked back on with as much love as some of the more obvious outings mentioned, but it is arguably the most pivotal win Liverpool have enjoyed with their brilliant manager in charge.