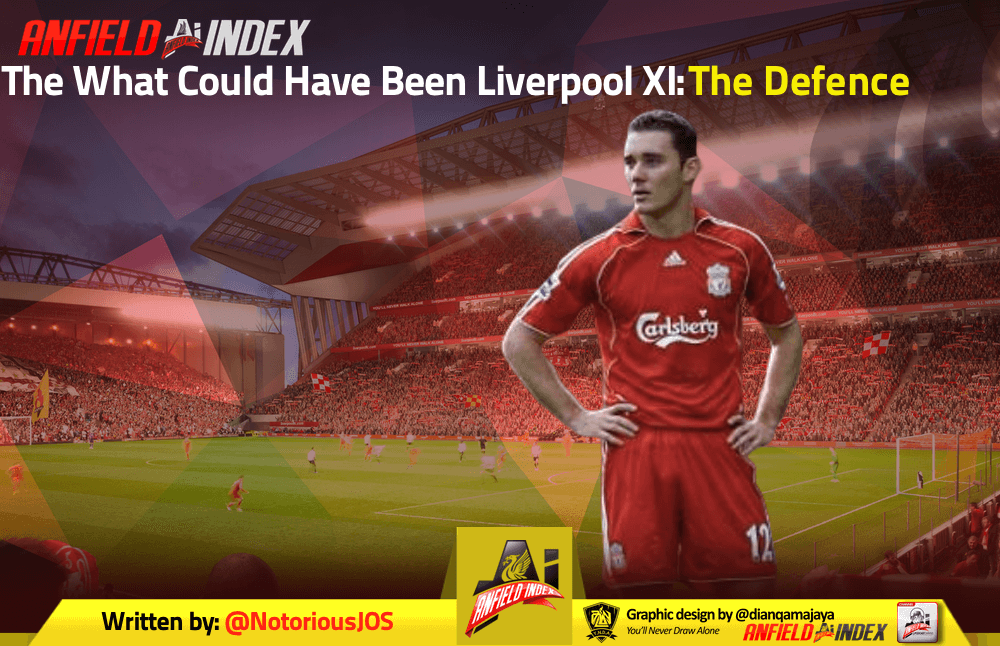 The What Could Have Been Liverpool XI: The Defence
There have been several players in Liverpool's recent past who have enjoyed the best football of their careers at Anfield and inscribed themselves into the club's history with memorable performances.
Steven Gerrard, Jamie Carragher and Fernando Torres — to name but three — either spent all of their careers or, in Gerrard's case as good as, with the Reds or — with Torres as an example — enjoyed their career-best runs of form in a Liverpool shirt.
There have been more players, though, who — despite having all the credentials to claim a bit of Liverpool history for themselves — didn't spend long enough at the club, through a combination of factors — injury, moving to pastures new to develop, signing at the wrong age or time or falling out with the club — to fully blossom on Merseyside.

We will form a "what could have been Liverpool XI", comprised of players whose stints with the current European Champions whet the appetite of what they could have done but, ultimately, were cut too short.
For the sake of balancing all of the players into a formation that would suit their abilities best, a 442 shape will be used.
Goalkeeper: PETER GULACSI
Initially joining on loan in 2007 from MTK Budapest — a club with whom the Reds enjoyed close relations — Gulacsi completed his permanent switch to Liverpool in 2008.
Playing for the reserves was as good as it got for the Hungarian with Liverpool and, after several loans to lower league clubs — at Tranmere Rovers and Hull City, to name just two — he joined the Austrian side RB Salzburg in the summer of 2013 on a free transfer.
Gulacsi enjoyed two solid years with the Austrian arm of the Red Bull Football group — where he played for a season with current Liverpool player Naby Keita — before joining their German "sister" club, RB Leipzig, in 2015.  From there, the Austrian international has established himself between the sticks at the Red Bull arena, being the mainstay #1 as the East Germans rose from the second division to the Bundesliga, to the Champions and, at the time of writing, a title challenge.
Although the now 29-year-old undoubtedly had to leave Anfield to develop his game, one wonders what may have happened if we stayed put.
Between the latter part of Pepe Reina's Liverpool career — where the Spaniard went from a borderline world-class keeper to erratic, inconsistent and extremely liable to concede goals at the near post — until Alisson Becker joined in the summer of 2018, the Reds fielded goalkeepers who were markedly subpar.
None of Brad Jones, Simon Mignolet or Loris Karius showed themselves to be of the standard of a club with Liverpool's aspirations and — while we are venturing into the world of hypothetical — the form and level Gulacsi showed in that time frame — including in European football with both Salzburg and Leipzig — was comfortably better than that shown by the hapless aforementioned trio of net-minders.
RIGHT BACK: ROB JONES
It may seem strange to wonder what could have been when a player appeared 155 times in the Premier League for the club, such was the class of  Rob Jones during the 1990s,  Liverpool fans curse the injuries that stopped them seeing the right-back more often during his eight years at the club.
Jones was named man of the match — only 48 hours after signing for the club from Crewe Alexandria —  after marking Manchester United's Ryan Giggs at Old Trafford, and set the standard that he would consistently hit when injuries allowed.
Blessed with speed, defensive stability, and the athleticism to bomb up and down the flank. Liverpool fans of a certain vintage will tell you that the former England international was one of the best full-backs in the Reds recent history.
Centre Half: KOLO TOURE 
His almost perma-smile and erratic movements and mannerisms made Kolo Toure a cult hero during his three years at Anfield.  Signed from Manchester City in the summer of 2013 on a free transfer, the Ivorian joined with the role of providing experience and defensive nous to a porous backline.
In that regard, Toure failed to live up to his billing as the Reds conceded over 50 league goals in the 2013-2014 season — the campaign where the centre-half played most often — with the image most readily associated with the former Arsenal stopper was Toure, head in hands while looking incredulous, after inexplicably gifting West Brom's Victor Anichebe an equalizer in a 1-1 draw that ultimately cost title-chasing Liverpool dearly.
But the 120 times capped Ivory Coast international was a fine player during his pomp — where he was a squad player with the Arsenal Invincibles, before later establishing himself as first choice with the North London club, latterly earning a £14M pound move to Manchester City, where he won another Premier League title. Toure's pace, strength, and ability to carry the ball out from the back would have made him an excellent Liverpool player if he had moved to the club sooner.
CENTRE HALF: MIKEL SAN JOSE
Another player, like Gulacsi, who left Liverpool without making a first-team appearance, but — with the benefit of hindsight — was justified in his decision to leave, given his rate of development.
Mikel San Jose, a young Basque defensive midfielder cum centre-half, joined the Reds in the summer of 2007 before establishing himself as a mainstay with the club's reserve side over the course of the next two seasons.
After failing to crack the first team, San Jose completed a loan move back to his former club, Athletic Club, in time for the 2009/2010 season. Initially frustrated at his lack of chances in the capital of the Basque country, San Jose — who was handed the number 12 shirt — eventually worked his way into the starting team and finished the season with 30 appearances in all competitions.
The defender's assuredness at the back, versatility — Marcelo Bielsa frequently used San Jose as a defensive midfielder during his stint at the club — and calm nature for such a young player convinced the club to make his transfer permanent and the Spain youth international joined Bilbao on a five-year deal.
San Jose has since established himself as a mainstay with Bilbao, being part of a team that qualified for both the Europa League and Copa Del Rey finals, making over 300 appearances in red and white and winning seven Spanish senior caps, the first of which came in 2014.
Prior to the arrival of Virgil van Dijk and the subsequent upshots in the form of Joel Matip and Joe Gomez, Liverpool struggled in the centre-half department with Dejan Lovren, Martin Skrtel, Kolo Toure, and Steven Caulker, among others, all failing to convince as the soft-centred heart of the team was exposed time and time again.
Perhaps, with a little more perseverance, San Jose could have remedied some of these issues in Liverpool instead of that of Bilbao and Spain.
LEFT BACK: FABIO AURELIO
Quite like Rob Jones at right-back, injury prevented Fabio Aurelio from making a bigger impression at Anfield.
The Brazilian international joined Liverpool on a free transfer from Valencia in the summer of 2006 to reunite with his former manager, Rafael Benitez, with the Reds.
Under Benitez's guidance, the Brazilian won two La Liga titles, as well as a Europa League title at the Mestalla. Aurelio's set-piece prowess — the left-back once scored 8 goals in a season — as well as his defensive solidity saw himself establish himself as one of the best full-backs in Spain.
More silverware wasn't to follow on Merseyside, but nevertheless Aurelio was a key player — despite persistent abductor injuries — during his six seasons with the Reds.
Memorable moments include free-kick goals at both Stamford Bridge and Old Trafford and an assist for Yossi Benayoun's winner at the Bernabeu, but Aurelio — who was released from the club in 2010, before resigning on a two-year deal a few weeks later — could never stay fit long enough to make the mark at Anfield that his talent ought to have and signed for Brazilian club Gremio in the summer of 2012.
With left full-back being a problematic role for Liverpool until Andy Robertson's arrival in 2017, a fully fit Fabio Aurelio could well have played on longer than six seasons and added several more highlights to a career that promised more.