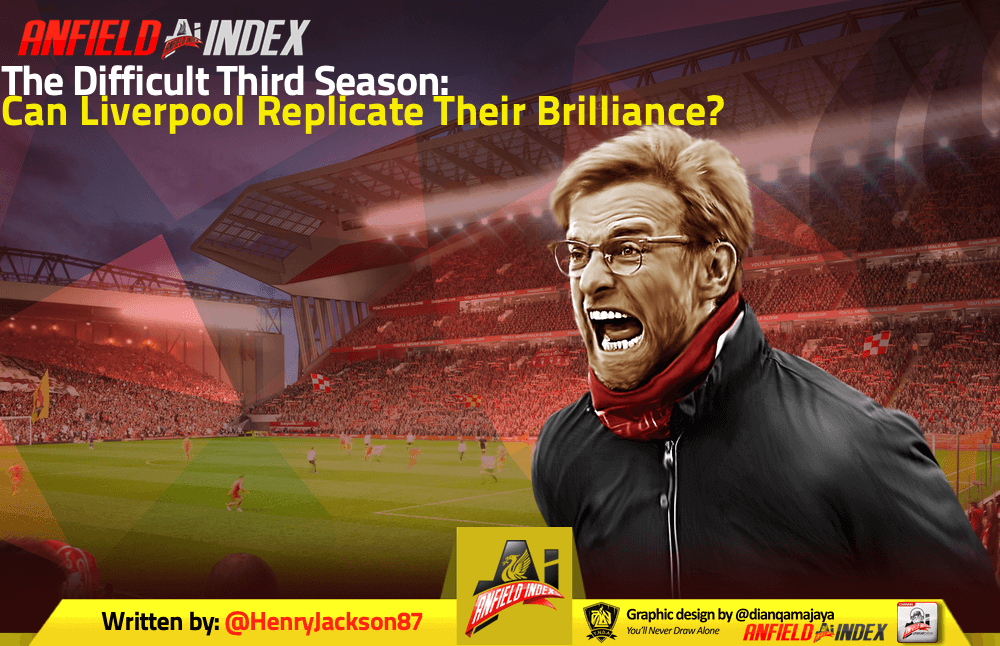 The difficult third season: can Liverpool replicate their brilliance?
Regardless of how this season ends up being decided, this is a special, history-making Liverpool side we are witnessing.
The Reds have become the most respected club team on the planet over the past 12 months, not only holding their own against a wonderful Man City outfit, but also clinching Champions League glory and lying on the verge of a maiden Premier League crown.
To achieve a club record 97 points last season was a magnificent effort in itself, even if City pipped them to the title, but to have dropped just five points in 29 matches this term is truly absurd, adding a Club World Cup trophy for good measure.

We have barely seen the likes of this before, whether it be Pep Guardiola's all-time great Barcelona side, the great AC Milan team of the 1980s and 1990s or any of Liverpool's past trophy-winning collectives.
The one thing preventing Jurgen Klopp's men from cementing their place as one of the best in history is longevity – perhaps the toughest barrier to overcome when it comes to winning silverware and building a dynasty.
Following a two-year spell of sustained brilliance, smashing endless records along the way, the task of doing it for a third season in a row will be gargantuan.
Such is the relentless nature of Klopp's demands, both tactically and physically, it is hard to deny that our heroes in red won't be feeling the strain, despite their current period of rest during this worldwide pandemic.
Picking yourself up and doing it all over again will take a huge amount of mental fortitude, not to mention similar levels of hunger throughout the squad.
Liverpool will hopefully be crowned champions in the coming months – I'm still terrified at the prospect of it not happening – but after such an incredible achievement, is it only natural that some individuals could take their foot off the gas a smidgen?
Many will point to the fact that Klopp simply wouldn't allow such a malaise to take place, but footballers are still only human, and it only takes a minuscule drop in intensity to make a sizeable difference at the very top level.
There arguably isn't a greater perfectionist in management than Guardiola, but even he has seemed powerless to do anything about his team's third-year dip in 2019/20, showing why we shouldn't assume that Klopp is immune to the same happening to him.
That is relatively speaking, of course – City could yet win a treble this season, which seems to have been forgotten about – but their league performance has been poor in comparison to the two seasons that have preceded it.
For Liverpool to have a 25-point lead over them may be remarkable from a Reds perspective, but City must also be alarmed that they have allowed their rivals to get so far out of sight.
It appears as though they found it extremely hard to match their previous level from the off, and as soon as a few negative results came their way early in the campaign, belief and a willing to match their past form both dwindled.
Arsenal's 'Invincibles' managed a three-year cycle before succumbing, in 2001/02, 2002,03 and 2003/04, but the competition possibly wasn't as great back then and even that star-studded Gunners side never won the Champions League.
Jose Mourinho enjoyed two separate periods of success at Chelsea, but as has become common knowledge, the Portuguese fell to pieces in his third season on both occasions.
Liverpool must try their utmost to use their rivals as a warning sign, using everything in their power not to suffer such a noticeable decline third time around.
They are primed to ensure that doesn't happen, but history suggests that the biggest test is yet to come, in terms of showing they can restart and find an almost unstoppable level once more.
This is still a relatively young squad, and assuming they return next season as newly-crowned champions – being robbed of glory now could be impossible to come back from in a psychological sense – they should be in a good place to try and cement their status as one of the greatest sides in English football history.
I would still back Liverpool to win the title next season, regardless of matches being played behind closed doors and numerous other possible factors, but a slight drop-off shouldn't be treated as a major shock, or as a disaster for that matter.