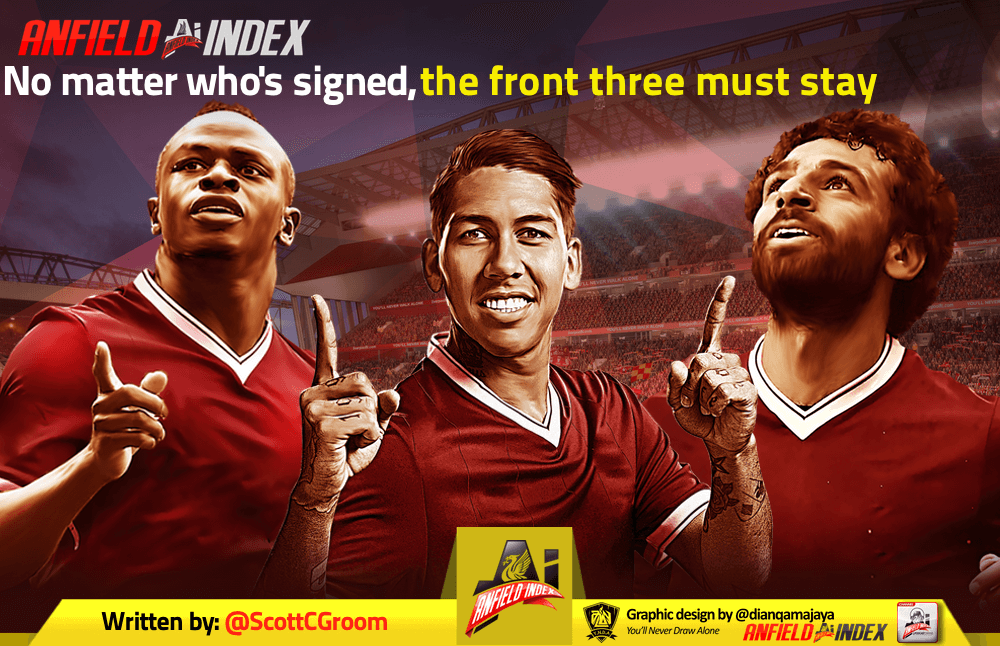 No matter who's signed, the front three must stay

Even though there's no football being played, and the transfer window is in limbo, the rumour mill simply doesn't stop turning.
Is Victor Osimhen a target? Should Liverpool sell Mohamed Salah? Does Jürgen Klopp want to bring fellow countryman Timo Werner into his attacking ranks?
There's never been a period of such uncertainty in world football, never mind when that period has led up to a transfer window.
But while Liverpool continue to be linked with some of the best attacking prospects in the game, they shouldn't lose sight of what they already have at their disposal.
Rumours have intensified (if it was even possible for them to do so) surrounding the future of Timo Werner of RB Leipzig, with the Reds reportedly ready to offer the young German a £9 million contract.
This news, coincidentally or not, comes on the same weekend that Mo Salah mocked Sky Sports for asking whether Liverpool should sell him or not.
What this underlines for me, at least, is that any potential transfer for a big name attacking star will beg questions as to how the newcomer will fit into Liverpool's already deadly front line – and if anyone will be forced to move on to make space for them.
While I highly doubt that Klopp will even be entertaining this thought, it needs emphasising how important it is that he (a) keeps the core of this squad of players together and (b) Salah, Firmino and Mané are arguably the most integral parts in this Liverpool machine.
Think about it this way – signing Mané and getting Firmino playing the way he is now was a wonder stroke by Klopp.
Signing Salah for the now absolute bargain price of £40-odd million was another stroke of genius from those involved.
All three of these players have revolutionised the way Liverpool play football and ensure that we're one of the most feared sides on the planet.
Those big names Liverpool keep getting linked with are probably the only players who could come in and fill the void either would leave should they depart from Anfield.
But what's the point in having to replace players? If we really want to be a dominant force domestically and in Europe for years to come, players of this ilk can't be allowed to leave.
But the difference here is that Liverpool aren't and shouldn't revert back to becoming a selling club.
The days of players using us as a stepping stone are over. There won't be any more Xabi Alonso, Javier Mascherano, Luis Suarez and Fernando Torres sagas any more – because this club is the ultimate destination.
Players don't see us as a means to get to the top any more because we're at the top. But resorting to selling someone like Salah, for example, would go against all of this and undo one of the biggest successes of Klopp's reign. This in itself is something that shouldn't be underestimated.
As to what happens if someone like Werner or Sancho signs and how they fit into the team is Klopp's problem. The current crop will want to play with the best players, and being forced to compete for your place often brings out the best in players.
I've said it time and again in pieces for AI, but having a wide array of talent to choose from and thinking of how to give them all a game is a far better problem to have than not having enough quality at all.
We've been there before, we don't need any more Andriy Voronin squad players. We don't want another David Ngog. We need quality and we need lots of it.
Strength in depth is how we conquer all of Europe and never stop, which means not letting anyone leave as well as signing the best talent.