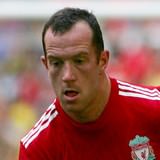 The arrival of Charlie Adam at Anfield was met, in my quarters, with an expectation of failure. His reputation for being slightly more on the rotund end of the scale in a modern game of six-packed athletes ensured many were predisposed to dislike him, and his failure to make the grade at Rangers gave them ammunition. "He's too Hollywood" they cried, "He needs to have a team built around him", yet 14 games into his Liverpool career and he has become widely regarded as one of the successful buys this summer, fitting well into the passing tradition to which Liverpool strive to return.
In early October, Anfield Index published an article which looked at Charlie's first seven games in red, and came to the conclusion that, whilst his game was still far from perfect, he was making significant improvement from his eye-catching time at Blackpool. As he has now played a further seven games for Liverpool, it seems a fitting time to revisit the stats and see what, if any, progress Adam is making having been given his big chance.
Passing
The area of the game upon which Adam has built his reputation is undoubtedly his passing ability. A favourite of the highlight reel during his time at Bloomfield Road, Adam would regularly fire what are often referred to as "Hollywood" passes around the pitch. That tendency to try the overly ambitious was almost certainly the reason that his pass accuracy in his Premier League season with Blackpool was as low as it was (72%), but being at a club somewhat out of the limelight, it was the ones that stuck to which everyone paid attention.

It is no surprise that Adam attempted more of what Opta describe as 'long passes' per game for Blackpool (12.94) than he has done since his move to Anfield (7.29). When looked at overall, long passes made up 24.06% of all passes attempted by Adam during the 2010-11 campaign, but only 12.96% of those he has attempted in a Liverpool shirt. If nothing else, it seems that his move up the footballing ladder has instilled within him the importance of keeping the ball as much as possible. His long pass accuracy has also shot up, from 50.33% at Blackpool to 65.69% at Liverpool.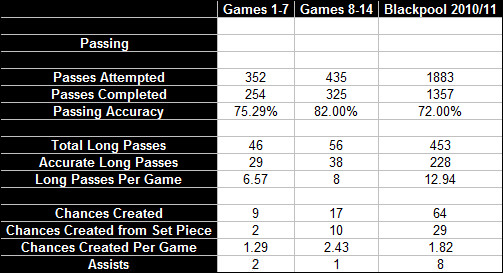 Defensive
One thing that has been much discussed since Adam's arrival in Kenny Dalglish's squad is the defensive responsibility that has been added to his game. At Blackpool he played almost exclusively in a midfield three, with two players protecting him, giving him license to roam forward without becoming a liability to the side. In Dalglish's side, he has, more often than not, been partnered in a two man central midfield with Lucas Leiva. The Brazilian, one of the stand out performers in the Premier League before his season-ending injury, does a lot of running and covers well, but there is a bigger requirement on Adam to contribute to the defensive side of the team.
His possession duel success rate has certainly risen since his time at Blackpool. He is involved in fewer duels (an average of 11.64 per game at Liverpool compared to 15.89 at Blackpool) but is winning more of them. At Blackpool his success rate in possession duels was 50.54%, whereas at Liverpool it has risen to 53.99% (on a fairly level basis between his first seven games (54.55%) and his second seven games (53.49%)). A particularly poor time in the tackle in his last seven games has seen his overall tackle success rate at Liverpool drop to just 75%, but perhaps making up for that is a significant rise in interceptions per game between the same periods, from 0.86 per game to 2.71.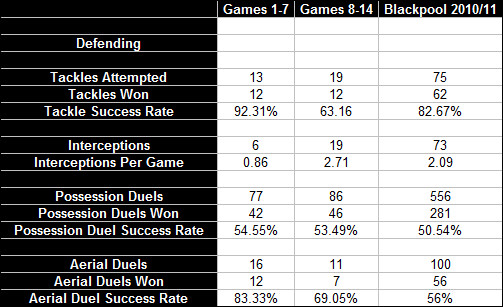 Attacking
What that added defensive responsibility has come at the cost of is some of the attacking flair that Adam showed during his time at Blackpool. Of course he does still get forward, as he showed to great effect against Fulham on Monday night, when he should have earned a penalty, and against Manchester United at Anfield when his burst forward earned the free kick from which Steven Gerrard opened the scoring, but he is picking his opportunities to attack more wisely.
A perhaps surprising statistic on the face of it, is that during Blackpool's Premier League campaign, Adam has passed into the final third of the pitch on average 13.83 times per game. At Liverpool that has fallen to an average of 10 times per game. This, however, is just a sign of the quality of player around him now meaning he no longer feels the need to force the ball forward and is more than happy laying it off to Lucas or José Enrique.
The number of shots that Adam has taken has also dropped, unsurprisingly given that he is getting forward less often. For Ian Holloway he would get in 3.2 shots per game, but under Dalglish that figure is only 1.79, though undoubtedly his penalty taking duties at Blackpool (which isn't something he is guaranteed at Liverpool) padded his goals scored tally beyond what would be expected of him at Anfield.

There seems to me no doubt to me that Charlie Adam is evolving as a player. Taken from his comfort zone at Blackpool, where he had a club built around getting the best out of him, and placed in an environment in which he is expected to simply be a member of the team, he has had to change his game. There were doubts over whether he could play effectively as part of a two man midfield, there were doubts over whether he could play at the level Liverpool expected at all, but as time progresses those are being ever more washed away. He is gradually settling into the famous red shirt, and it isn't a stretch to imagine that he'll be wearing it for a long time to come.