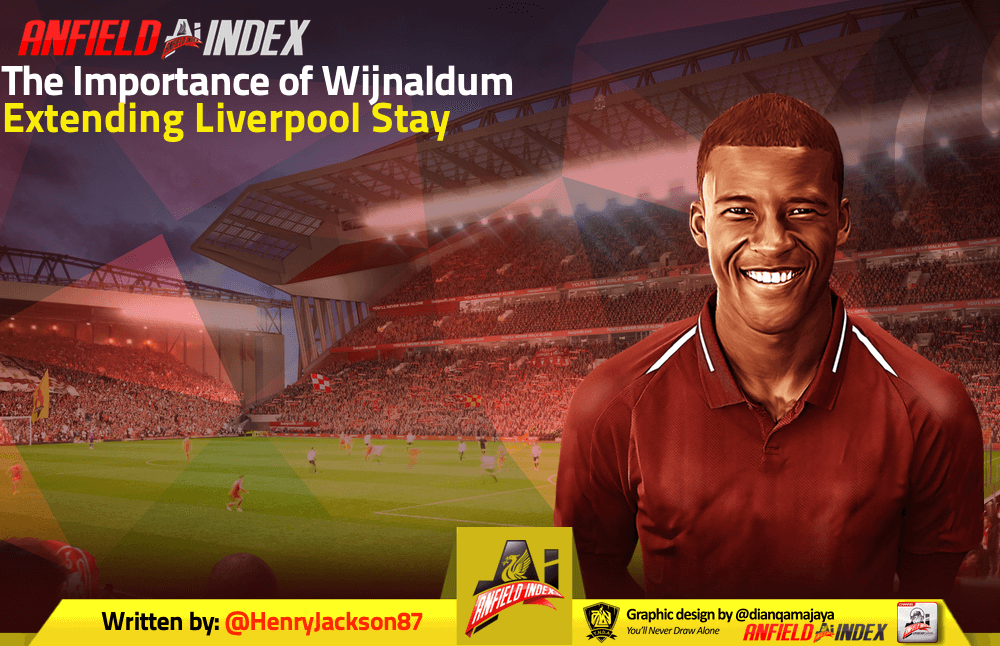 The Importance of Wijnaldum Extending Liverpool Stay

For the time being, footballing soap operas have taken a back step, as the world attempts to tackle the pandemic affecting the planet.
At Liverpool, talk of a potential move for Timo Werner remains a talking point, however, as does the future of Gini Wijnaldum – a player who has achieved so much since joining in surprise fashion from Newcastle back in 2016.
The Dutchman is still yet to commit his future to the Reds, with his current contract expiring next summer, and he has remained coy about his next move. It is still expected that he will eventually sign on the dotted line, but the club will be sweating a little.
Wijnaldum may be turning 30 later this year, but his importance to this Liverpool side remains as great as ever, with the potential for several more years of peak form still on offer.
Nailing him down to a new deal has to be considered a primary task this summer, ensuring Jurgen Klopp keeps hold of one of his most influential assets.
In many ways, Wijnaldum is one of the most intriguing players of the Klopp era at Anfield, despite being one of the more unfashionable players at the club, especially from the outside looking in.
Alisson and Virgil van Dijk have been rightly lauded for the world-class impact they have made – both are mountainous figures, too, which helps add to their aura – while Trent Alexander-Arnold and Andy Robertson are both hugely likeable, eye-catching individuals.
Fabinho's monstrous midfield influence stands out when he is on song, Jordan Henderson's growth as an elite leader has seen him increasingly come to the fore and the magic of Mo Salah, Sadio Mane and Roberto Firmino speaks for itself.
But then there's Wijnaldum, proving to be an almost ever-present in the middle of the park, making 177 appearances in four seasons, often retaining his place in a midfield full of rotation.
He has often gone under the radar more than the majority of his teammates, and on the surface, it could be argued that the 29-year-old is expendable, particularly if Naby Keita eventually matches the expectations that greeted his arrival.
When Wijnaldum has one of his infuriatingly quiet days at the office, you can be forgiven for thinking that Liverpool would be better off without him being such a constant in the starting lineup, but this is simply frustration taking over in the heat of the moment.
Wijnaldum is that classic player who is only fully appreciated when he isn't around. He is the man who helps hold Liverpool's midfield together in his own unique way, often achieving huge amounts without breaking a sweat or getting into a sprint.
There is nothing spectacular about his style of play, but everything is done with such precision and intelligence that his lack of errors are actually taken for granted.
Think about it: when does Wijnaldum ever give the ball away cheaply? How often is he muscled out of possession? When does he commit needless fouls in dangerous areas?
The Netherlands international has enjoyed a 90.9 per cent pass completion rate in the Premier League so far this season – only Takumi Minamino (97.2%) and Curtis Jones (95.5%) have averaged higher, having played far fewer minutes – while his tally of 0.4 tackles per game is fewer than fellow midfielders Alex Oxlade-Chamberlain (0.5), Adam Lallana (0.5), Henderson (1.0) and Fabinho (1.2), perhaps suggesting an expert level of positional sense and discipline.
Of course, Wijnaldum's penchant for scoring big goals is plain to see, most notably three in Champions League semi-finals, but more often than not, he thrives most when he isn't noticed, proving to be the ultimate key cog in the machine.
He is the Ronnie Whelan of the modern Liverpool – a player who teammates treasure as much as anyone and rival fans underrate criminally because he doesn't make Match of the Day highlights packages or have YouTube videos created showing his brilliance.
The Reds are at a point where Klopp will hope to build a genuine dynasty in the coming years, not just standing still at one Premier League and Champions League crown apiece, assuming the former is finally won this season.
Wijnaldum remaining a Liverpool player up until his early to mid 30s will help play a key role in that coming to fruition, whereas losing him would act as a major blow.
When it comes to footballers of Wijnaldum's ilk, you only truly appreciate their expertise when they are gone. Let's hope we don't experience that feeling with Liverpool's classy number five in the near future.