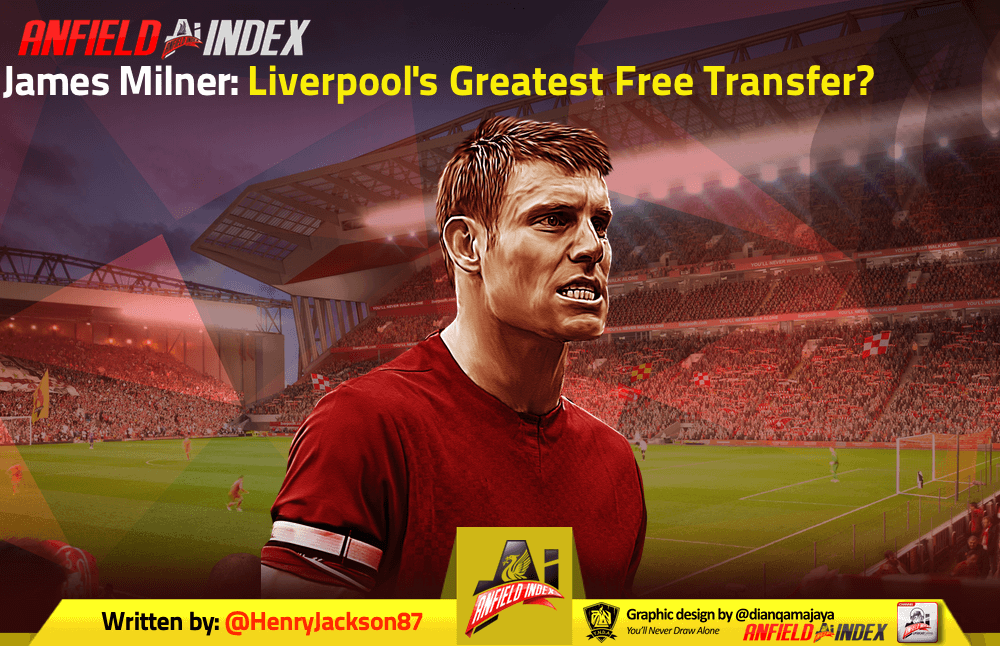 James Milner: Liverpool's Greatest Free Transfer?

I have a confession to make. I used to think James Milner was horribly average.
There was a time before his Liverpool and Man City days that I felt he represented everything wrong with English players, in particular an apparent lack of guile.
The sight of Milner consistently featuring for England seemed to sum up the Three Lions' shortcomings in major tournaments and I failed to see what others saw in him.
That was pushing a decade ago, however, and as the years have passed, my admiration for the 34-year-old has gone through the roof. So much, in fact, that I have no doubt that Milner is the greatest free transfer in Liverpool's history, and someone we will look back on as a prominent figure during this wonderful era under Jurgen Klopp.
When the Reds first signed Milner in the summer of 2015, it wasn't necessarily an earth-shattering piece of business, especially as his 30th birthday was looming.
It was clear that he had been a key figure during a successful spell for City, winning two Premier League titles, but was he on the wane as a player? And was he really needed in a midfield already containing adequate amounts of industry?
While Milner may not have set the world alight in his early months at Anfield, not helped by Brendan Rodgers' failings as he edged closer to the exit door, his influence soon become great.
One of the most versatile players of his generation, Milner was famously deployed at left-back by Klopp throughout the 2016/17 season – a role he has openly admitted he dislikes – and excelled for large chunks of it.
He wasn't perfect there, but to be so reliable in an auxiliary role, in a system that demands so much from the full-backs, was testament to Milner's quality and intelligence.
Aside from that, midfield has unsurprisingly been Milner's go-to position, and while he has arguably never been a nailed-on starter for long periods at any point, it is impossible to downplay his brilliance.
Industry has always been the attribute most associated with him, and while that is fair, it can also be used as a way of underrating other elements of his game.
For all the endless running and ability to do the dirty work, there is also a footballer brimming with quality, with his passing and final ball both hugely underrated throughout his career.
Just look at the way he turned the vital Premier League clash between Liverpool and City on its head back in 2013/14, when he came on for his past employers early in the second half, inspiring a comeback, only for Philippe Coutinho to clinch what looked like an almost title-clinching winner.
In 2018, Milner achieved the highest number of assists in a Champions League season by any player, laying on nine goals for teammates. No average player with creative limitations to his game manages that.
Then there's the endless nerveless penalties that Milner has struck home, with possibly no player in Reds history more calm and confident from the spot.
His penalty-taking ability epitomises him as a player – reliable, unruffled and ruthless – and he has always stood tall under moments of great pressure.
On top of that, Milner's leadership and professionalism off the pitch have acted as a gauge for his fellow colleagues, ensuring they reach similar levels of dedication. That is never highlighted more by the veteran's annual winning of the lactate test during pre-season, in which he has outlined his freakish fitness levels.
To still be running further than his teammates, despite being the oldest outfield player, speaks volumes.
When you look at who could possibly oust Milner as Liverpool's best-ever free signing, Gary McAllister is the only genuine contender.
The Scot was an inspired purchase back in 2000, arriving at the age of 35 and to a lukewarm reception, but ultimately becoming a true hero in the treble-winning 2000/01 campaign.
Despite McAllister's undoubted impact, however, he still only did it for one season, whereas Milner has now been a Liverpool player for five years. The former made just 87 appearances and scored nine goals, while the latter has managed 210 and 26, respectively.
Joel Matip has also been an excellent signing from Schalke, winning the Champions League and possibly outperforming anyone in Madrid last June, but he hasn't had Milner's overall influence.
Markus Babbel was an exceptional defender whose career was cut short by illness – he played a remarkable 60 times in 00/01 – but much like McAllister, one season of magic cannot be compared to what Milner has achieved.
The likes of Fabio Aurelio, Bolo Zenden and Kolo Toure and all worthy of a mention, too, enjoying success at Liverpool, but let's not look back at them with nostalgia-tinted glasses and pretend they did more for the Reds than Milner.
When we look back at this memorable, trophy-winning period at Anfield, there will be so many figures we remember fondly.
While there are more world-renowned, superior individuals who may end up being adored that little bit more than Milner, he has ensured that he will be considered a Liverpool legend forever.
He has played a starring role in the Reds' resurgence with Klopp at the helm and he isn't done just yet.
In hindsight, England really could have achieved something with 11 Milners in their team.