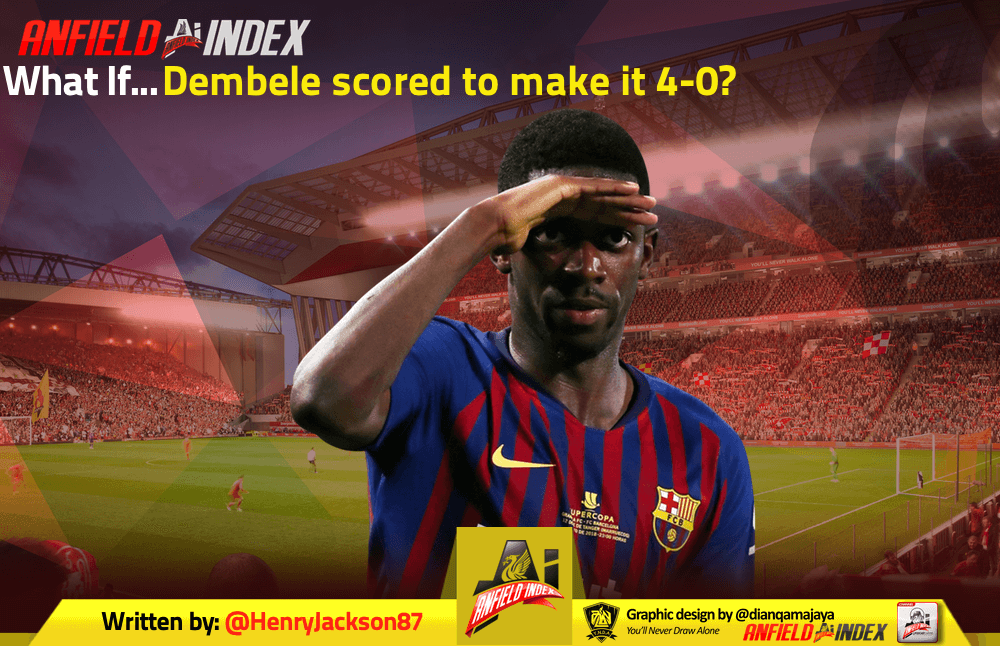 What If...Dembele scored to make it 4-0?

In the latest in our 'What If?' series, Henry Jackson takes a look back at a sliding doors moment from Liverpool's unforgettable Champions League tie against Barcelona last season.

Football can be decided by incredibly fine margins, with legacies potentially shaped or ruined by one-off moments that can work for or against your team.
For Liverpool, one moment that may be looked back upon as a genuine turning point in the Jurgen Klopp era took place on May 1st, 2019.
The Reds had been pitted against Barcelona in a mouthwatering Champions League semi-final clash, with the victor seen as favourites to prevail in the final, against either Tottenham or Ajax.
Liverpool were reaching the finale of a remarkable 2018/19 Premier League title race with Man City, but as each game passed, it appeared increasingly inevitable that Klopp's men would somehow not be crowned champions, despite amassing a club record 97 points.
That put a certain added pressure on being crowned champions of Europe, especially with Klopp continuing to be beaten with the 'he hasn't won anything at Liverpool yet' stick.
While much of that criticism was both laughable and tribal, there was still an argument to say that the German's magnificent work needed silverware to show for it, or it could risk being lost in history.
What unfolded in Barcelona on that Wednesday night a year ago was one of the cruelest Liverpool have experienced under Klopp – perhaps the most unjust scoreline of the last decade, in fact.
Too many fans and pundits are eager to judge performances solely by the final scoreline, but if ever that way of thinking was proven to be incorrect, it was that evening in Spain.
Liverpool were fantastic for much of the game, outplaying Barcelona on their own turf, which remains one of football's rarest sights. The football was both measured and purposeful, and the quality of defending against Lionel Messi, Luis Suarez and company was exemplary. It looked as though the visitors had the beating of their opponents.
The Reds somehow found themselves 3-0 down, however, with a mixture of Suarez ruthlessness, Messi magic, bad luck and sloppy finishing all working against them.
In stoppage time, Liverpool's desperation to score an away goal was so great that Alisson was keen to come up for a corner, in the hope that they could have something to show for their efforts back at Anfield.
Alisson was swiftly stopped in his tracks and told to remain in his goal – in hindsight, it is a decision that ultimately proved huge in the history of Liverpool Football Club.
The corner came to nothing, but there was still time for Barca to launch a counter-attack, with Messi, Ousmane Dembele and Gerard Pique, of all people, bursting forward.
Messi could have shot inside the penalty area but instead opted to unselfishly square it to Dembele, but just as it looked as though any hope Liverpool had of progressing was going up in smoke, the Frenchman fluffed his lines and shot straight at Alisson.
The reaction of Messi was one of a man who knew that the tie wasn't done and dusted, collapsing to the ground in anguish. He was right, of course.
What happened at Anfield the following week will never be forgotten, as Liverpool overturned the 3-0 deficit and won 4-0 in stunning fashion, on what has to be the greatest night ever witnessed at the Reds' famous stadium.
Without Dembele's howler of a miss, though, and Alisson leaving an empty net if he had come up for the corner, Klopp's side would likely never even have had a chance to mount a fightback, such would have been the size of the mountain to climb.
With Vincent Kompany's crushing winner for City against Leicester all but wrapping up the title the night before the second leg, it would also have meant no trophies last season for one of the all-time great Liverpool teams.
That would have been a horribly bitter pill to swallow, and those same questions about Klopp and trophies would have returned again in force. The players may also have found it tough to come back from somehow going trophy-less, having put so much into a memorable campaign.
As it is, Liverpool went on to win the Champions League in Madrid and now lie tantalisingly close to finally winning a maiden Premier League title, one way or another.
Klopp is threatening to build the next great dynasty at Anfield, with silverware coming thick and fast, but you have to wonder what would have happened if Dembele had buried that chance last May.
Thankfully, we will never know.