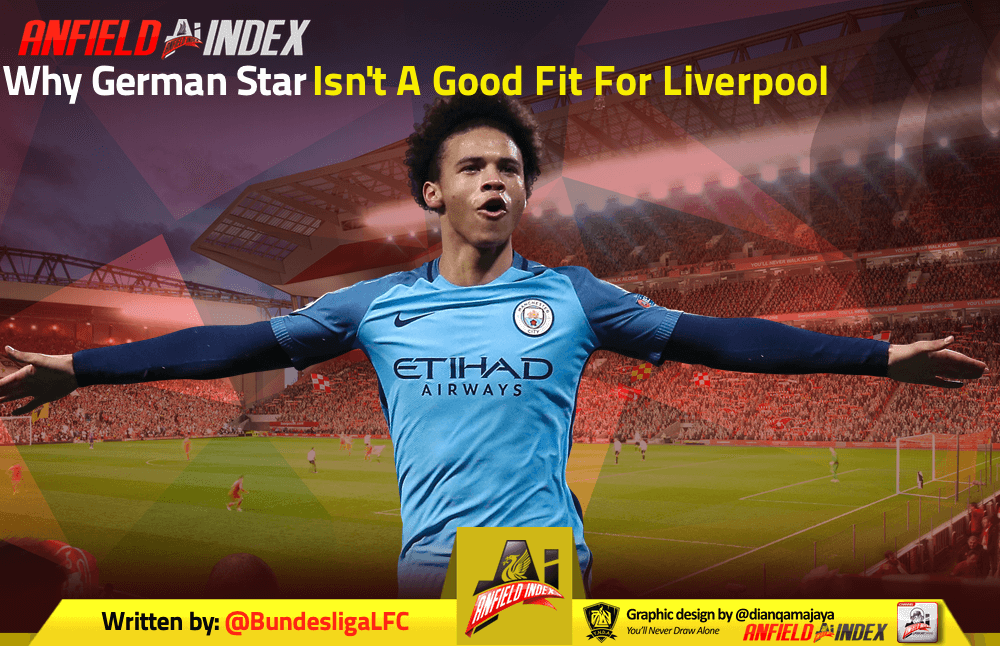 Why German Star Isn't A Good Fit For Liverpool
The coronavirus pandemic has postponed silly season, for now, but every now and then a rumour that makes you do a double-take emerges. The latest one was that Liverpool wanted to sign Manchester City's Leroy Sane. 
Now, the Reds did try to bring the Germany international to Merseyside prior to his switch to Manchester but missed out and instead signed Sadio Mane. If reports are anything to go by, Jurgen Klopp is a fan of his compatriot. However, despite Sport Bild's Christian Falk confirming it, it's hard to really believe that the Premier League leaders made a big play for the 24-year-old. 
Liverpool are clever in the transfer market. Over the past few years, they've been peerless. Few players at the club earn in excess of £150,000-per-week, agreeing to pay a player who is coming off the back of an entire season injured such a salary is moronic. Yet according to the reports, the Reds wanted Sane to remain at the Etihad until the summer of 2021 before making the switch to Anfield on a free transfer. 

You could argue that with no transfer fee included, the club could be a little more lenient with the salary on offer. But even without a fee, signing Sane would be a huge gamble. One Liverpool don't really need to take right now.
Nobody really knows what sort of player he'll be upon his return. Yes, he'll have no doubt received the best care in the business and ligament injuries don't prematurely end careers as they used to these days. Sane's game is built around his explosiveness. His style is very reliant on his knees. Of course, footballers rely on their legs, this isn't a huge revelation. But some, especially wingers, are more reliant than others. Their style is centred on agility. They put a lot of pressure on their knees and when you watch Sane you can see his game hinges on him being able to move quickly with ease. 
Unless there was a guarantee that the City No.19 would return as good as ever, it'd be negligent to take such a financial risk. Not when you're in the position Liverpool find themselves in with Timo Werner practically begging to join. 
Sane's style of play is another reason I doubt the link. Inside forwards may have been all the rage over recent seasons but Pep Guardiola has used his wide players a little differently. He's kept his wingers on their stronger sides. Sane on the left is, at times, unplayable. Over the past three seasons, he's completed 70% of the dribbles he's attempted inside the opposition half on the left compared to the 30% he completes on the right. The former Schalke man is very good at what he does. 
When isolated against full-backs, he usually comes out on top. But Liverpool don't ask their wide players to do that. Mane and Mohamed Salah are tasked with cutting inside to create space for full-backs, City attackers hold the width and create pockets of space for the likes of Kevin de Bruyne, David Silva and Bernardo Silva. 
The City man might be able to switch his game around to plays the way Klopp wants his attackers to, but there's zero guarantees, or even any real evidence, he can do that. So why would the recruitment team at Liverpool, the ones who have been so diligent in their work over recent years, sign off on such a financial package? It doesn't make sense. Financially or stylistically. If you had to profile Sane without the reputation, he isn't one you'd flag for this team. With all that considered, I'm kind of glad that all the talk suggests he's returning to Germany.