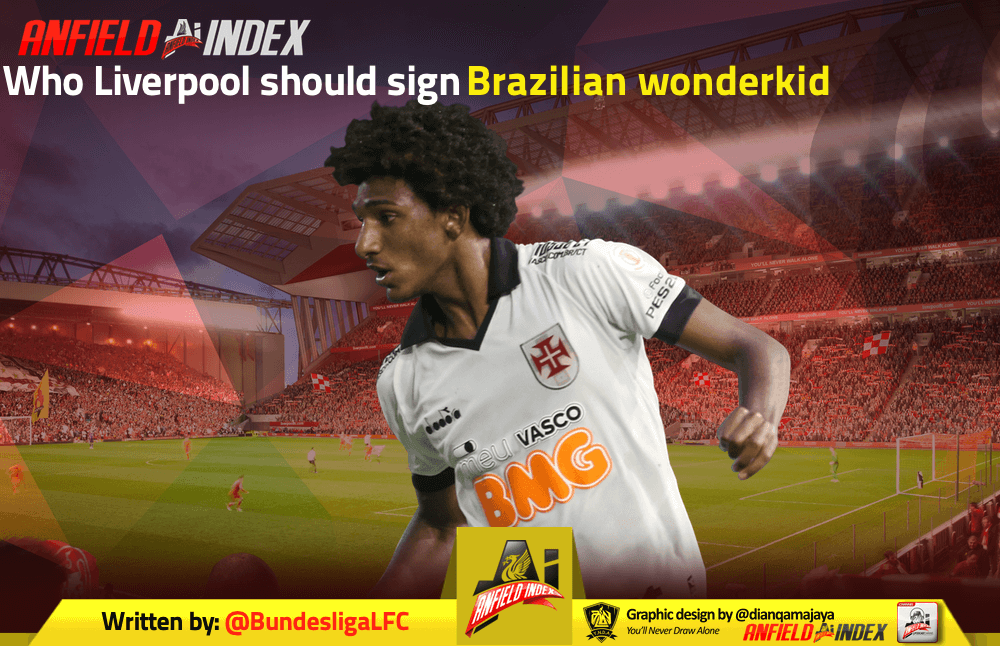 Who Liverpool should sign Brazilian wonderkid
Over recent years, Liverpool have turned into something of a destination club for Brazilian players. Alisson Becker, Fabinho and Roberto Firmino currently call Anfield home while Philippe Coutinho and Lucas Leiva spent large periods of their careers on Merseyside. Believe it or not, Fabio Aurelio spent six injury-filled years as a Liverpool player too. Diego Cavalieri and Doni's time on Merseyside was fleeting though the latter apparently played a part in the Premier League leaders signing Alisson. 
Whereas in the past, links to Brazilian's weren't taken too seriously, now that there are strong foundations at the club and within the city, rumours are now a lot more believable. Liverpool are believed to be trying to make the most of it. They're on the search for the next Samba starlet and have an obvious presence in Brazil. 
Fluminense's Evanilson was linked not so long ago but the 20-year-old now looks set to move to Benfica. The Reds apparently made a move for Rodrygo before his switch to Real Madrid and they were one of the teams interested in Flamengo striker Lincoln. 

The latest youngster to be linked with a move to Merseyside is Talles Magno. The 17-year-old isn't your stereotypical Brazilian. Yes, he's nimble,fleet-footed and tricky when in possession but he's also powerful, physical and brutish. Standing at 6ft1ins, the Vasco forward has a bit of Richarlison about him. It's somewhat surreal to watch a player of his size pick up the ball in a wide area, slalom his way past opponents before bursting into space. 
David Hughes of Liverpool.com recently spoke with Brazillian Journalist Gilmar Ferreira to find out more about Magno. 
"Talles is a promising player who made his debut for Vasco last year, at the age of just 17. He already possesses praiseworthy technical resources and impressive maturity for a young man of his age. Months before being promoted to the first team, when he was still 16 years old, he was observed by technical scouts from Atlético Madrid."
Benfica are also interested in the teen while Spanish outlet AS claim Sevilla and Lyon are also battling it out for his signature. Though primarily right-footed, the Vasco prodigy has spent a lot of his time on the left of their attack. He's also lead the line on occasion. He's far from from the finished product and Liverpool would have to invest a lot of time in him to ensure he fulfilled the abundance of potential he possesses. But there's a lot to work with. 
He's an adept dribbler, completing around 60% of his attempts in the league. For a bit more context, on average, he's attempting just over six on a per 90 basis. It's clear he's confident on the ball, as are most Brazilians. He's comfortable when isolated one-on-one and he's effective in the final third at creating space for himself and for team-mates. In that sense, he ticks a box for Jurgen Klopp's side. 
The one thing he's lacking, however, is output. He's averaging around two shots per 90 but his expected goals total is coming in at 0.18 and his expected assists average is 0.03. But these numbers improve with experience. Practice and regular exposure to first-team football helps improve in-game and on-ball decisions. Right now, he's a little erratic in the final third. His shot selection isn't the smartest and his finishing is rather hit and miss. But it's all expected from a 17-year-old. He's not in the same sphere as Kylian Mbappe or Neymar. He's not the definition of a wonderkid, not yet anyway. But the fact he's not banging in the goals or single-handedly ruining teams means Vasco can't demand eye-watering amounts of money for him, and this might be why Liverpool are interested. 
It's clear Talles is a talent. It's clear that with the right coaching he could develop into a handy attacker who is able to operate across the forward line. Liverpool don't take risks in the transfer market but reports suggest the Vasco man could be available for around the £5million mark. If true, this deal is a no-brainer and the Reds should move to make the 17-year-old the latest member of their Brazilian contingent.