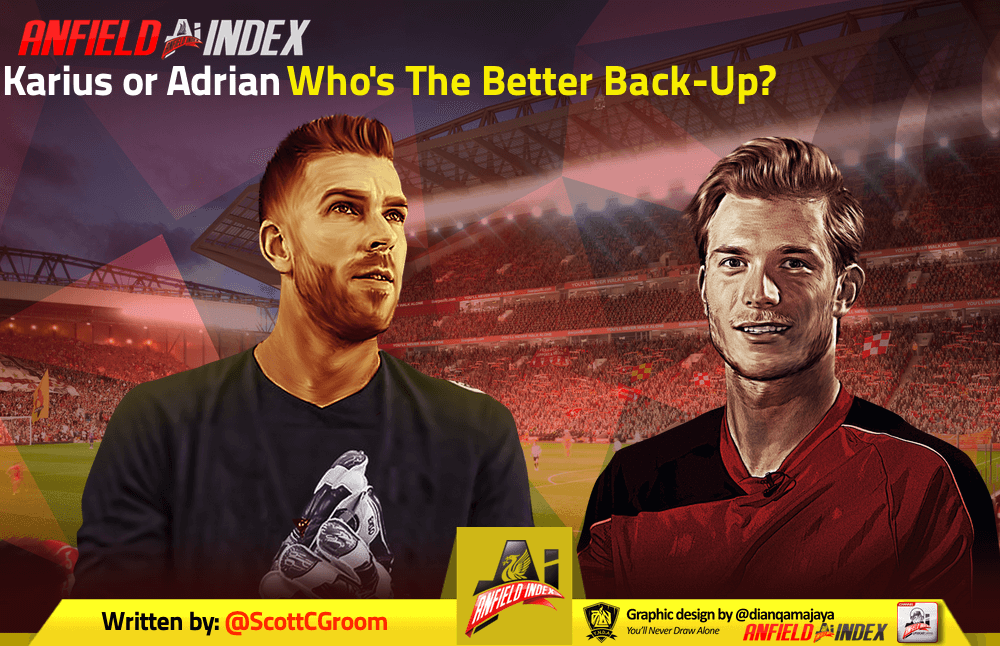 Karius or Adrian - Who's The Better Back-Up?

Although we're still eagerly awaiting the Premier League's return so that we can finally see Liverpool lift the trophy, there's still plenty to talk about.
Rumours as to whether Timo Werner will join from RB Leipzig refuse to go away.
The lads, already donning Liverpool red, are back in training and the league looks to be creeping closer to kicking off again.
However, one thing that has come to fore recently is perhaps something that we've all been shying away from because, in all honesty, it's not a topic that brings up happy memories.
And that topic is the impending return of Loris Karius to Anfield.
The German keeper recently cut short his loan spell with Besiktas over wage disputes and his short-term future seemingly looks destined for Anfield.
All you have to do is utter Karius' name in red parts of Merseyside and you can hear people shudder as the haunting memory of 2018's Champions League final in Kiev come rushing back.
We all thought after that game, and the arrival of Alisson Becker from Roma, Karius would never represent Liverpool competitively ever again.
Lesser of two evils?
Although with his unexpected return to Liverpool there looms an interesting and unexpected question.
Who's worth keeping around out of Karius or new cult hero and current number 13, Adrian San Miguel?
For the most part, Adrian has been a very astute signing by Jurgen Klopp. Pulled out of thin air, signed for free and has with all due respect done a fairly good job when deputising for Alisson numerous times this season.
You can't deny the fact that he's pulled off some wonderful saves and was there as an ever-present for the first eight games of the season, conceding seven goals in the process.
He's also been Liverpool's man in sticks for cup competitions and in Europe, but this is where the problems started.
It was his mistake that led to Atletico Madrid seizing the tie at Anfield after a sloppy mistake, and there have been a few of these. But what can you expect from a 33-year-old keeper who's playing at the biggest club he's ever played for?
But does this make him any better than his predecessor, Loris Karius?
You can argue that Adrian has been more reliable and has more of a proven track record, especially in the Premier League.
Hardly compelling arguments for either player though, you'll have to admit. Yet despite Adrian's occasional costly errors and moments of madness, he's done nothing as costly as Karius.
Can Karius ever recover from Kiev?
And yes, I am referring to Loris Karius' nightmare performance in the 3-1 defeat to Real Madrid back in 2018.
We don't need to go into details, it was just horrible.
Not only for fans looking at this and being able to trust him again, but the psychological effect that that game will inevitably have had on him is undeniable.
Put him in a pressure situation again, the memories of that night are going to come flooding back. It's just human nature, and it'd take a lot for one of Klopp's current mentality monsters to get over this.
I personally don't think that Karius trusts himself after that night, and even with all of the best will in the world.
This is the real sticking point, but when it comes down to ability, is there much to split both him and Adrian?
Can Liverpool do better all-round?
I guess the crux of this comes down to the fact that, in the harsh reality of the situation, Liverpool could and probably should be doing better.
In Alisson, they have one of, if not the best, goalkeeper in world football. He's helped revolutionise not only Klopp's defence, but their general play and certainly their counter attacking football.
Anyone other than him is going to be a drop in class. That's the long and short of it.
But bringing in Karius seems to me to be a regression, in every sense of the word. It seems brutal, but he needs to be gotten rid of as soon as is physically possible.
That gives Adrian a grace period, but I think he knows that his time at Anfield isn't going to be extensive and he's probably just living in and loving the moment, riding the crest of a wave.
So keep him. He seems good for the dressing room, a natural fit into the Klopp way of working. He will though, soon enough, need to be moved on.
The last thing we want is us to have another Karius on our hands.