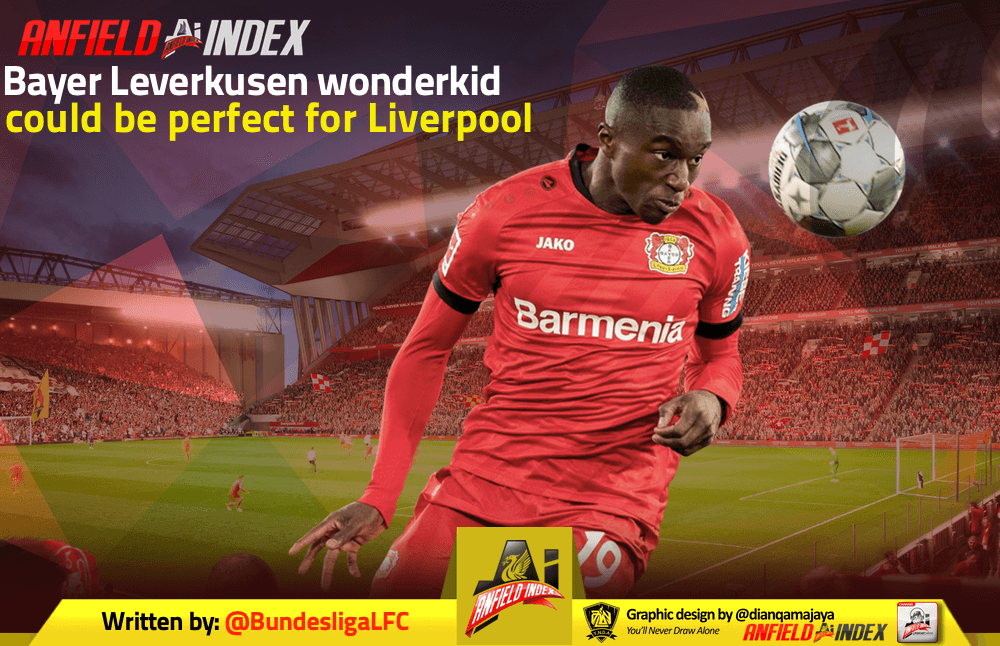 Bayer Leverkusen wonderkid could be perfect for Liverpool
Since the return of the Bundesliga, all eyes have been on Kai Havertz and Timo Werner. Despite the increased scrutiny, the two Germans have responded well to this. The former has four goals in two matches while the latter netted a hattrick against Mainz after putting on a creative clinic against SC Freiburg. 
They've justified the hype and then some. But they aren't the only two players who have really impressed since the return of football. Havertz casts a large shadow at Bayer Leverkusen and few have been able to escape it. But Moussa Diaby is also quietly going about his business for Peter Bosz's side and his performances are making it difficult to ignore the French dynamo. 
Diaby moved to the BayArena in the summer after the Bundesliga club struck a €15million deal with Paris Saint-Germain. With so much going on in the world of football at the time, the deal went under the radar and you can be forgiven for not paying much attention to it. 
Nothing about his 2019/20 campaign, however, has gone under the radar. In terms of goals and assists, his numbers aren't phenomenal. He's racked up four goals and chipped in with five assists this term. He's par with his expected numbers which shows the 20-year-old, despite this being his first real season of playing on a regular basis, is remarkably consistent. 
He's been linked with €30million moves away from Germany already. Arsenal are believed to be interested as they look for a long-term replacement for Pierre-Emerick Aubameyang on the left of their attack. But if reports are to be believed, they aren't the only ones showing an interest. It's unknown whether Liverpool are one of those clubs but they should be. 
With money now tight, the Reds will have to be shrewder than ever before in the transfer market if they're to stay ahead of the game. Every fan would've liked a Jadon Sancho or a Kylian Mbappe but it's just not feasible right now. Werner could still well be a possibility but reports suggest it's going to be something of a struggle to club together the money needed for that financial package. 
Diaby isn't a like for like replacement by any stretch of the imagination. He can't do all of the things Werner does and he doesn't play in a similar style, either. But Liverpool don't need a player with an identical profile to the RB Leipzig man. They could work with the Leverkusen No.19 to mould him into someone who has a role in the Jurgen Klopp set-up. 
There'd be a lot for the Premier League leaders to work with. Diaby is a constant menace. The Reds have been linked with Adam Traore with many believing his directness is an attractive trait. Diaby has a similar style in the sense he likes to isolate players and attack them. On average this season, the 20-year-old is attempting near six dribbles on a per 90 basis and he's completing four of them. Like Traore, he's deployed largely as a traditional winger. The Wolves man plays on the right because he's right-footed. Diaby is deployed on the left because he's left-footed. But his right foot isn't just for standing on. One of his assists in the 4-0 win over Frankfurt arrived from the right via his right foot. 
He's tidy in possession, too, completing near 80% of the 30 he attempts while 33% of his crosses find a team-mate. His arrival could change the dynamic of how Liverpool play but change isn't a bad thing. The Reds would adopt a 4-2-3-1 shape at times with Diaby on the left and Sadio Mane on the right. With pace and guile to beat opponents on the outside, the Premier League leaders would have a lot of space in central areas to exploit. And the 20-year-old former PSG starlet isn't going to the break the bank. He could be an ideal signing in the current climate.