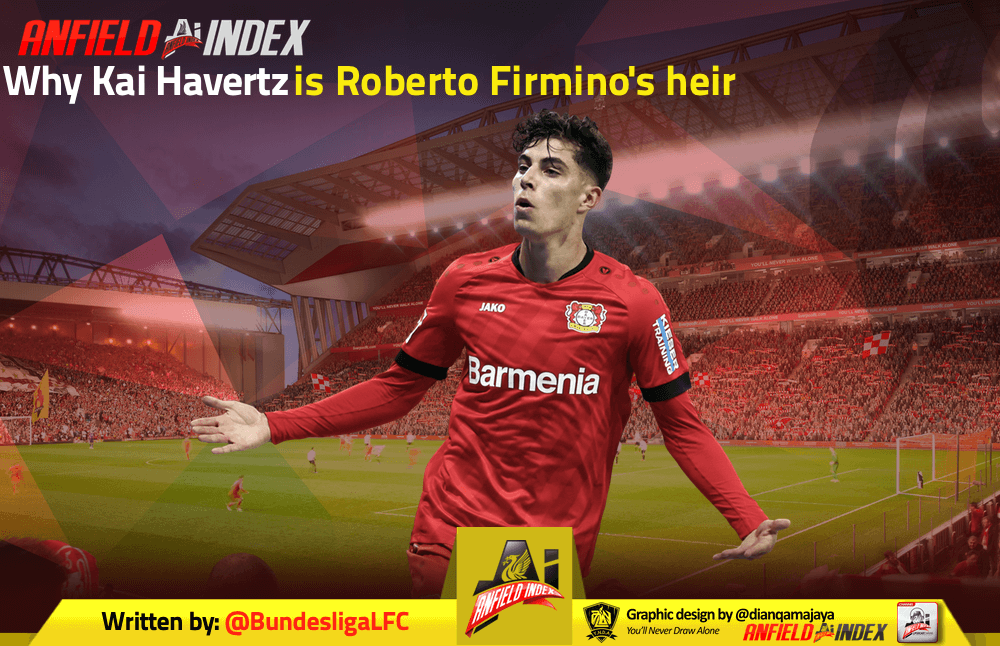 Why Kai Havertz is Roberto Firmino's heir

Kai Havertz is no stranger to Liverpool fans. The Germany international has, if reports are to believed, been on the club's radar for three years now. But with the Bundesliga now the only top-five league back in action, more eyes than ever before are on the 20-year-old. He was given a decent platform to impress, too. 
Bayer Leverkusen entertained Werder Bremen in the Monday night game and, deployed as the number nine, Havertz added two to his tally as Peter Bosz's men hit four. Then Leverkusen travelled to Borussia-Park to take on Gladbach in what was the standout game of the earlier kick-offs on Saturday. The youngster again found the back of the net on two occasions as the visitors romped to a 3-1 victory to leapfrog their hosts into fourth spot. B04 now have 11 goals in their last three league outings, and Havertz has had a hand in six of them. 
While it's unlikely that Liverpool would be able to afford the Bayer No.29 this summer, he should top their wishlist. Though he's been compared to Michael Ballack and Mesut Ozil, he does, in fact, share a number of similarities with Roberto Firmino. Planning for life after the maverick Brazilian needs to be a top priority for the Reds. Still only 28, he has played a lot of football over recent years and given the system relies heavily on what he brings to the team, finding his heir necessary if Jurgen Klopp's men are going to continue doing what they're doing. 
Finding a like for like replacement has been near impossible given he's such a unique player. But Havertz is slowly morphing into someone who could play the Firmino role. He's actually been doing an impressive job of it since football returned to Germany. 
Bosz's 3-4-3 system relies heavily on Havertz creating space in the middle and attacking thirds. Often, number nines will look to pin the centre-backs and this makes it difficult for the wide forwards to have any sort of impact in central areas. But, as Liverpool fans know from watching Firmino for all of these years, using a false-nine creates opportunities for wide forwards, and midfielders, to get into dangerous areas. 
When looking at Liverpool's average touch map, it often appears as though they're playing with two strikers and a number 10. Leverkusen's system has mimicked that in the past two matches. Moussa Diaby tucks inside from the left and Karim Bellarabi does the same on the right. Havertz then sits a little deeper and links the midfield to the attack. But despite playing in a role often filled by a creator, the Germany international has chipped in with goals. He's managing to combine being a creative outlet with being an output player, something many struggle to marry. 
His output is sustainable, too. Since the turn of the year, Havertz has 17 goals involvements, showing that last season's extraordinary return of 17 Bundesliga goals wasn't a one-off. All four of his goals in the past two matches have come from inside the penalty ara from an expected goals average of 2.5. Though it is worth noting that chances via headers aren't rated as high as normal shots in most expected goals metrics. 
So what you have is a goal threat who creates for others and does a lot of selfless work without the ball. He's versatile, just as Firmino is, and he's got a work rate that many managers could do a lot of damage with. If Liverpool find a magic money tree, Havertz should stop their wishlist.