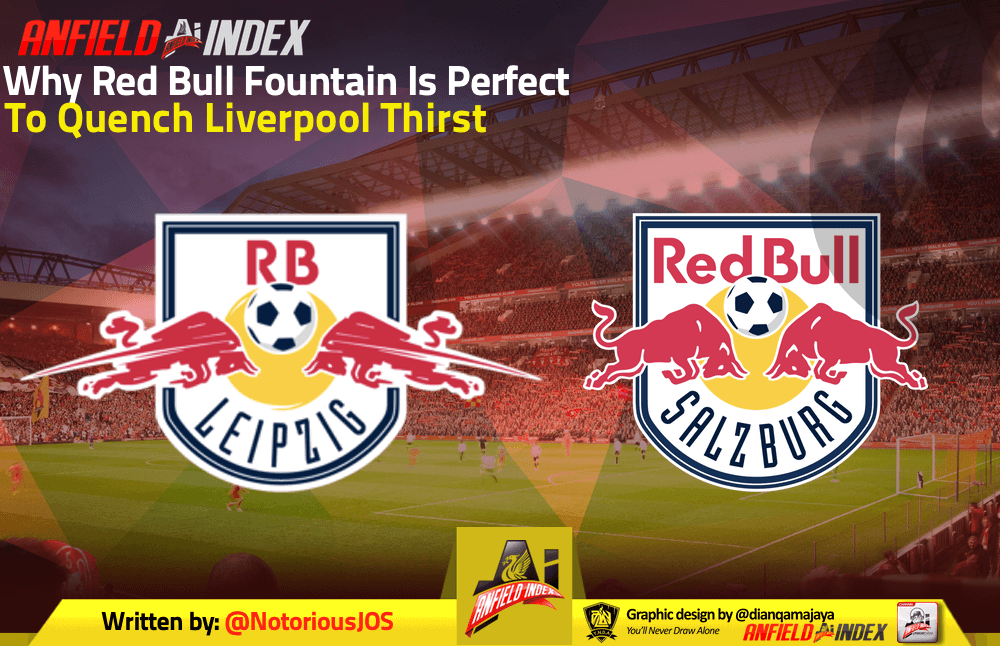 Why Red Bull Fountain Is Perfect To Quench Liverpool Thirst
The rumour's linking Red Bull Leipzig's Timo Werner with a transfer to Liverpool shows no signs of slowing down.
After the rapid forward fired a hattrick in Leipzig's 5-0 crushing win away to Mainz on Sunday, journalist Raphael Honigstein — the author of the Jurgen Klopp biography, Bring The Noise — confirmed that Klopp was in touch with Werner via video conference over Easter, which added a heavy measure of kerosene to that particular transfer gossip fire.
It now appears that, despite the economic hardship brought on by COVID-19, Werner will soon call Anfield his footballing home. Following in the footsteps of Naby Keita, Sadio Mane and Takumi Minamino, the German international could become the latest player to arrive at the Reds straight from — 0r in Mane's case, after spending time earlier in his career at —  either one of Red Bull's footballing arms, RB Leipzig and RB Salzburg.
Why are Liverpool — once known to buy regularly from Southampton — so keen to do their player shopping at the Red Bull Arena's? The answer is because of the extensive scouting network — which unearthed players of the calibre of Keita, Mane and Dayot Upamecano, among others — which has seen both clubs become a destination for some of the top young talents in Europe.
Also, and equally importantly, the adherence to a high pressing, physically intense brand of football — which has seen both clubs advance to the Champions League via both Bundelisga's, Austria and Germany — makes the transition to Liverpool, whose devotion to a similar style of play is absolute, easier. Michael Edwards and his transfer team are cognizant of the fact that it's not so simple as to just supplant a player from a wholly different tactical regimen and expect him to perform well in a totally new set-up.
Therefore, ideally, you would ideally recruit players from a similar school of tactical thought, where they have built up the sufficient muscle memory in the rigours of gegenpressing football that would allow them to settle at Anfield quicker and better.
After the embarrassment of Euro 2000, where Germany — the oldest team in the tournament — scored only one goal and exited at the group stage with only a singular point to their name, the German football association looked to rip up their playbook and usher in a new era of youth development and style of football.
One of the brightest young coaches in the country around that time was Ralf Rangnick, who earned a reputation as a proponent of quick, attacking football. After enjoying moderate success coaching, among others, Schalke, Stuttgart and Hoffenheim, Rangnick — who is close to becoming the new manager of A.C. Milan — was appointed the director of football at both Leipzig and Salzburg in 2015.
Appointing Rangnick was a measure to introduce a tactical orthodoxy at both clubs and the make it easier for players to switch seamlessly between both teams and to have a clear profile to look for when scouting and signing players. Klopp — another of the bright young things in German coaching at the start of the century — is cut from the same tactical cloth as his compatriot and the trickle of players between the three clubs could soon become a flow.
Over the span of Arsene Wenger's reign at Arsenal, Barcelona — under the tutelage of several managers, including Pep Guardiola — heavily recruited from Highbury and or the Emirates Stadium because the style of football played in North London was similar to the ideals taught to players in Catalonia. Cesc Fabregas, Alex Song and Alexander Hleb may not have been as successful at the Camp Nou as Thierry Henry or Giovanni van Bronckhorst, but the logic behind signing them was solid.
With huge talents at both Leipzig and Salzburg — such as Christopher Nkunku, Marcel Sabitzer and Dominik Szoboszlai — Werner, if and when his move to Liverpool is confirmed, may not be the last player to walk the increasingly well worn track between the Red Bull clubs and Anfield.