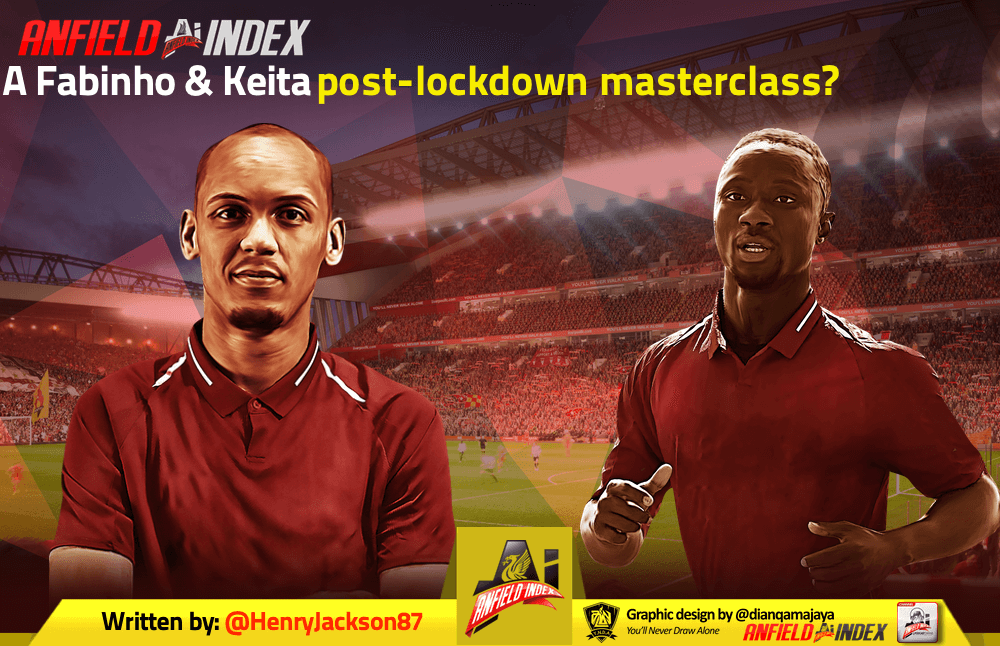 A Fabinho & Keita post-lockdown masterclass?
In 2018, if Liverpool fans had been asked who the Reds' most important midfielders would be by the time 2019/20 ended, Fabinho and Naby Keita would likely have come out on top.
The pair arrived during the summer of that year, with both considered elite footballers who could take Jurgen Klopp's ever-improving side to that next level.
Liverpool's other midfielders were perfectly effective in their own right, but the two new additions seemingly represented another calibre of player – the type you sign when you are truly going places.

As fate would have it, when football came to an abrupt halt back in March, Fabinho and Keita actually felt like the Reds' most expendable middle men in many ways, as Klopp's men eased towards Premier League glory.
Fabinho returned from injury in the New Year a shadow of the player we had seen before, with his rustiness both on and off the ball actually proving to be a hindrance over a lengthy period.
The Brazilian was even dropped for the high-profile Champions League clash with Atletico Madrid, which spoke volumes. It was a decision that would have seemed unthinkable last season, at a point when he was arguably Europe's most dominant defensive midfielder.
Keita, meanwhile, has continued to suffer injury after injury, flattering to deceive in his performances and becoming one of the most divisive players at the club, for wrong or right.
This wasn't what we all envisaged when the 25-year-old joined from RB Leipzig, with so many tipping him to be a world-class signing who would run the show week in, week out.
Some of the overreaction to Keita's form has been predictably over-the-top, of course – he has done lots of good in his time at Anfield, but some choose to ignore the positives – but it would also be naive to claim he hasn't underwhelmed over the past two seasons.
As Premier League football edges closer to a welcome return, Fabinho and Keita are two players who could profit as much as anyone from this unforeseen layoff.
One thing this break has ensured is that individuals have been able to recharge the batteries in an era of high-octane football, particularly for those playing in a Klopp team.
While a lack of match practice is sure to be evident once the Reds take to the field against Everton next month, talk of fatigue can certainly not be mentioned for a while now.
Fabinho needed a break more than anyone, in many ways, as he found himself in the worst form of his Liverpool career to date.
There is no denying his importance to this side, though – when at his best, his place in the starting lineup is unquestionable – and a proper stint on the training ground, with no matches in between, will surely stand him in good stead moving forward.
Fabinho returned at a point when matches were coming thick and fast and the likes of Jordan Henderson and Gini Wijnaldum were excelling, and his lack of form and rhythm were highlighted because of it. There was no time to find his feet.
This time things are different. He is in the same situation as his colleagues, initially working on a training programme from home before returning to Melwood to continue preparations for the restart. He should be primed.
Exactly the same applies to Keita, who is such an effortlessly gifted player, and someone who just needs a long injury-free spell to finally match that 2018 hype.
He has cut a happy figure on the training ground and in those entertaining Zoom yoga sessions during lockdown, and the brilliant 'Naby lad' greeting from teammates show how popular he is.
Having overcome his latest injury, Keita should be as fresh as anyone as that long-awaited restart approaches, hopefully resetting his Reds career and embarking on a memorable spell at the club from this point on.
His ability has never been the issue, but an inability to overcome fitness woes and question marks about a lack of physical dynamism remain his biggest obstacles to clear.
Liverpool's midfield is the area of the pitch most brimming with options, so it will be fascinating to see how Klopp juggles his pack when the action returns to our screens.
Henderson and Wijnaldum have enjoyed magnificent campaigns, while James Milner and Alex Oxlade-Chamberlain have also proved their worth consistently, but Fabinho and Keita still have the highest ceilings of everyone.
There is a reason why there was such great excitement surrounding their respective arrivals in 2018, and while it has taken longer than many expected for them both to become undroppable at the same time, their time may arrive in the post-lockdown world.
With Henderson and Wijnaldum both turning 30 this year, and Milner now 34, the long-term future of Liverpool's midfield can revolve around Fabinho and Keita.
In the short-term, don't be surprised to see the duo play a starring role in these final nine games, too.