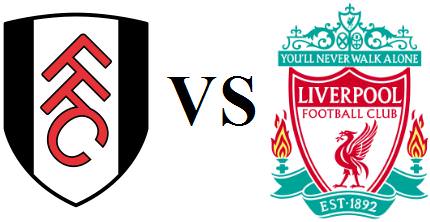 Liverpool dominated until Spearing Sending off | Player Influence Stats
It had been a tough week for Liverpool supporters with the loss of Lucas Leiva to a long term injury and then seeing a whole host of records break at the Cottage it has not been a very happy time for the Reds.
Unfortunately we've got to cover the Fulham loss and try to analyse the game. This is our weekly roundup of the player influence on the game. We're going to keep this article as short as possible let's have a look at the influence of the game before and after the sending off. Thanks to the StatsZone App from FourFourTwo for all of the images and pitch maps in this post.
Before Spearing was sent off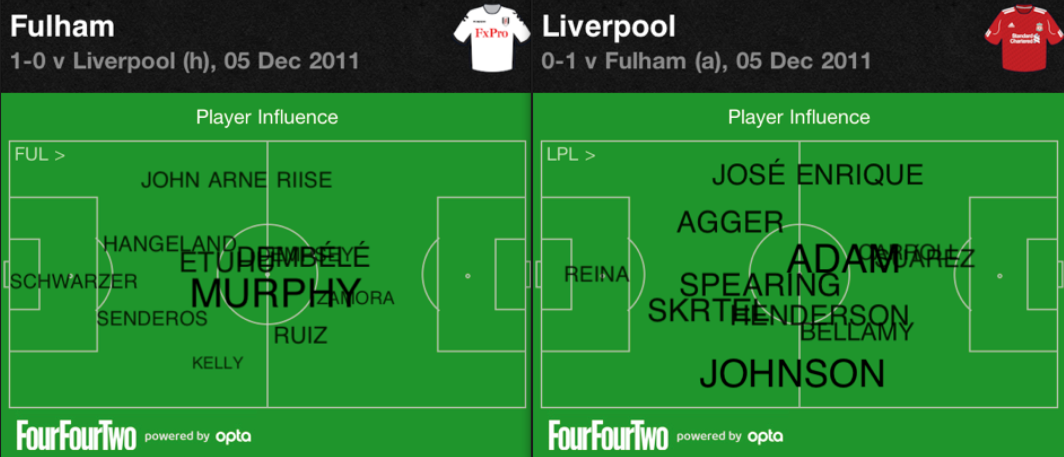 As shown in the pitch map above the Liverpool side is totally dominant here. Every single player has influence on the game and the team as a whole were looking dangerous and were in control. We, at Anfield Index, don't believe that the game would have been lost had the referee not sent off Jay Spearing. Adam, Spearing, Johnson and Enrique all looking strong. The central midfield wasn't doing badly at all with Spearing winning all 3 of his tackles and a respectable 60% of his ground duels. It was solid and compact and Fulham were forced to shooting from outside the box as shown here: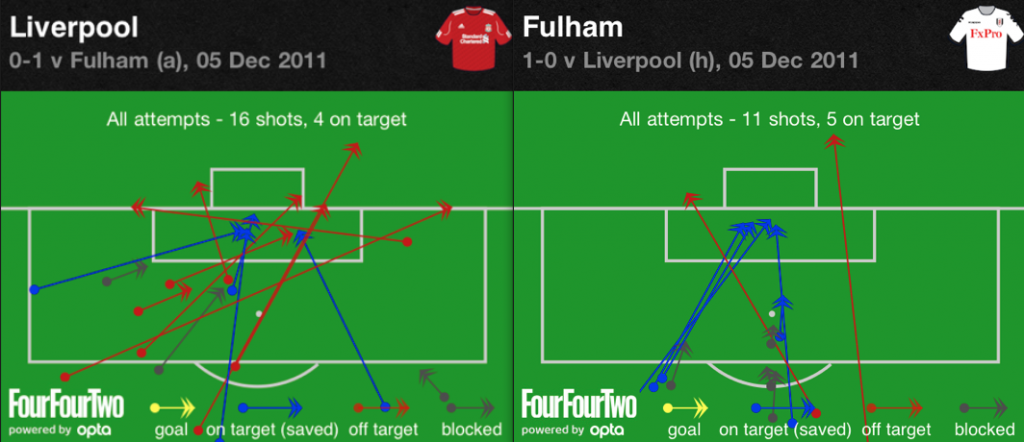 The shots diagram above clearly shows that Fulham only had two shots from inside the box (compared to Liverpool's 12) and one of them was a blocked shot in the first 69 minutes of the game. Henderson, Spearing and Adam had done their job of shielding the defence whilst Agger and Skrtel were strong. In particular Skrtel won 75% of all duels (ground & air) on Monday night which was impressive. (Thanks to @WillTGM who pointed this out on Twitter so credit to him for this analysis.)
Post Spearing sending off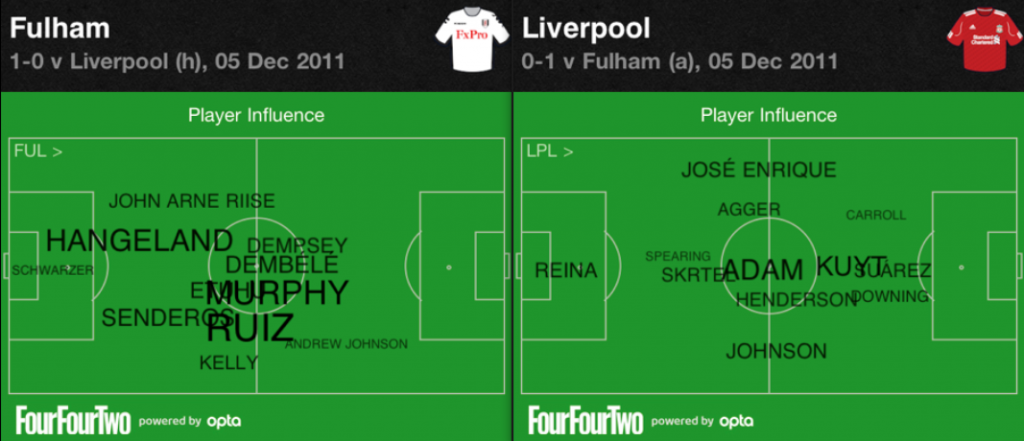 It was going to be obvious but Liverpool were not as in control of the game in the last twenty five minutes from 70-95 minutes. Kevin Friend's harsh treatment of Spearing forced Liverpool onto their back foot and the most influential players in the side became Adam & Kuyt who worked their socks off in the middle trying to regain possession.
For Fulham, it clearly became easier to hold the ball and on many occasions we saw Bryan Ruiz just hold the ball on their right hand side and ex-Red Danny Murphy was also instrumental in keeping the ball for the whites. Interesting that it was Hangeland and not Dempsey that was also a major influence. Hangeland swept up pretty much everything Liverpool threw at him in this twenty five minutes but it was much easier to do so with the one man advantage.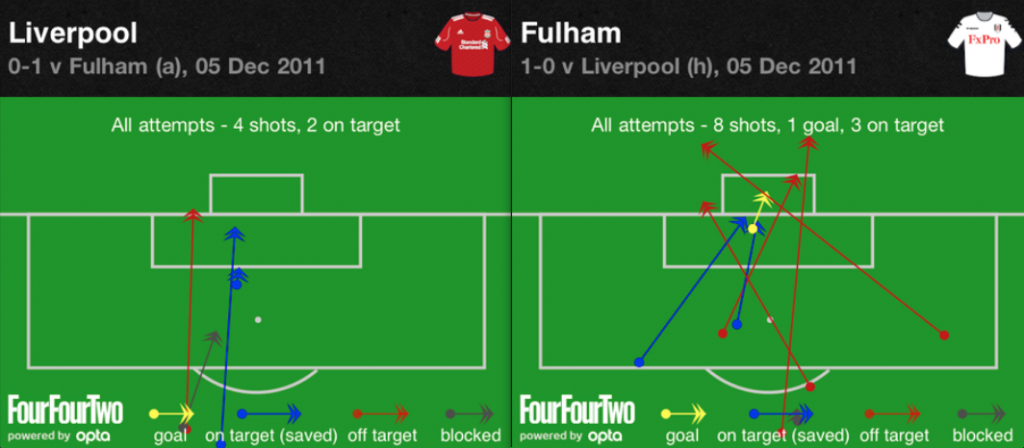 The effect of Spearing's sending off on the shots was also telling (once again thanks to @WillTGM for this analysis). Liverpool managed only one shot inside the box from 70-95 minutes however Fulham who only had one blocked shot plus another inside the box in the first 69 minutes ended up having five shots in the remaining twenty five minutes from inside the box. Liverpool had lost the shield and it certainly lost them the game.
Most of this is common knowledge and obvious that it would happen with 11 vs 10 men but we feel it's good to see with these pitch maps.
 Liverpool Tackling Comparison
Another telling statistics was the tackling. Liverpool managed 13 tackles in the first 69 minutes, whilst Spearing was on the pitch. That's a tackle every 5.3 minutes. Once Spearing was sent off we only managed two tackles in 25 minutes working out to a tackle every 12.5 minutes. Our key player on the night was sent off and up to that point he had improved so much from the first half and was really winning possession back for Liverpool impressively.
Up to that moment Spearing had won back possession seven times in 69 minutes translating to possession won back every 9.9 minutes and had five interceptions in the game also (the best tally in the Liverpool side and joint best with Senderos & Ruis even though he played twenty five minutes less). Jose Enrique won back possession on ten occasions for Liverpool on the night meaning that he won the ball back every 9.5 minutes however we believe the way Spearing was playing he'd have crossed this number by the end of the game. Still we lost a potent force in the centre who was deputising for Lucas Leiva very well. How unfortunate for Jay as he'd had a good game in there.
Unfortunately Liverpool's good run came to a close and we're now left without a true defensive midfielder for three games. We can see this role being given to Charlie Adam against QPR however we'll have to see if Henderson and Maxi are given roles in the three man midfield whilst Kuyt and Bellamy are support Suarez or will Kenny go for Charlie, Henderson & Shelvey in the middle (Charlie doing defensive duties) and then Maxi & Bellamy supporting Suarez? It's going to be an interesting game and if you've enjoyed this post please do leave a comment!
Please do join us on @AnfieldIndex for all the stats and reaction on Saturday!