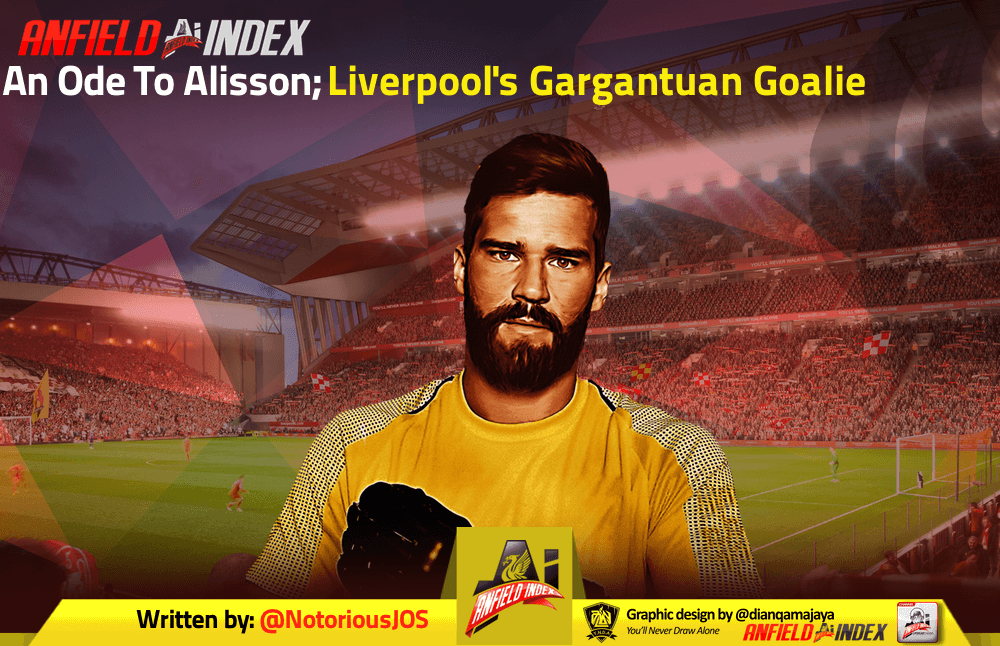 An Ode To Alisson; Liverpool's Gargantuan Goalie
Given, Monday, June 1st was the one year anniversary of Liverpool's sixth European Cup final victory, social media is awash with videos, photos, and stories of the Reds' momentous achievement.
There are video's of Divock Origi smashing the late, game-sealing goal past Hugo Lloris; photo's of captain Jordan Henderson and manager Jurgen Klopp's emotional embrace; stories of fans — using planes, trains and automobiles — travelling huge distances to will Liverpool to victory and to banish the demons of Kyiv in 2018.
But perhaps the most overlooked aspect of the final itself — which the Reds, you'll need no reminding, defeated Tottenham Hotspur 2-0 in — was the performance of Alisson Becker between the sticks.

Not overworked or made to overexert himself with spellbinding saves, the Brazilian exuded confidence and made every save — all of which, admittedly, you would place in the "routine" category — with the minimum of fuss. A goal-keeper making things look easy and not overcomplicating their processes to pander for the camera is worth its weight in gold. Goalscorers aren't derided for scoring "simple" goals and the same respect should be given to netminders.
This is my abiding memory of Madrid between our goals – Ali just dealing with everything with utmost assurance. Nothing spectacular in here, but in the grips of a dogged European Cup final, every catch and parry is a godsend.

What a fella @Alissonbecker pic.twitter.com/0lSl6AgqwR

— Ryan* (@ryan3levis) June 1, 2020
But there lies the beauty of the former Roma shot-stoppers game. Supremely talented with the ball at his feet — as evidenced by his defence-splitting assist for Mohamed Salah against Manchester United in January — it is the nuts and bolts of Alisson's game, the fundamentals, that make him arguably the finest goalkeeper in world football.
Such assurance when facing the basic tasks of a goalkeeper spreads an infectious confidence throughout the rest of Liverpool's rearguard and lets them focus on their own games, rather than have a panic spreading, concentration distorting mistrust of their "number 1's" abilities.
The fans, too, aren't on tenterhooks anymore, nor watching each shot on the Liverpool goal through the cracks in their fingers, and — even though it can never be measured statistically — the supporters can transmit their confidence through to the players, exhibiting the symbiotic relationship between a set of players and their devoted followers.
This is in stark contrast to the men who preceded Alisson in donning the Liverpool gloves. All of Pepe Reina — in the latter half of his stint at Anfield, after a brilliant opening few seasons — Brad Jones, Simon Mignolet and Loris Karius failed to consistently impress in the Anfield net during their times trusted as the clubs first choice. It is no coincidence that the Reds finally broke their seven-year trophy drought when they stumped up a then-world record transfer for a goalkeeper — to be broken weeks later when Chelsea signed Kepa — to sign Alisson for £66.8 million.
It is not a perfect science — because, for example, Mignolet's penalty save in the opening game of the 13/14 season against Stoke City won three valuable points and allowed the team to build up an early seasonal head of steam — but you could easily argue with a fair degree of merit that the Anfield trophy cabinet would have been adorned with several more trophies if Liverpool had a goal-keeper of Alisson's level between 2012 and 2018.
The F.A. Cup final of 2012, the League title in 13/14, the League Cup in 2016 and the Champions League final of 2018 — all games or campaigns marred by errors from Liverpool keepers — could all arguably have gone the other way with a keeper of the Reds' brilliant Brazilian's calibre in goal.
Alisson — whose brilliant save from a goal-bound shot from Napoli's Arkadiusz Milik sealed the Anfield sides passage to the knockout rounds of their eventual Champions League winning 2018/2019 campaign — has brought a trophy-winning quality to Liverpool and with his medal haul likely to expand further with the probable Premier League success of this suspended season, the Brazilian, once the world's costliest player in his position, has now proven to be a bargain.
Football is an entirely simple sport, but it is only the best players who make it look simple and Liverpool fans can be grateful that in Alisson Becker they have one of the world's best players.