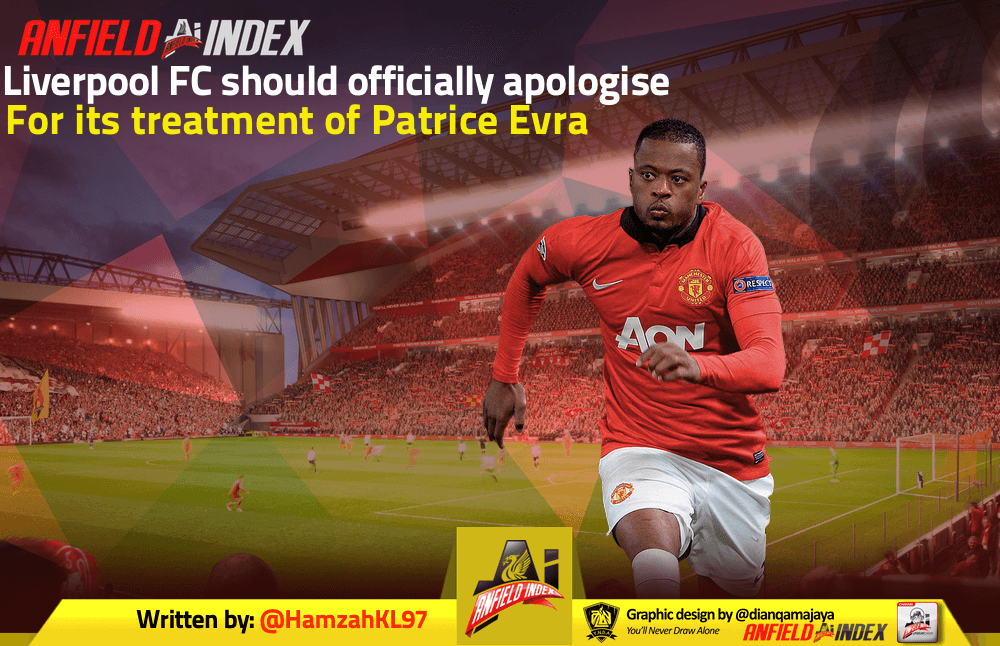 Liverpool FC should officially apologise for its treatment of Patrice Evra
The tragic killing of George Floyd in Minneapolis and the consequent protests that followed led Liverpool FC's players, reportedly at the request of Georginio Wijnaldum and Virgil Van Dijk, to share an image of them taking a knee, together, in symbolic protest to that killing and the wider treatment of black people within society.
Unity is strength. #BlackLivesMatter pic.twitter.com/sSu2sarAXa

— Liverpool FC (@LFC) June 1, 2020

It was a warming display of unity from a group of players assembled from across the world, with different experiences and upbringings. But it was also a sad reminder of one of the club's biggest mistakes in its history: the decision to publicly support Luis Suarez after he was accused of making racist comments towards Manchester United's Patrice Evra.
Patrice Evra has stated that Liverpool FC CEO, Peter Moore wrote a letter to him in which he apologised to Evra on behalf of the club,
"I received a personal letter from Peter Moore and I was really touched by it. He told me he hoped it wasn't too late as the incident happened nine years ago."
Whilst that action was well, proper and overdue, if we are frank, it did not go far enough.
A personal apology does hold weight, and it is enormously important for Liverpool FC to apologise directly to the victim of a hate crime. However, Liverpool FC is more than just a football club, it is a particularly influential and established cultural institution. Its reach extends across the globe, with religious-like support. The club has a unique status, and its long struggle for justice for the 96 – victims of state-led deception and institutional abuses of power – illustrates how the club is far more than just the employer of a group of footballers.
Given this, and the reach and influence of the club, is it not right to ask the club to do more than just apologise to Mr Evra? The club represents far more than its footballers, to a large extent, it represents a city, and a strong socialist tradition. By extension, it represents the working-class struggle of its people, the separate identity of Liverpudlians and the English, and most significantly, the people who support it.
When Liverpool FC does something, it means more. Liverpool FC is followed by millions. It has brought together even more. It has shaped dreams. It has defined friendships, and offered solace and community to those without them. So when Liverpool FC acts, it carries that cultural weight and it speaks for us all as fans. Hence, when Liverpool FC apologised privately, it failed to realise the symbolism of its actions in 2011. The message that rejecting Evra's claims and then parading shirts in support of a racist player was enormously symbolic. It spoke to the marginalised voice victims have and the lack of seriousness and support society treats minority groups with. It placed club rivalry and individual loyalty above the moral duty to standing up to injustice every individual has. As Martin Luther King once said,
"Injustice anywhere is a threat to justice everywhere."
In defending Luis Suarez, even after the Football Association found him guilty of racism, the club inadvertently green-lit unacceptable messages of hatred and death threats to Mr Evra. When speaking to the UTD Podcast, he detailed the despicable messages him and his family received,
'People said: "We're in jail, we're Liverpool fans. When we get out, we're going to kill you and your family". For two months, I had security everywhere I went.
'They were sleeping in front of my house. Everywhere I went, the security followed me. It was a tough time, but I wasn't scared.

'My family were scared: my wife and brother, but I wasn't. I couldn't understand why people hated me so much. They didn't know the truth.'
Liverpool FC has a duty to its black fans and players. It has a duty to make sure they are welcome, treated fairly and free from discrimination. Until the club formally apologises through an official statement, it will be failing those people. The private apology to Mr Evra was right, but it was not enough. Liverpool FC sets an example in everything it does. Currently, it is setting the standard in footballing terms, but until it accepts its faults and mistakes, acts like those made recently by current players in an entirely virtuous manner will be shallow, as they are undermined by a history that the club has failed to fully atone for. A statement from the club, to its black supporters, and to black football fans and players everywhere will show the humility and will to change that the world needs to challenge structural, institutionalised and systemic problems such as racism.
Will an official apology rectify the failures of the club nine years ago? No. But it will send a message. What Liverpool FC did was wrong. Liverpool FC accepts that, and Liverpool FC wants you to know that it will do better in future because that is what is right.
"This Means More" and "You'll Never Walk Alone" should not just be mantras, they should define how Liverpool FC conducts itself at all times. It is time for Liverpool FC to take ownership of its mistakes, and fulfil its responsibility to its fans and players.