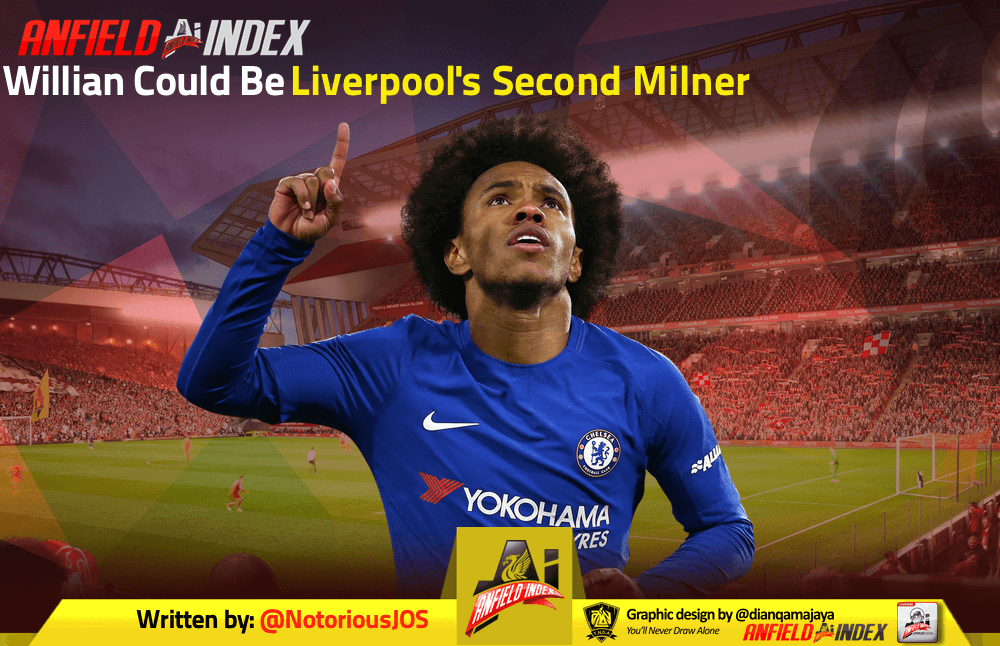 Willian Could Be Liverpool's Second Milner
With the global COVID-19 pandemic already having a major impact on football finances, the free transfer and loan markets could be used extensively as clubs look to strengthen their squads from a place of diminished monetary power.
Liverpool, who will lose on out on both matchday revenue — with fans, like in every other stadium, unable to attend Anfield for the rest of the season, in the name of virus quelling social distancing — and TV money — with all Premier League clubs expected to pay a £330M rebate to broadcasters — may have to cut their transfer cloth accordingly and look to bolster their squad with young prospects or recently released Bosman signings.
One player who could move the transfer interest needle for Jurgen Klopp and the Reds' transfer team is Chelsea's Brazilian international Willian.

The winger joined the Blues — turning down both Tottenham Hotspur and Liverpool in the process — from Russian club Anzhi Makhachkala in 2013 and become a key component for the Londoners' title-winning campaigns of 2014/2015 and 2016/2017. However, terms over a new contract have not yet been agreed and it now appears likely that the attacker's stint at Stamford Bridge will come to an end this summer.
Hard-working, technically gifted, defensively diligent, and with intelligent, opponent manipulating movement, Willian has made 21 Premier League starts and made seven substitute appearances for Frank Lampard's young team this season and has offered an experienced presence among a cast of youths.
With five goals and five assists in the league a reasonable return for the Brazilian, it is Willian's, versatility, defensive, and off the ball output that could be of most interest to Klopp. With 1.4 successful tackles per game in the Premier League, the former Shakthar wide man could be a good fit for a pressing team like Liverpool.
Willian's attributes, which include quick feet and an ability to play in tight areas, could make him an idyllic candidate to play in the Reds' engine room. In the 2016/2017 season, Adam Lallana — hitherto an attacking midfielder/wide player in the mold of the Brazilian — was converted into a central midfielder and had his best season in a Liverpool shirt.
Arriving late into the box from a deeper position, using his ambidexterity and endurance to good effect, the Englishman notched 8 League goals and laid on 7 assists and, given they share a similar skill-set, this is a role that Willian — while also offering a similar appetite for pressing and haranguing opponents —  could fulfill in a Reds' shirt.
Additionally, right full-back is a position where the Brazilian — especially against defensively stubborn low-block teams — could potentially fill in. Naturally, Willian is not a defensive player; but, given his spatial awareness, and positional intelligence, playing full back for a team like Liverpool — where there is a low volume of defensive work in most games — would not be beyond the realms of his ability.
The distinction between full-back and winger in the modern game is blurred and — as a wide player capable of winning 70 Brazilian caps — the Chelsea number 10 could offer the width holding, crossing ability and iron lunged fitness to run up and down the touchline all game in the manner of elite, modern wing-backs.
As a 31-year-old, Willian may fall outside Liverpool's transfer policy — which usually sees the Reds prioritize signing players 24 or under who will hold a resale value — but there have been exceptions to this strategy. James Milner joined the Anfield side in 2015 on a free transfer from Manchester City as a 29-year-old; likewise Kolo Toure in 2013 as a 32-year-old. FSG, Liverpool's ownership group, have shown that they will sanction free transfer moves for older players in the past — even when they command high wages — and Willian could be another example of that approach.