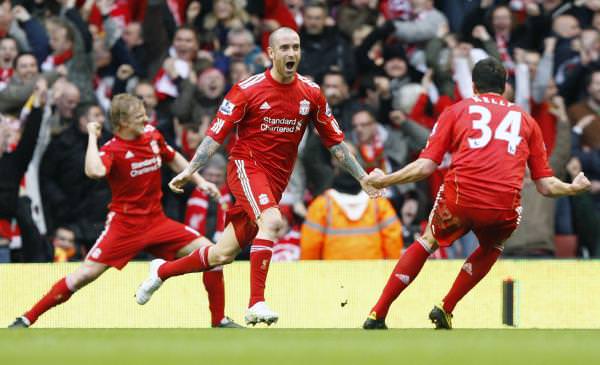 Meireles is more...
Whether Roy Hodgson came to Liverpool with Raul Meireles in his little black book of decent midfielders or whether he was merely the grateful recipient of some good scouting from the Anfield backroom staff is a moot point. What is clear is that he has certainly been the most successful of the departed's recruits.
From his first touches in a red shirt Meireles has looked, more or less, the real deal. Under Woy, in a team that passed the ball around with all the accuracy and incisiveness of Charlie Sheen trying to get his key in his door after an average Thursday night out, Meireles averaged more than 500 passes, of which 74.9% reached their intended target. For a side that looked anything but functional trying desperately to adapt to some very functional tactical instructions, that was no mean feat.
Now, of course, the King is back in power and Meireles has become something of a goalscoring superstar, playing in a (usually more central) position and a lot further up the pitch.

What's remarkable is how little has changed statistically. Raul actually produces slightly fewer passes per match under Dalglish (486), with very slightly less accuracy (74.7%) and even has fewer shots on target on average (10.7 as opposed to 11 under Hodgson).
Of course, Raul has been a bigger success under Dalglish. He's got five goals, he's looked like a genuine box-to-box midfielder and noticeably gained the attention of opposition defensive midfielders at Wigan and West Ham.
So what's going on? How do you score more goals while taking fewer shots? There's two possibilities, and the answer is probably a combination of them both.
Firstly, confidence. The sublimely struck volley against Wolves that followed Meireles' first Liverpool goal against Everton surprised no-one. Raul has a beautiful technique. For a football approaching Meireles' foot it must feel something like entering a relationship with Stan Collymore: You know you're going to get hit, and you know you're going to feel it. Many players score in streaks, and perhaps it was just Meireles' time. Essentially, his goals were coming.
What is also just as likely, and is borne out by the fact that his goals on target average has improved (from 4.5 under Hodgson to 6 under Dalglish) is that under the new regime (where at no point Meireles has found himself marooned on the right wing) Raul has been able to get into the box more often, and therefore closer to the goal. His goal against Chelsea is a perfect example of this. Encouraged to roam free and support free-flowing attacks, rather than assist play in very structured way, Meireles covered 40 yards in an attempt to get in the box and put his excellent technique to use volleying the ball in from six yards rather than attempting a long-ranger against a defence that has time to organise itself.
In general Meireles is playing further up the pitch under Dalglish; he blocks fewer shots on average (2.7 as opposed to 3.6). But anyone watching the team under Dalglish (and Clarke) will have spotted one immutable fact: there's a lot more energy about the whole side. This manifests itself in Meireles averaging one more interception a match and winning four more tackles, despite his more forward-lying starting position.
And as a result, because of this higher pressing, higher tempo game Liverpool are winning more matches and certainly winning more fans. It's almost as if a team constructed solely for the purpose of pressing the ball for a good five years reacts better to a manager attempting some sort of continuation of that play, rather than forced to do exactly the opposite by a manager steadfastly refusing to adapt his tactics to his squad… Given Meireles improvement under Dalglish, in the argument whether it was Woy or the club that signed him, I know which side I'd fall on.