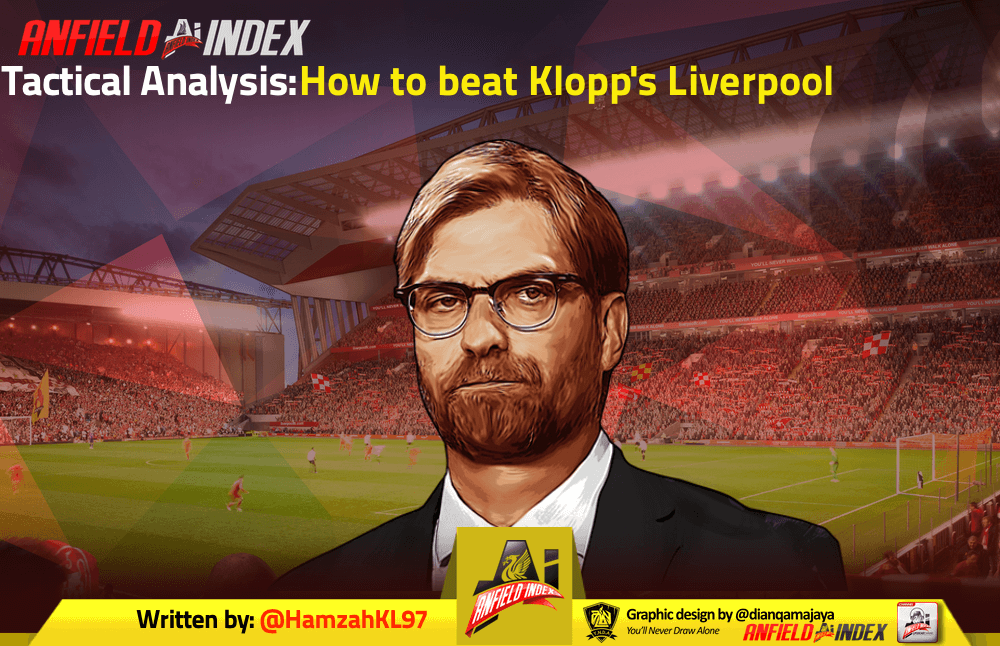 Tactical Analysis: How to beat Klopp's Liverpool
Liverpool may no longer be unbeaten in the Premier League, but it's abundantly clear that they still are the team to beat. A coronavirus induced hiatus has given rival managers more than ample time to ponder how they could set up their side to tactically overcome Liverpool.
Whilst Atletico Madrid and Watford are the two most recent teams to find success against Liverpool, their tactical approaches did not display mastery of the ball or space, rather they were the product of a number of uncharacteristic mistakes by Liverpool. Of course, setting up a team to force tactical mistakes is a perfectly legitimate tactical method, however, that description does not accurately reflect the reality of those fixtures.
Over the past two seasons, we have seen a number of tactical challenges that Liverpool have struggled against. Manchester City, the second-best side in the world have presented a number of tactical setups, with a few innovations that nullified Liverpool's offensive assets. Similarly, PSG, Napoli, and Lionel Messi all managed to challenge Liverpool successfully and find a way beyond the system that has dominated English football in a hitherto unprecedented manner.

If we are to create a tactical blueprint to beat Liverpool, its best to identify the side's weaknesses.
Ironically and rather poetically, Liverpool's strengths are its weaknesses and vice-versa. For example, when in possession, Liverpool's fullbacks and midfielders push into advanced positions, which is both a strength and weakness. The movement of Alexander-Arnold and Robertson up the field is a double-edged offensive sword, they have their offensive utility in their passing range, their ability to support attacks and in their pressing too, and their advance presence functions as a defensive asset. Through moving up the field into areas where they can create overloads (two on one situations), opposition teams are forced to pair their wingers against either player. In doing so, that winger suddenly cannot perform their offensive role as well, as they're positioned deeper on the pitch.
However, the potential weakness that arises is that the movement of Alexander-Arnold and Robertson up the field leaves the channel outside of either centre-back open. Usually, a midfielder, such as Milner or Henderson will fill in as the fullbacks move up to protect this area, but these areas outside the centreback remain vacant, so too the space in behind the centrebacks. One of Liverpool's greatest strengths is its press, and in order to press it needs to make the pitch as compact as possible, which requires the centrebacks pushing up, often as far as the halfway line. This leaves a significant amount of space not just outside them, but behind them, which must be covered by either centreback or the goalkeeper.
Another of Liverpool's greatest assets is its counterpress, that is the action to press the ball immediately after losing possession. In doing so, Liverpool attempt to either regain the ball as the opposition team is in defensive-offensive transition, or instead to discourage the opposition moving the ball forward, before Liverpool are settled in their own defensive shape. However, the counterpress, in which local players move towards the ball leaves space in other areas of the pitch. Marco Veratti, at the Parc des Princes provided a masterclass in breaking through Liverpool's counterpress, through shielding the ball effectively, dribbling through tackles, and moving the ball vertically as soon as possible to the superb ball carriers, Neymar, Mbappe and Di Maria.
Liverpool's defence is formidable, however, there are small technical kinks that can be exploited. Both Alexander-Arnold can be targeted with long diagonal balls, by positioning them up against a much more physically imposing player, working to generate knockdown second-ball situations for a forward to attack in the half-space between fullback and centreback.
Cutbacks are also particularly useful against Liverpool, as they are against most teams. through catching an opposition defensive line on the turn, they are often left unaware of what is going on behind them. Van Dijk may be the best defender in the world at present, but he cannot defend what he cannot see, and his peripheral vision is perhaps his only significant weakness, and it is one rarely exploited because opposition teams rarely get the opportunity to break beyond the Liverpool fullbacks and play cutback passes.
These small potential weakenesses need to feature within a wider tactical blueprint to be effective though, and so I have devised a simplified "In Possession", "Out of Possession" and "Transition" framework to cover the three phases of play.
Out of possession
When out of possession against Liverpool, compactness is absolutely key. If a defending side offers space in behind, Salah and Mané will run in behind, supplied by Firmino, Alexander-Arnold or the long passes of Henderson or the centrebacks. So positioning the defensive line on the edge of the box, in which the fullbacks stay tight covering zones, rather than players (which avoids Liverpool's overloads creating spaces between centreback-fullback), may well be fruitful. The defenders will also need to stay in their positions and not be dragged around by Firmino, and so the two centre midfielders would be tasked with tracking him between zones, but allowing him to roam in the middle third, where he poses less of a direct threat.
However, the team needs to be in a position to counter-attack, and a typical 4-5-1 compact structure does not offer enough support to a striker, who can find themself isolated up against Van Dijk, or squeezed out of the game by Matip/Gomez and Fabinho. Hence it is important for the forward to have some sort of support, ideally in the channel outside the centrebacks, where they can run, attack space and draw the centrebacks out of position.
An asymmetrical 4-4-1-1 system in which the second striker is a designated presser of Alexander-Arnold may be useful. Passes played towards Alexander-Arnold could serve as a pressing trigger for the second striker to press him, whilst the striker could cover the passing lane from where the ball came from. Using the touchline as a means to box Alexander-Arnold in, and the left sided midfielder to cover the pass into Salah would restrict Liverpool's most formidable and threatening passing combination.
The position of the second striker, in the channel outside of the right-sided Liverpool centreback would hopefully pin Alexander-Arnold back, and force him to compromise his offensive output.
This team would also need to apply some sort of pressure across the field, as almost all of Liverpool's players have the passing range to cause problems. A high-press may not be entirely necessary, but the striker would need to press the Liverpool no.6, be it Henderson or Fabinho, to slow down Liverpool's progression up the field, and push the ball into wider areas, further away from the goal.
Through pressing up, Liverpool are afforded less time on the ball, and forced backwards. The capacity of the striker, second-striker, left-sided midfielder and leftback to press Alexander-Arnold could be a potential turnover opportunity if executed properly. A turnover in the channel would offer those players an opportunity to run at the right sided centreback, catching Liverpool in transition, and not allowing those defenders to settle into position.
The player profile would have to match the tactical setup, and the winger would need to be fast, a skilled dribbler and paired with a mobile striker who also can press. Of the teams mentioned earlier, it's possible to imagine Suarez pressing and supporting Messi in this role, but a better example would be someone like Leroy Sané on the left wing, paired with Gabriel Jesus, both remarkably quick, direct and skilful forwards able to carry the ball at pace and exploit transition opportunities.
Tactical discipline from the defensive line is absolutely key too, for the majority of the time when out of possession they would need to be positioned as if the lines on the edge of the box extended out towards the halfway line, and operate primarily in that channel, expecting their wingers to cover outside of them.
A team could theoretically press Robertson instead, however the press functions as both an offensive and defensive tool: offensive in how it may lead to turnovers, defensive in how it pins back a player and limits their offensive contribution, and with Alexander-Arnold the reward is far higher than pressing Robertson who poses less of an offensive threat.
In-possession
Napoli, Manchester City and PSG have a lot to offer the in-possession blueprint. Sarri's Napoli utilised close positioning between players to offer passing lanes and options to break the Liverpool press, whilst their large pitch size made Liverpool's attempt to reduce space harder. Manchester City in their 0-0 draw at Anfield in October 2018 utilised a remarkably efficient system in possession. They completely denied Liverpool the opportunity to press in dangerous areas, and their buildup play was almost exclusively on the flanks. Rather than building up centrally as they prefer to do, the ball would never go from the deep midfielder to the no.8s, it would always go to the fullback who would then either feed it forward, inside or back to safety.
If a team can reduce the amount of opportunities Liverpool get to press in high-value areas, that is the central portion of the middle third and final third, they will be far more secure those rapid attacks into space that usually end up with a Liverpool goal.
The graphic below illustrates Liverpool in their 4-5-1 defensive shape, in which Firmino usually moves onto the right side, and Salah stays up top. The figure also displays the team in possession moving from a 4 at the back system to a 3 at the back shape, to offer extra protection on the counter attack. In this case, the rightback has moved up to receive the ball. The graphic is also showing how a team can build up through wide areas, and keep its options short in order to break a press.
The blue lines are passing moves, that is 1) the pass from the defensive midfielder to the fullback, 2) the pass from the fullback to the right midfielder, who is positioned outside of Liverpool's left winger (usually Mané), 3) the pass from the winger to the striker.
From point 3, the striker has the option to carry the ball forward, and would ideally be supported by the right midfielder moving up into the wing area, whilst the second striker makes a run (dashed line) through the middle of the pitch in preparation either for a through ball, or a cut back from the winger.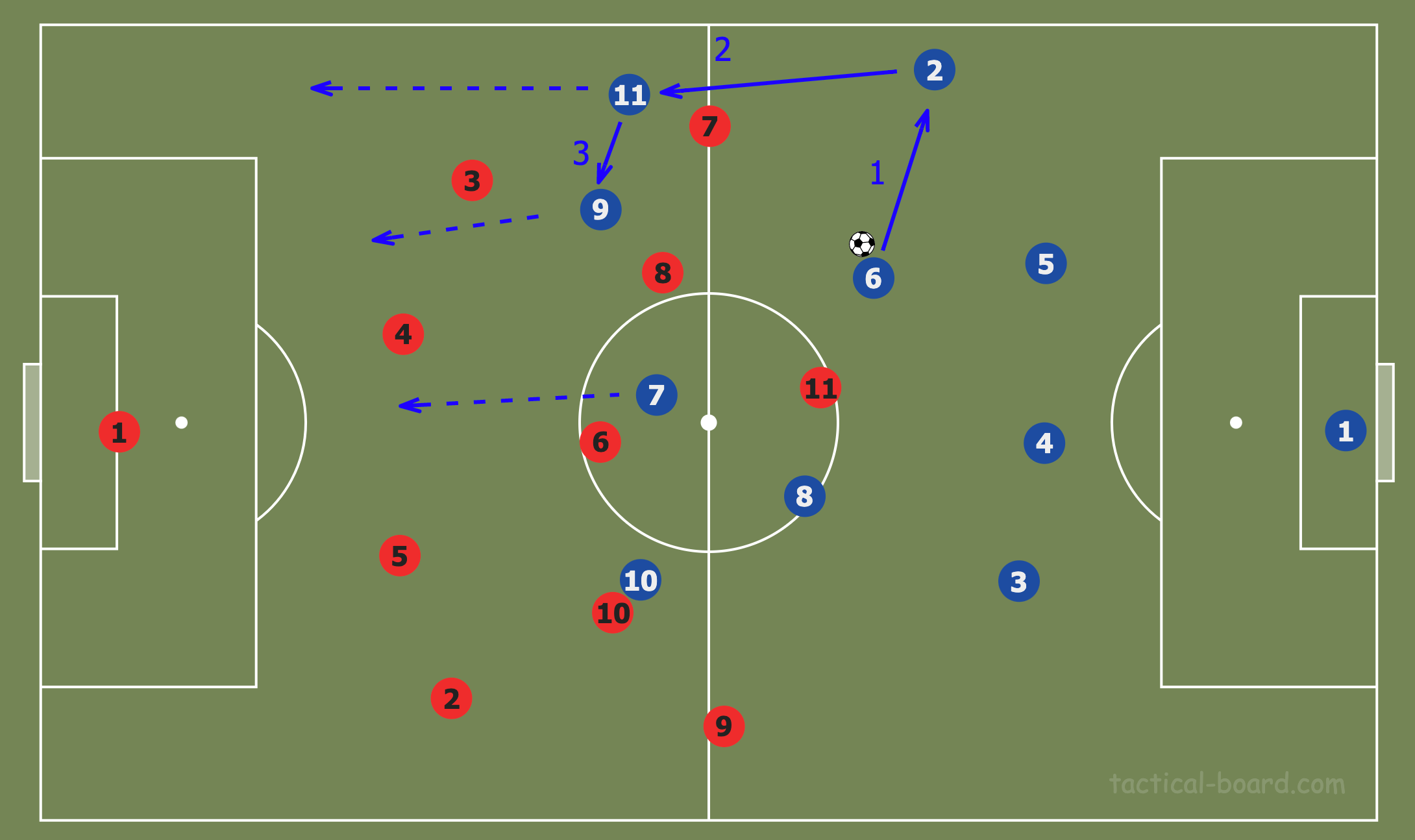 This move would require press resistant and technically proficient players. The standout choice for defensive midfielder would be Marco Veratti, and any of the aforementioned PSG forwards would be perfectly suitable for breaking into space in such a manner. A move such as this requires immensely quick passing and sharp movement – Napoli's 1-0 victory over Liverpool in October 2018 also holds some terrific examples of such play.
Transition
Transition is perhaps where this theoretical game would be won and lost. Getting back into defensive shape as fast as possible when losing possession is key. The two deep midfielders should assist in this, and prevent counterattacks through the middle of the pitch, whilst the 3 at the back system should prevent numerical overloads when defending on the counter. The short distance between players as part of the In Possession system should also offer opportunities for our team to counterpress Liverpool too, something which Liverpool are not particularly used to. A short 3-4 second counterpress could discourage a quick ball into space or a direct pass foward, instead forcing the ball backwards, and giving our team the precious time it needs to settle into its shape. Tactical fouls may appear useful to breaking up a counter, but Liverpool have a tendency to play quick free kicks and the forwards often ride challenges, making a counterpress seem a far more useful and productive tactical asset.
Similarly, when Liverpool lose the ball they too counterpress. These moments lend themselves to quick aerial balls played into the channel outside of the Liverpool centrebacks for our wingers to run onto. With a skilled number six, this can also provide the exceptionally rare opportunity to break through the middle of the field too. Veratti did this a number of times at the Parc des Prince, so too Lionel Messi from deep at the Nou Camp.
However, whilst these tactical plans are useful to think of, they are all entirely dependent on one thing: gamestate. Truthfully, if Liverpool are leading, there's very little point to any tactical gameplan. Through leading, the onus is on the opposition team to score, and thereby expose themselves to risk by moving up the field, and leaving space for Liverpool to counterattack into. With the scores level, or if our team scores first, these tactical setups could prove especially useful.
We must also accept that it is impossible to contain a team such as Liverpool for a full game. Therefore reducing their attacking opportunities by controlling the space in which the ball goes and the players who are allowed time on the ball is the most effective way to play. Forcing the ball into wide positions, away from the goal when out of possession, and pressing players such as Alexander-Arnold and Salah may present enough of a variation to upset Liverpool's typical rhythm when in possession.
There are other tactical avenues that could be explored, perhaps set pieces, and most definitely doubling up against Salah and Mané when they receive the ball in the final third. But as Newton famously stated, each action has an equal and opposite reaction, and due to the variety of offensive assets Liverpool have, when one door closes, another opens, and Liverpool usually exploit those situations with ruthless efficiency.
To beat Liverpool, a team must be at their best, defensively resolute, and immensely clinical, because good chances are far and few between. This tactical blueprint should offer some food for thought though, and whilst there is a degree of luck involved, with a truly world class squad of players, there may well be a route to defeating this footballing behemoth.
Let's hope not though!