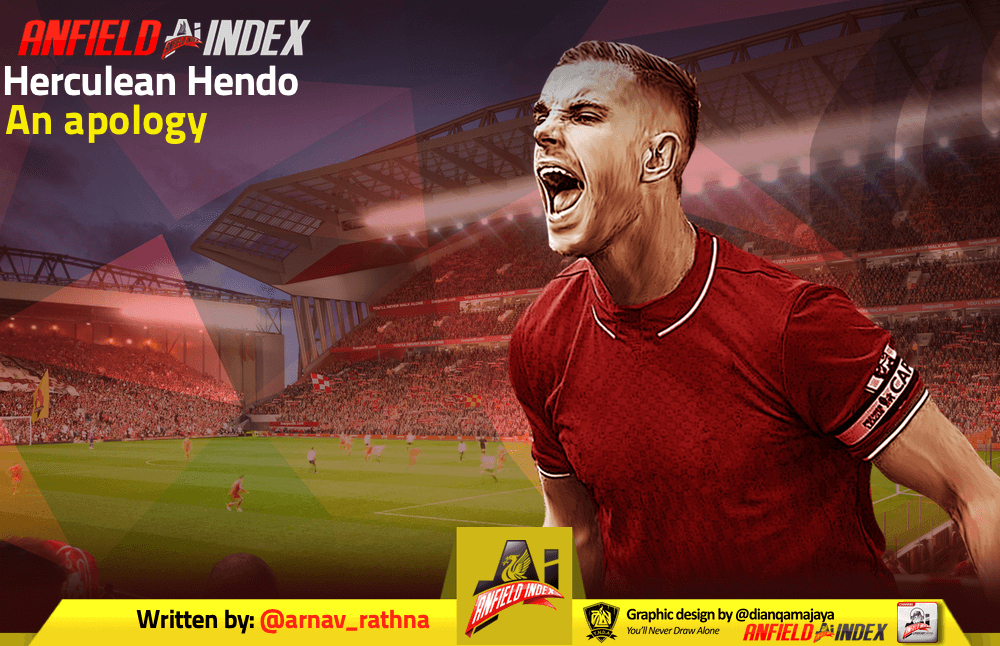 Herculean Hendo

If there's anyone who's had to earn appraisal and recognition the hard way, it's Jordan Henderson. Leave alone pundits and experts, the midfielder was often on the receiving end of flak from the supporters of his own club. His tenure at Liverpool FC has been rocky to say the very least. After joining the Redmen in 2011 and being made to play at an unorthodox right midfield position, he took his time to get going. Unfortunately for Liverpool FC, they had chosen to part with a considerable fee to land the midfielder and this meant expectations of an almost immediate justification of the fee through his performances were perennially present. It was thus no massive surprise that Henderson was unable to make the brightest of impressions on the Anfield faithful in his debut season.
Things went from bad to worse for him the following season as Brendan Rodgers took over. Rodgers made no delay in relaying his intention of ushering Henderson out to Fulham to make way for the signing of Clint Dempsey. Crying in the car-park, devastated, we get the first indication of Hendo's immense mental fortitude. Amidst the tears, he decided he was in no mood for any of that Craven Cottage hospitality. He put his foot down, his head lower and decided to fight for his spot in the team the only way he knew- brows furrowed and hours and hours of unrelenting grind and graft.
The 2013-14 season was when he really seemed to be coming into his own. At long last, he was starting to get the love of the Anfield faithful. Anyone who still couldn't understand what Henderson brought to the side then could just amount it to having no knowledge about the game whatsoever. He started each of the 35 games he played in until that unceremonious send-off against Man City at Anfield. With four goals and seven assists to his name including that crucial brace against Swansea at home in a 4-3 cliffhanger, it seemed almost surreal that Henderson was on the verge of being offloaded just the previous season. In what was truly a landmark season for him, he strung together about 1.57 key passes per game and propelled the charge to the title with his midfield motor and industry. Most players and supporters still believe that the title was lost the moment Jordan Henderson saw red.
The seasons that followed made for difficult viewing, to say the very least. For Jordan Henderson, replacing Gerrard as captain brought along a bundle of expectations that were unfair and unrealistic. Henderson was constantly berated and slated for failing to fill the shoes of the talismanic 'Captain Fantastic'. Frustrated supporters were growing tired of watching their side languishing mid-table with a top four finish seeming like a dream well out of reach. Thus began a saga of Henderson slandering. I'd be lying if I didn't participate in this myself, albeit indirectly. One just couldn't understand how Henderson was in the playing eleven let alone wearing the captain's armband. Sure, he had his moments (Courtois will attest to that) but they seemed to come too few and far between. All we supporters could offer at the time were countless tirades based on Hendo's apparent incessant backwards and sideways passing.
Despite constant negative chatter from supporters that shrouded his involvement in the playing eleven, manager Jurgen Klopp seemed to have utmost faith in Henderson's captaincy credentials. Fast forward to 2019 and we see why. The kind of drive and sheer grit the LFC captain brings to town day in and day out became the backbone of a team that earned its label as 'mentality monsters'. Henderson is the burning furnace of Liverpool's midfield engine, the most vital cog in the big red wheel. Liverpool fans have slowly arrived at the realisation that he will never be another Steven Gerrard and does not need to be. At long last, we have learnt to appreciate Henderson for his own attributes instead of expressing dismayal at the Gerrad-esque abilities he doesn't possess.
The 2019-20 season has given us Jordan Henderson at the peak of his powers. With 8 goal involvements and a key pass per game this season in the league, all sideways and backwards passing theories have effectively been put to bed and buried. In addition to the determination and graft normally attached to his name, this season he has provided Klopp with immense versatility. Many feared the worst when Fabinho picked up a knock but Henderson slotted into the defensive midfielder role with aplomb. A string of sensational performances from the skipper helped put on the afterburners and allowed LFC to practice social distancing in the league table before it became the norm. Having led his side to a historic international treble (Champions League, Super Cup, Club World Cup) and on the verge of becoming the first Liverpool captain to ever hold the Premier league aloft, he is already one of the club's most decorated captains.
Maybe this sentiment stems from guilt as a Liverpool supporter once questioning his role at the club or just the joy of watching all of the skipper's hardwork come to fruition, but one thing is for certain. We owe Jordan Henderson an apology. In a career marred by constant mockery and ridicule this workhorse has gone to the races – and won. Called out in eyebrow raising fashion for his 'unusual gait' in Sir Alex Ferguson's autobiography, I can confidently say that we'll find nothing wrong with Hendo's footwork as he performs his trademark jig on the podium and holds the Premier League aloft in the foreseeable future.