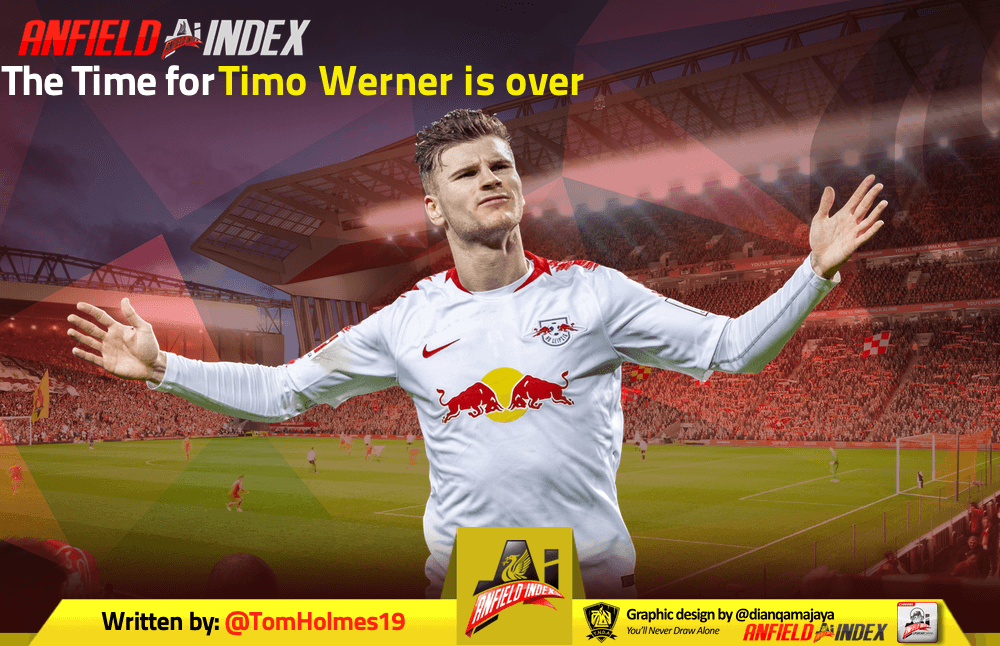 The Time for Timo Werner is over
Liverpool's love affair with Timo Werner seems to be over.
The £50m transfer looked to be nailed on just a few months ago, with Liverpool prepared to spend the money on a player who was worth every penny of it.
Werner was the dream transfer, the player who could offer an alternative to the current front three, and give Liverpool genuine rotation up front, as well as being young enough to lead the line once Salah, Mané and Firmino have passed their peak.

But the situation became more complicated as the Covid-19 crisis struck, taking with it financial stability for a lot of clubs, and even huge clubs like Liverpool had to take a step back and assess the financial landscape. Suddenly, dropping £50m on one player didn't seem as feasible as it once had.
The new rumblings were that Liverpool were ready to negotiate with Leipzig for a lower fee than the £50m or so release clause in Werner's contract, with rumblings the release clause was significantly lower next summer.
But then Chelsea made their move, willing to break the bank and spend the cash.
This transfer seems to be a question of money, rather than one of talent. Werner is a supreme talent, Liverpool wanted him and he wanted Liverpool. But ultimately, in a climate where instability reins, Liverpool do not know when they are going to get matchday revenue again and Sky and BT are demanding a sizeable repayment in broadcast fees. Liverpool didn't get as far in the Champions League this year and there's no security that smaller clubs will be as willing to pay over the odds for the likes of Shaqiri and Harry Wilson as they would have been even six months ago. The reality of the situation is that spending £50m on one player in one go when there's no telling what the economic landscape of football will look like in six months was a huge gamble, and one that Liverpool were not prepared to take.
There's no dressing it up, this is a big blow.
Werner remains a world class player who would be the perfect long term replacement for Firmino, and would slot beautifully into this team, giving Liverpool an extra dimension, more attacking options and crucially enabling them to rest Salah and Mané.
To not have him when the deal was all but done and the player was willing to move is frustrating, as in many respects Liverpool had already done the hardest part.
But equally, the decision remained Liverpool's, and it's clear that this transfer was only ever going to done on Liverpool's terms. To not gamble massively financially when there's no need to has always been a core part of the FSG-era Liverpool ethos, and the club has prioritised financially sensible decisions over big name signings.
If that rings hollow, it's because in some respects it is. I'm not an FSG front-man, I'm sat in my living room screaming: "It's only £50m, he's worth double that, just fucking sign him, you can afford it." I wanted Werner more than anything, and a sizeable portion of me is still holding out hope we decide to break the bank for someone else, even though there's absolutely no evidence we will.
But the reality of the situation is that finances are complicated, and we have to trust that the people who have got the big decisions right time and again have got this one right too. In a year's time, the impact of Covid on football will be more fleshed out. There could be a massive dip in the market, and players that would have been £80m this summer might end up being available for half of that.
But, equally, this could be a summer or two when the clubs propped up by petrodollars and small countries with zero limitations on piling up debt, lending money to their clubs, or just funnelling the team money directly can continue to spend hundreds of millions of pounds, whilst Liverpool get left behind in the transfer market by being financially savvy.
But that being said, we're the Champions of Europe and soon to be Champions of England. We got where we are because Klopp and Edwards know what they're doing. And whilst that can easily be interpreted as a hollow excuse for wiping over every misstep, the reality of the situation is we don't yet know whether this is a misstep.
But yeah, it sure feels like a misstep right now. Losing out on a big name for monetary reasons always does. For more info on the financial details behind the decision, as usual the excellent Mo Chatra has a thread for that.
If anyone needs me I'll be in the corner crying over Timo Werner.