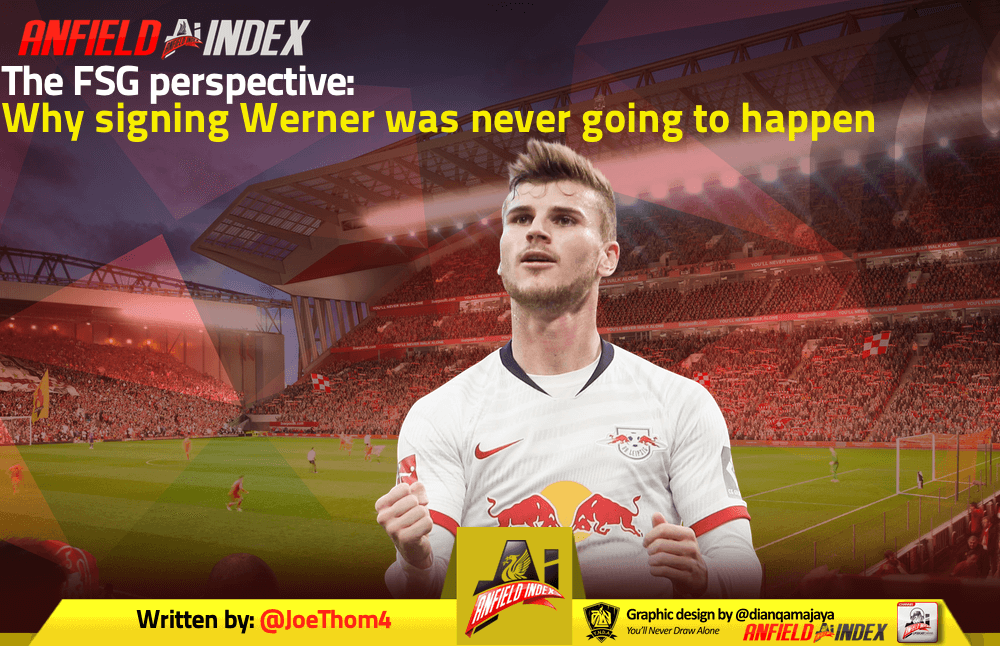 The FSG perspective: Why signing Werner was never going to happen
In the two years of nearly unbridled on-the-pitch success that have hailed since the devastation of the Champions League final in Kyiv, the phenomenon of the LFC transfer saga meltdown is one that has been a distant and bitter memory – serving solely as a timely reminder of just how sweet the present-day existence of a Liverpool fan has been.
However, the prolonged period of online peacetime was abruptly ended last night, as a hailstorm of fury exploded across the internet as news broke that Chelsea were on the cusp of signing Timo Werner of RB Leipzig – a player that Liverpool were tipped as hot favourites to secure.
As the apparent existential crisis of being a Liverpool supporter reared its head once again, it didn't take long for sectors of the online community to descend into the time-honoured tradition of finger-pointing at the club's alleged 'greedy' owners.

The failure to secure this target has brought a great deal of consternation from fans that believe it to be an extension of the owners' unwillingness to show the requisite commitment to the club by spending big on new signings.
To me, however, this explosion of red hot scorn shows a lack of perspective-taking with regards to the club's current predicament.
The arrival of Covid-19 to the UK and subsequent suspension of all football represents an earth-shattering period of uncertainty within the sport that has been unprecedented since the outbreak of war in 1939.
Revenue streams that once ran rich with delicious fat wads of cash that gushed into the club's coffers have been brutally plugged at the source and there is no certainty as to how and when they might begin to run freely again.
In light of the current situation, it would be foolhardy for the owners to sanction big transfer deals without the certainty that they have the necessary income that actually makes such a deal viable.
The fantasy chequebook in the mind of fans would have us sign any top prospect even vaguely linked to the club (see 'Mbappé 2020') without a moment's hesitation, but FSG lives in the real world of cash flow analyses, income projections and the need to see sustained growth in the value of the substantial investment they have made since taking over in 2010.
Any significant spend, of which a purported £53m outlay (excluding agents fees, wages, sign-on fees etc.) undoubtedly is, will only ever be made with the secure knowledge that it delivers value within the market and will mark a substantial improvement on the club's current standings.
At a time in which cash flow is tight, there is significant uncertainty in the market and the wages required to sign the player would blow the current structures out of the window, it is reasonable to see why the club believes greater value lies elsewhere.
Equally, FSG have made a substantial gross outlay on playing staff since the arrival of Jürgen Klopp, slowly cultivating a squad of players that have delivered success that would have been beyond our wildest dreams even four years ago.
This team is at the very pinnacle of the sport and has plenty of years left in the tank in which they can continue to perform at that level.
FSG's belief that their unwillingness to spend big on Werner is the correct call will undoubtedly have been augmented by this success and they will likely feel that the returns of any expenditure, both financially and as a source of improvements on the pitch, is particularly small at present.
Currently, 25 points atop of the Premier League and on the cusp of a first top-flight title in 30 years, Liverpool are in arguably the most enviable position in world football and signing Werner would not be a cast-iron guarantee of further improvements in results.
As a fan, I desperately wanted us to sign Timo Werner and I want to see us both strengthen the options available to the club and continue to dominate at the top of both English and European football.
However, were it my money, my investment and my risk to be taking, I can see why it would be reckless to spend such significant sums at a time in which the world has been rocked by a crisis that is unparalleled in our lifetimes.
Although a freshening of the playing staff would be welcome by all fans, and probably even the manager, it is reasonable to believe that this current crop of players are capable of battling it out at the top for at least 12 more months whilst an industry in complete upheaval slowly settles down to a new norm.
It is prudent business sense to hold off on large spending on players for which it is feasible to believe that there are sensible, cheaper alternatives.
Just look at Dortmund's capturing of Jadon Sancho and Erling Braut Haaland in recent years, who were signed collectively for under £20m.
Whilst our relationship is solely one of immense emotional investment, Liverpool's owners must ultimately make these decisions with cool detachment.
And, for all it is frustrating for us as invested on-watchers that want nothing more than for the club to have the best playing staff in the world, it's hard to argue that their policies haven't ultimately paid dividends thus far.
Liverpool have shown in the past that patience is a virtue in the field of recruitment and have bounced back from missing out on top targets – as evidenced by the current playing squad.
There isn't a Liverpool fan out there that would swap Mané or Salah for Götze or Brandt – the players that the club had initially hoped to sign before 'settling' for the former.
With the club having also made a shrewd signing in the January of this year when they secured Japanese international Takumi Minamino for £7.25m, the club have already exemplified that the pursuit of finding value in the market is a valid one.
In Minamino, Liverpool have a talented and seemingly highly coachable talent that, all being well, should be more than capable of deputising for the current 'front three'.
Whilst Timo Werner is undoubtedly one of the biggest prospects in world football, he does not represent the be-all and end-all of footballers capable of adding to a front line that has achieved so much over the past three years.
Missing out on Werner is a disappointment that will hurt for some time to come.
However, there remains plenty of sting left in the tail of a front three that has collectively scored 49 goals this season.
A time will come, and it is likely not to be too far in the future, where an evolution of the club's attacking options will be required but it is not quite the pressing matter that some fans seem to believe.
Liverpool have a set of attackers that are more than capable of achieving further glory and FSG have plenty of time to stick before selecting the opportune moment in which to finally twist.
With big infrastructure plans set in place to help secure the long-term profitability and success of the club, as well as a roster of players that have set unprecedented standards in English football, it should be plain to see why the club does not need to make risky financial decisions in the pursuit of on-the-field success… because it's already there.
We can all look at the money from TV, increased footfall at match days, income from new sponsorship deals and European success and ask: 'where is the money to spend on players?'
The truth is that, whilst a great deal has gone on securing the future of current stars and infrastructure projects, the money probably is there to buy new players.
It just has to be spent on what the club believes is the right players, at the right time… and perhaps most importantly, at the right price.