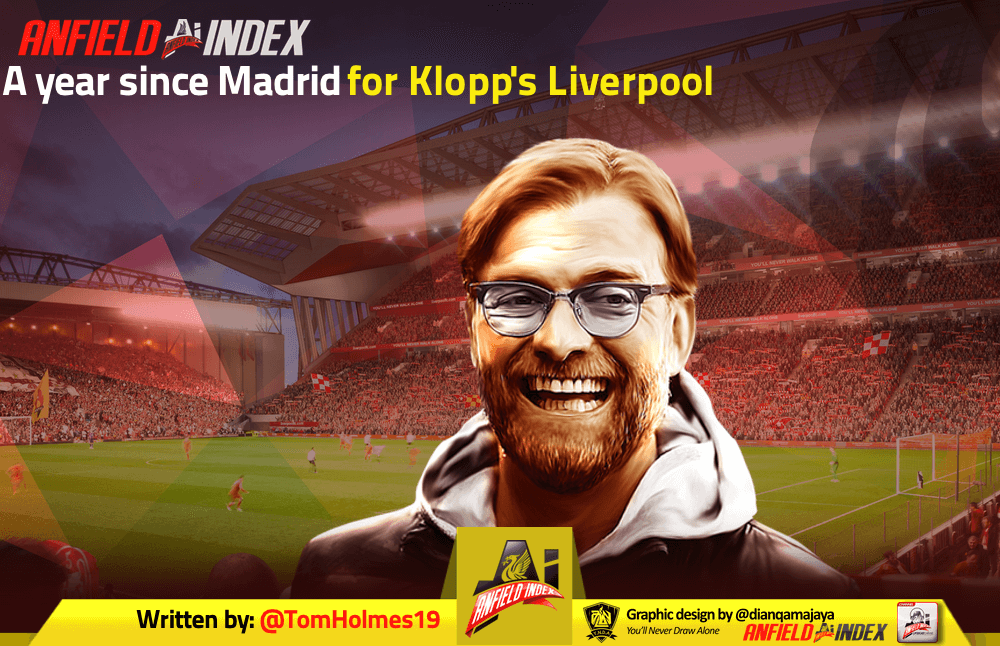 A year since Madrid for Klopp's Liverpool
It's been just over a year since Liverpool lifted their sixth Champions League title in Madrid. And it's fair to say that it's been an absolutely unbelievable year in a number of respects. On the field, Liverpool have all but secured their first Premier League title, ending the 30-year drought for the big one.
But off the field, tragedy has struck the entire world, and caused untold misery and death across the entire planet. I don't want to focus too much on coronavirus for obvious reasons, but it should be noted that even though it has had a profound and seismic effect on the entire planet, it doesn't look as though it will stop Liverpool lifting the Premier League.
I wanted to take this opportunity to look back over the last year – some of the key moments, some of the things that have happened and just generally where we are at as a club.

There was, as always, a sense of frustration when Liverpool didn't kick on from their second-place finish and win in Madrid in the transfer market. Other than bringing in Adrian to replace Simon Mignolet as Alisson's backup, there was no movement in the window.
And the decision to bring in Adrian immediately turned to gold, as he saved the decisive spot-kick to give Liverpool a 5-4 victory in their penalty shootout against Chelsea in the Super Cup final.
Adrian giveth and Adrian taketh away however, and it was his errors that saw Liverpool crash out of the Champions League, failing to defend their title as Atletico Madrid beat them 4-2 on aggregate after extra time at Anfield. Sadly, that game will go down in history as a huge mistake to even go ahead, given the rising state of Covid-19 and the outbreak in Madrid, but again, let's not dwell on horrible things.
On the final negative note of Liverpool's season, Chelsea got their revenge on the Reds in the FA Cup, as Klopp sent out a mediocre team which was then comprehensively beaten by Chelsea's best XI. It felt like a mistake not to prioritise that competition, but ultimately, that disappointment will be nothing but a footnote in the history of Liverpool's year.
A year that ultimately will be known as the year Liverpool won the Premier League for the first time. It's incredibly surreal to be sat here in June and still be discussing hypotheticals for the season ahead, but Covid-19 has made it a surreal year.
When the season ended in the middle of March, almost three months ago now, Liverpool were a staggering 25 points clear at the top of the league with 9 games to play, although City had a game in hand which will now kick off the season's resumption against Arsenal.
There are several moments in the season that will live long in the memory. It's unbelievable to consider that Liverpool won 18 games in a row, dropping just two points in their opening 27 league games. It truly was a run of breath-taking proportions.
The first big moment that stands out has to be the moment that belief really started to sink in. It was a gut-wrenching 2-1 defeat to Manchester City, Liverpool's only defeat of the previous 97-point campaign, that had turned the tide of that season, and saw Liverpool's lead at the top of the table disintegrate.
When the two teams met on 10th November, Liverpool had won nine of their opening 10 games, an impressive feat that has paled into insignificance since. At that moment in time, the gap at the top of the table was just six points, and the difference between the three points that the lead could have been at full time, and the nine that it ended up being, was huge.
And then Fabinho thundered in against Claudio Bravo, causing Pep to go apoplectic with rage, Salah and Mané finished the job, and Pep screamed to the heavens for handball late on, giving us probably my favourite moment of the last twelve months.
From there, Liverpool went on to become World Champions, and came back to a potentially pivotal game against new title-challengers Leicester. Leicester, of course, simply weren't in Liverpool's league, and Trent Alexander-Arnold turned in a career performance as they were swept aside 4-0, giving Liverpool a 13-point lead at the top of the table, 14 points clear of City. If by this point, there was a sense of one hand being on the trophy, the moment that Anfield vocally started to believe came just a few weeks later.
I'll admit it, it was the moment that belief turned into certainty for me too. As Mo Salah slotted home past David De Gea to a chorus of "And now you're going to believe us, we're going to win the league!", I really did know that we were going to win the league. 16 points clear now, with a game in hand (an amount that at the time felt absolutely colossal but six wins in seven games later somehow feels small in comparison), there felt like there had been a pressure release, and Liverpool were going to get over the line.
The question going into March became when not if, with games against Everton, Palace and City earmarked as potential title-winning games.
Three months later, they still are.
Everyone knows what happened next, but it's an important part of the story. Games were cancelled, the league was suspended, and the question drifted back to not when Liverpool would get over the line, but if they would ever be allowed to.
The null and void brigade were out in force, the #taintedtitle was bandied about as questions of if the league would be wiped from the record books became questions over whether Liverpool deserved to win the title before mathematically securing it.
But then, things shifted. France handed PSG their title, Scotland and Belgium were among others to do so, UEFA said sporting merit from the 19/20 season was vital in Champions League qualification. It became clear that Liverpool would win the league, just under very different circumstances than expected.
And now we're less than two weeks out from the return of the Premier League, and for Liverpool, the question is back to Palace or Man City, defeat to Watford and a slight scheduling shift making a title win at Goodison unlikely.
And to bring us back to where we started, it's genuinely hard to believe that it's been a year since Madrid. A year since Mo Salah and Divock Origi scored the goals that gave Liverpool number six. A year since we partied long and hard into the night, celebrating one of the great nights in the history of Liverpool Football Club. A year on, and it's amazing how much has changed. And yet so little, as fans devolve into petty bickering over news Liverpool aren't signing a big name player in Timo Werner and it looks unlikely they'll sign anyone big this summer.
Ah well, the more things change and all that…
Let's hope that the next twelve months sees everyone safe and healthy, which is the most important thing, but let's also hope that Liverpool can deliver not just one, but two Premier League trophies before next June (although God knows what next season will look like). Until then, up the Reds. It's good to be back.